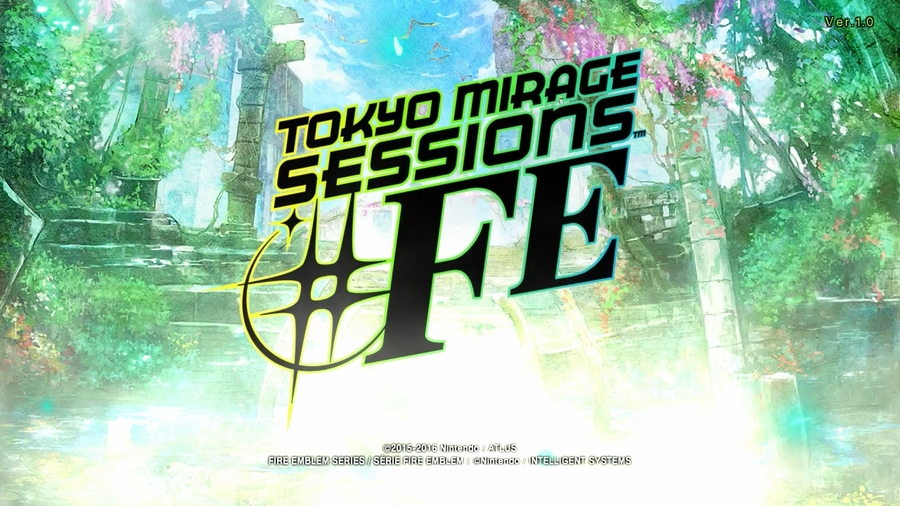 Tokyo Mirage Sessions is, by all accounts, a game that probably should not even exist, let alone be as good as it is. It was revealed in January 2013 with a teaser trailer as "SMT x Fire Emblem" and nothing more than a panning shot over the assorted Fire Emblem and SMT protagonists. It fell into radio silence for the better part of two years, including at least one project reboot, changing from a Fire Emblem-esque SRPG to an Atlus-style JRPG. And when TMS as we know it was revealed to the world, it was with this. Suffice to say that this was not what anyone had in mind for a crossover between SMT and Fire Emblem.
And yet somehow this game is good. Beyond good, even. I would unquestioningly call it my Game of the Year for 2016, and it's probably my favorite game on the Wii U period. The plot's a little trite, but the characters are great, the music is phenomenal, the combat is fun, and just overall it's so much fun and I sincerely hope that I can get that across to you as the reader.
What Tokyo Mirage Sessions is is a mix of Atlus's assorted SMT sub-franchises, with some very light Fire Emblem flavoring. The overworld is taken wholesale from Persona 3 or 4, the dungeons are straight out of SMT IV with unique themes and "puzzles" like Persona 4, the sidequests are similar to Devil Survivor's FATE system, and the combat (while it's own beast later on) is probably closest to Strange Journey. The game takes place in Tokyo, and revolves around the entertainment industry as our party members attempt to make their way as idols, TV personalities, actors, and everything in between while a J-Pop soundtrack blares in the background (complete with full-on AMVs). In fact, if not for the fact that your characters' Personas Mirages are Fire Emblem characters, you would be forgiven for assuming this was just another new IP from Atlus until about 45 hours in. Personally, I think this works to the game's favor, but I can understand why Fire Emblem fans would be disappointed in the end result.
The LP
This will be a screenshot LP first and foremost, with video links scattered liberally. While you don't have to watch any of the videos, the character models are incredibly expressive and I highly suggest you watch the them if you can, especially for the anime cutscenes and AMVs. Videos will be called out in the post

like this

and be placed at the start of their relevant scenes, so they should be very easy to find. Updates will be whenever the hell I feel like it, but probably something resembling a Mon/Thurs or Mon/Fri schedule.
Additionally, if you're not familiar with the SMT spell vocabulary, I suggest you brush up on that before we start. I'm not asking you to know whether Posumudi or Me Patra cures Panic off the top of your head, but you should probably know that Agi is fire and Dia is a cure spell.
Spoilers
Keep black bar discussion to a minimum. It's pretty easy to see where the plot is going, but I know a lot of people didn't play this because it was a Wii U exclusive sent to die at retail in a year filled with games like Uncharted 4, Final Fantasy XV, The Last Guardian, and more. A little discussion on the next dungeon or sidequest is fine, talking about the final dungeon in Chapter 1 is not.
Additionally, there is a section about a quarter of the way into the game that was heavily changed during localization. When we get there, we'll discuss what it was and why it was changed, but if I see a single use of the word "censorship", even ironically, I am locking the thread and delaying the next update

This is your first and only warning.


Part 1
Part 2
Part 3
Part 3.5
Part 4
Part 5
Part 6
Part 7
Part 8
Part 9
Part 10
Part 11
Part 12
Part 13
Part 14
Part 15
Part 16

Part 17
Part 18
Part 19
Part 20
Part 21
Part 22
Part 23
Part 24
Part 25
Part 26
Part 27
Part 28
Part 29

Part 30
Part 31
Part 32
Part 33
Part 34
Part 35
Part 36
Part 37
Part 38
Part 39
Part 40
Other Miscellany
Voice Actor References
Itsuki/Chrom
Tsubasa/Caeda
Touma/Cain
Kiria/Tharja