Persona 2: Innocent Sin is half of the Persona 2 duology, the other part being Persona 2: Eternal Punishment. Innocent Sin initially released in 1999, while Eternal Punishment came out a few months later in the summer of 2000. It is a direct sequel to Megami Ibunroku Persona, which which I did an LP of.
Unlike Eternal Punishment, Innocent Sin never received a localization on the PS1 - which is probably for the best because Eternal Punishment has the fatal flaw of using the Americanized names from Revelations: Persona for the P1 cast (it's otherwise, as far as I know, a pretty solid translation). In fact, Innocent Sin didn't even get a fan translation until 2008. The Megami Tensei wiki claims that Atlus knew about the fan translation and intentionally did nothing to stop it, much like Nintendo with Mother 3.
The official reason given by Atlus, according to the wiki, for not releasing Innocent Sin in the West had to do with them rushing to get Eternal Punishment out the door before the launch of the PS2 and not having the time or money to do a proper localization for both games (which logically they'd want to do after how bad Revelations: Persona was).
Unofficially, the game has some content that might've proved a problem to localize in 1999. We'll see that when we get there.
In 2011, Atlus decided to release Innocent Sin on the PSP with some upgraded features - things like speeding up battles in general and using a lot of changes that were made to the battle system in Eternal Punishment. They also re-did the soundtrack (but left the original one in, unlike Persona 1) and actually put effort into that this time… and even included the original PS1 soundtrack just in case you wind up not liking it.
I've never played either of the Persona 2 duology, but from what I've heard they're largely considered to be two steps forward and one step backward from Persona 1. I guess we'll see.
One final note: this LP will also use real hardware exclusively, unless some shit like the Snow Queen casino grind pops up in which case all bets are off.
Spoiler Policy
Anything from Persona 1 is probably okay. I have never played Persona 2 before, but I know most of the plot beats. Most of them. You kind of can't read the Megami Tensei wiki for more than five minutes without it throwing ending spoilers at you. Try to avoid anything about Persona 3/4/5 beyond references in those games to Persona 1 and 2.
Are you doing Eternal Punishment?
No, and here's why. Eternal Punishment got a PSP re-release around the same time that Innocent Sin did. Atlus, in their infinite hate for the West, decided that they'd add bonus content to Eternal Punishment that required having a completed Innocent Sin save. They then proceeded to never release the PSP version of EP outside of Japan, and as far as I know the save bonus does not work with saves from the US version of Innocent Sin. Until a fan translation of the PSP version is done, I'm not touching it.
Fanart
SpammyV makes some much-needed corrections to a couple of portraits.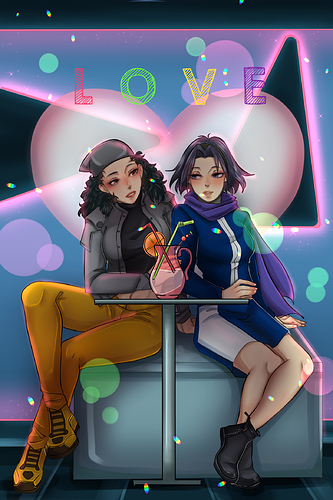 A better ending for Yukino and Anna that I commissioned off Eligap which explains what they're doing after Caracol.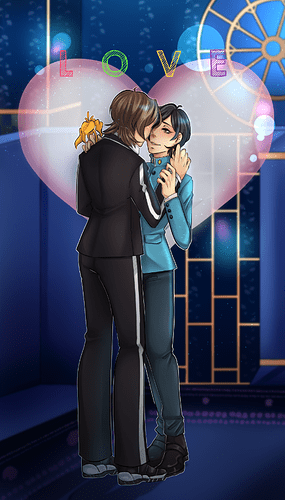 A better ending for Tatsuya and Jun that shows what really happened after the end of the game, also commissioned off Eligap.