Link Directory
Day 1:
Wherein Joat cheats on a personality test. <-- You are here.
Day 2:
Wherein Joat encounters "Deus Ex Post Office."
Day 3:
Wherein Joat sends a Pokémon back to its home planet.
Day 4:
Wherein Joat discovers what makes him so special.
Day 5:
Wherein Joat learns the true secret to friendship.
Day 6:
Wherein Joat gets a taste of power. Briefly.
Day 7:
Wherein OH GOOD HEAVENS, MALCHOIR!
Day 8:
Wherein oh good heavens, Malchoir…
Day 9:
Wherein Joat demonstrates the power of rock.
Day 10:
Wherein Joat earns the ire of produce.
Day 11:
Wherein Joat finally gets even.
Day 12:
Wherein Joat forgets to add 80's training montage music.
Day... 12?:
Wherein Joat fails back in time.
Day 13:
Wherein Joat decides that putting a bear and honey in the same room will end well.
Day 14:
Wherein the siren cannot resist the call of Joat.
Day 15:
Wherein Reddybear reaches a new high.
Day 16:
Wherein Reddybear encounters his arch-nemesis.
Day 17:
Wherein REALLY, NINETALES!?
Day 18:
Wherein Joat demonstrates that silence is pyrite.
Part 19:
Wherein Joat has a howling good time.
Part 20:
Wherein Joat proves that all love is fair in war.
Part 21:
Wherein Joat passes.
Part 22:
Wherein nobody pays attention to Arcus.
Part 23:
Wherein Joat needs to find a power coin, because IT'S MORPHEUS TIME!
Part 24:
Wherein Reddybear wins by doing absolutely nothing.
Part 25:
Wherein Joat breaks the shadows.
Part 26:
Wherein Cherithe fails the architectural mirror test.
---
Day 1: Wherein Joat cheats on a personality test.
---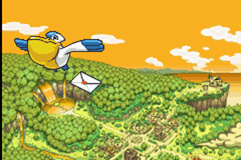 I hope that letter wasn't important.
Welcome, everyone, to my playthrough of…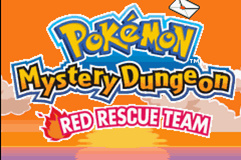 As with my previously-posted LP, I shall note that this is a repost of a previously-completed LP posted on DeviantArt. As a result, my commentary may be changed and amended to reflect feedback (and I do hope to get more comments this time around, as it really does help to make the LP process more interesting to me), but my gameplay will not be changed (though I think I still have my save file, so some post-end-LP new content can still be made if warranted).
Anyway, let us jump right in, shall we?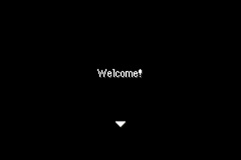 Narrator: This is the portal that leads to the world of Pokémon!
Pretty dark in here, isn't it?
Narrator: But before I can let you through, I have several questions for you. I want you to answer them sincerely.
If one of them is a/s/l, I'm leaving.
Narrator: Are you ready? OK… Let the interview begin!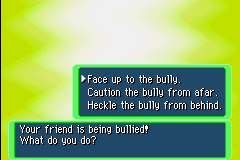 SUDDENLY COLORS AND MUSIC!
cough Anyway, as for the actual answer, I shall be serious for a moment. In this case, I can say this with certainty because I actually was in this situation and stood up for my friend.
Funny (by which I mean sad) thing is, said bully was another friend of mine. Sort of. He was a troublemaking sort who I hung out with more out of fascination than the traditional "ooh, he's such a bad boy, I wanna be like him" sorta thing.
Heck, if anything, the pettiness level of all his troublemaking may have been a deterrent from such a lifestyle. Throwing pebbles at some big metal thing you shall not even dent with them? Pulling out small posts from a decaying fence? Really? Sir, I do not think you are as hardcore gangsta as you think you are.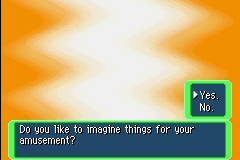 visually inspects own bubblegum wings, tailfeathers, and beak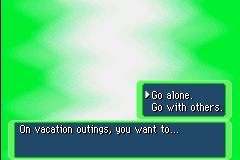 I have tulpae, which are essentially "imaginary friend 2.0" to put it in incredibly super-oversimplified terms. So, I'm never truly alone.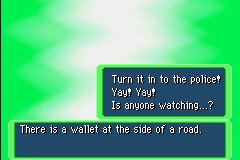 Turn it in, of course! Who needs money when I have GUM?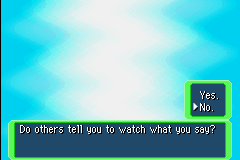 Not really, though they may just be afraid I'll make a pun out of it if they do.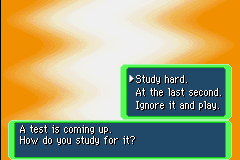 Funny thing is, about half the time, I do not feel the need to study at all. Rightly so, since I generally do well, anyway. However, when I do feel it needs to be done, I do so in advance.
This is a fun quiz, weeee…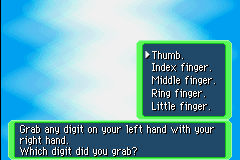 …I have wings.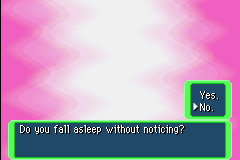 That is one thing I pride myself on, actually. No matter how boring the class, I have never fallen asleep during one of them. And trust me, some have been very boring.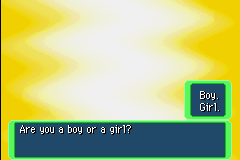 Bah! Gum has no need of your silly sexes!
Narrator: You appear to be… the hardy type.
Well, that's… interesting?
Narrator: You do your homework diligently, and you know to eat properly.
Except when I forget my homework exists.
As for eating, bah! I do not need to eat!
Narrator: You have strong willpower that lets you complete tasks, however tough.
I have been struggling with laziness for most of my life.
Narrator: But, you can also be stubborn to the point of even feuding with friends…
Y'know, I'm beginning to think this nine-question quiz may not present an accurate representation of the fine details of my personality.
Narrator: Nothing will go right for you when you're irritated, so learn to laugh it off.
Oh hey, it got something right for once.
Narrator: A hardy person like you should be…
…The ever-adorable Poochyena?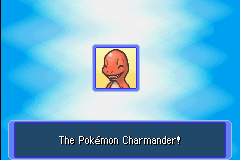 …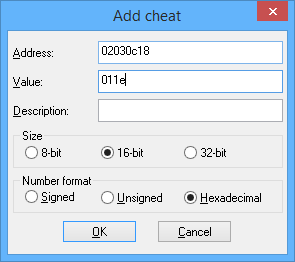 Ah yes, Poochyena, just as I suspected!
NOTE: For anyone who wishes to be their own favorite pokémon in this game, the codes you are looking for are 02004894:XXXX and 02030c18:XXXX, where XXXX is the hexidecimal value of the pokémon in question, according to this page. That said, the first code is no longer necessary once you spawn into the world for the first time.
Narrator: This is the final step. Who would you like to have as a partner? Choose the Pokémon you want as your partner from this group.
I'll choose Pikachu. Say what you will, but it is iconic. I'd choose Eevee if I could, but I can't, so I won't.
Narrator: What is your partner's nickname?
Hm, good question. A question which 90% of the world's population would likely answer very immaturely. But really, hm… Y'know…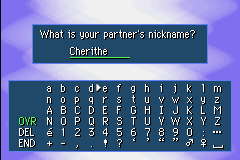 Named after a mad scientist rodent character that one of my tulpae made for a Pathfinder game!
Narrator: OK! We're all set! Let's get you into the world of Pokémon!
FINALLY!
Narrator: Go for it!
I'm having flashbacks to that Nightmare/Atmosfear commercial.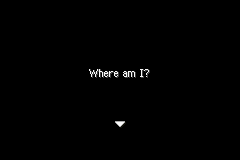 In the world of Pokémon. Weren't you listening to the disembodied voice in the realm of wavy scintilating colors?
…Wait, did that actually happen, or did someone spike my drink?
Poochyena: Am I dreaming this?
You, sir, have very boring dreams.
Poochyena: I feel I pleasant breeze. …I hear a voice from somewhere…
Oh geez, I'm hearing the voices again!
…Actually, that joke doesn't really work when I'm a tulpamancer, does it?
Yes, the term "tulpamancer" actually exists, because the tulpa community has a flair for the dramatic. Theoretically, this term should imply we use tulpae to predict the future, but hey, every piece of fantasy literature ever misuses the suffix "-mancer", so why not us?
Poochyena: I wonder who it is?
???: … … … …Excuse me.
Fluttershy, izzat you?
???: Please, wake up. Come on, wake up.
Good morning, Crono!
I would just like to point out that a sleeping poochyena is one of the most adorable things in the history of forever. That is all.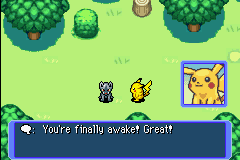 …I did notice that, yes.
| | |
| --- | --- |
| | Poochyena: (Wh-where is this…?) |
Let's see, judging by the surroundings, this is… the middle of nowhere.
Joat, Ace Detective!
| | |
| --- | --- |
| | Cherithe: You were passed out here. I'm so glad to see you awake! |
…Huh. I guess my slipped-something-in-my-drink theory holds water! ba-dum-TISH
| | |
| --- | --- |
| | Cherithe: I'm Cherithe. Glad to meet you! |
| | Cherithe: …And you are? I've never seen you around before. |
Out in this random place, not sure how many people you would see around.
| | |
| --- | --- |
| | Cherithe: Huh? You're a human? |
…I don't now about you, but usually, when asked who I am, I generally start with my name, rather than my species. I generally assume people who speak to me face-to-face can intuit that one.
| | |
| --- | --- |
| | Cherithe: But you look like a normal Poochyena in every way. |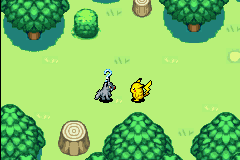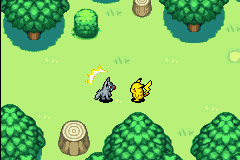 | | |
| --- | --- |
| | Poochyena: (It… It's true… I have turned into a Poochyena!) |
If I may rant for a bit… How, exactly, is this a surprise? I mean, assuming that the quiz from before is non-canon (safe bet), there are still a lot of signs. Let me count the ways…
You got up. That, right there, required you to get up on your four feet (yes, there are some two-legged forms, including what I would have been playing as were I not a dirty, dirty cheater, but there are also default forms with four legs, such as what I played when first I tried this game, mudkip).
You are a species that is known to have an exceptional sense of smell. Given how night-and-day the difference is between canine and human sense of smell, not sure how one misses that.
You can most definitely see your own nose.
You are conversing with a pokémon in its native tongue.
Your tactile senses are also a thing that exists.
I dunno. Maybe he's just that much of a slow riser.
| | |
| --- | --- |
| | Poochyena: (…But why? I don't remember anything…) |
That is the sign of a good party, my friend.
| | |
| --- | --- |
| | Cherithe: Um… You're kind of weird… |
That is one way of putting it.
| | |
| --- | --- |
| | Cherithe: Your name? What's your name? |
| | Poochyena: (My name…? That's right, my name is…) |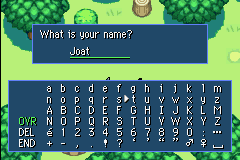 If I may go on another, perhaps more important, rant, this actually leads into the biggest issue I have with this game. It does not seem to really know what it wishes to do with its protagonist. On one wing, it clearly wishes for the player to immerse themselves in the role. Such is clear from the quiz. In fact, I originally filled out my real name, just in the spirit of this! However, the game did not very effectively create the blank-slate character necessary for this to occur. Rather, the game tries to create sort of a mix between that and the more traditional fleshed-out-by-the-plot JRPG character. Both approaches are fine, mind, but when they try to compete with each-other, both suffer. Which is not to say it is the worst of both worlds - there are some times when they actually manage to briefly have their cake and eat it too - but it is certainly far from the best of both worlds, as sometimes the two approaches conflict with each-other…
Also, in a way, me filling it out as "Joat" is the same now as "Jesse" was, then. Mentally, nowadays, I and my tulpae refer to myself more oft as "Joat" than "Jesse." So, in a way, legality aside, Joat has become my more "real" name.
| | |
| --- | --- |
| | Cherithe: Oh. Joat's your name? Well… |
| | Cherithe: It's a funny name! |
I will have you know that Joat is a perfectly acceptable… acronym.
…You win this round, Cherithe.
???: Somebody! Please! Help me!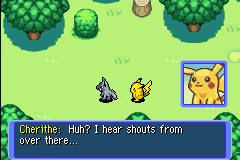 Hark! The plot calls!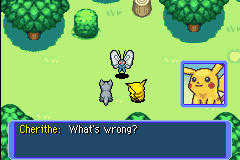 | | |
| --- | --- |
| | Butterfree: It's horrible! My Caterpie fell into a cavern! My poor baby! |
That sounds like a job for someone who has wings.
| | |
| --- | --- |
| | Cherithe: What?! |
| | Butterfree: A huge fissure opened in the ground, and my Caterpie fell in! He's too young to crawl out by himself! |
So, uh… HOW did he survive, exactly?
| | |
| --- | --- |
| | Butterfree: When I went to get my baby, Pokémon suddenly attacked me! |
…But they didn't attack the Caterpie, apparently.
| | |
| --- | --- |
| | Cherithe: Huh? You were attacked? By other Pokémon? |
| | Butterfree: They must be enraged by the fissure… and out of control! That's what I think. |
Then why do they never attack each-other?
| | |
| --- | --- |
| | Butterfree: I'm not strong enough to fend off those wild Pokémon… What will become of my baby? |
As a Butterfree, you are at least twice as strong as either of us at our current levels.
| | |
| --- | --- |
| | Butterfree: Oh! What am I to do?! Oh dear, oh dear… |
| | Cherithe: This sounds bad! We have to go help! |
Wait, we? Why us? Why not anyone else in the ar… Oh, right, middle of nowhere…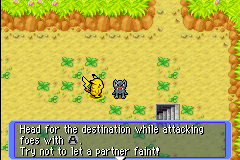 Wait, where's Butterfree? Is she seriously not coming to help?
Also, I do hope that the warning it gives is not prophetic of Cherithe's usefulness in battle.
Anyway, this LP re-upload is sort of a second chance, and this time I should go ahead and do something along the way that I failed to do before: actually explain the game!
When it says to attack with

, this refers to the normal attack. Most Pokémon games lack this, restricting the Pokémon to their up-to-four moves, each of which has their own PP.
PP is the number of uses left for that move. If a move is out of PP, it cannot be used. If all moves are out of PP, then the Pokémon instead defaults to using the move Struggle, which deals damage to both the opponent and the user.
This does make sense, as otherwise the Pokémon wouldn't be able to do anything at all… in the main-series game. In this game, however, it serves to make the player tear their hair out. Or if they're bald, it makes the player spontaneously grow hair specifically for the purposes of tearing it out again. This is because, if memory serves, if an allied Pokémon is out of PP, they will use Struggle and knock themselves out, even if you try to instruct them to never use moves, despite having a perfectly-usable normal attack at their disposal.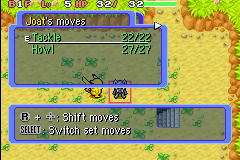 For any of you who were worried that the codes I recommended are purely aesthetic, this shows that the starting moveset has been altered to match being a Poochyena. Those numbers to the right are the aforementioned PP.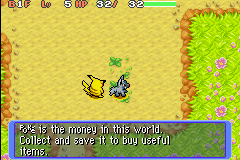 Yes, Pokémon have money, apparently. Which randomly fell down into this cave in a convenient pile of 34!
Anyway, the player only controls the leader. The other characters are left to the whims of the AI, who uses the ever-popular Random AI to decide what to do in combat, while following the leader the rest of the time (or wandering if they've gotten separated). To be fair, there are ways to at least get some control over what they do. For example, you can toggle moves on and off (again, not including Struggle) for any party member aside from escorts.
This game is purely turn-based, as well. Characters only act when the player does something and time stands still otherwise (idle animations aside). Unlike in the main-series games, there is no separate battle screen, but instead Pokémon are battled as you explore, with each Pokémon taking up its own space on an invisible grid. Terrain shapes and relative combatant positions can factor into battles as a result.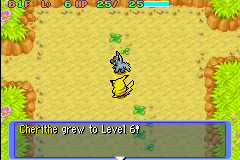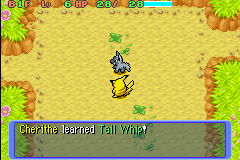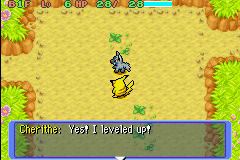 Oh hey, just a few Pokémon defeated while exploring so far and Cherithe already leveled up! Go her! She certainly seems happy enough about it.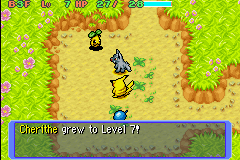 Oh, uh, good for you, Cherithe! I guess.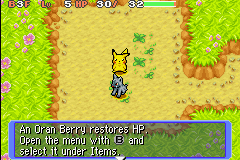 Wait, how am I holding it?
Clearly not with my mouth, considering my idle animation is of me barking incessantly at nobody in particular.
Anyway, the dungeon has money and items scattered about. Rarely are items dropped by enemies, the only exception being when an enemy walks over and picks up an item by pure coincidence. In that case, the enemy also becomes more dangerous, as there's nothing stopping them from using said item.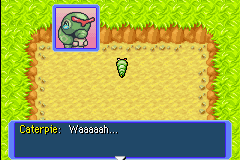 | | |
| --- | --- |
| | Caterpie: Mommy… Where are you…? Sniffle… |
Oh, just cowering on the surface while she sends two weaker pokémon to do all the work for her.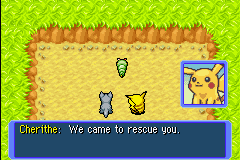 | | |
| --- | --- |
| | Caterpie: Huh? |
| | Cherithe: Your mom's waiting. Let's get you out! |
| | Caterpie: OK. |
Huh. Guess it's a good thing she never told him not to talk to strangers.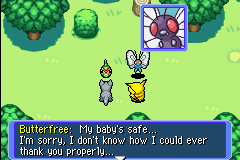 | | |
| --- | --- |
| | Cherithe: Oh, that's OK! It has been dangerous lately with sudden quakes and fissures like that one. |
If that is so, why was the news of this happening so surprising?
| | |
| --- | --- |
| | Cherithe: It was great to find your little boy unharmed. |
| | Butterfree: Please, may I have your names at least? |
| | Cherithe: I'm Cherithe. And this is Joat. |
| | Caterpie: … Cool… |
| | Joat: (He's, uh… Staring at me adoringly…) |
And not at Cherithe, apparently, because she's not the protagonist and also isn't sharing her level-ups with me, the big meanie-head.
| | |
| --- | --- |
| | Joat: (Those sparkly eyes… It's a little embarrassing…) |
| | Joat: (But, this doesn't feel bad, either. It's like I'm a hero.) |
I do believe this qualifies you as such, aye.
| | |
| --- | --- |
| | Joat: (Helping Pokémon in trouble might be a good experience.) |
Well, other than the whole "being in mortal peril" thing.
| | |
| --- | --- |
| | Caterpie: Thank you! Cherithe and Joat! |
| | Butterfree: I know it isn't really enough, but this is a token of our thanks. Please accept it. |
Joat's team received the promised Oran Berry.
Thanks!
The team also received the item Pecha Berry.
Oh, uh, thanks. Now, where do I…
The team also received the item Rawst Berry.
…Well, this is gonna be trouble to carry all at once. Maybe they could help us ca…
| | |
| --- | --- |
| | Butterfree: Thank you so much. Good-bye. |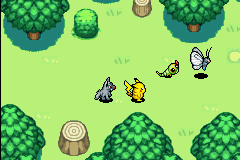 …Oh, uh. Bye, I guess.
Anyway, I'll go ahead and explain, Oran Berries restore health (a lot of it), Pecha Berries cure poison, and Rawst Berries cure burns. By their powers combined, they are Captain Berry! Or something.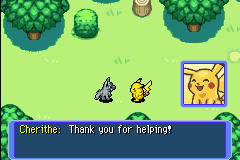 | | |
| --- | --- |
| | Cherithe: You're very tough. I sure was impressed. |
A good thing, too, considering I pretty much had no idea how tough this body is until after I accepted. I could have been level 1, for all I knew. And this is generation three, so I do not think the experience underflow glitch is still a thing.
| | |
| --- | --- |
| | Cherithe: So… What are you going to do? Do you have any plans? |
| | Joat: (…) |
| | Cherithe: …Listen, Joat. If you don't have a place to stay, you should come with me. |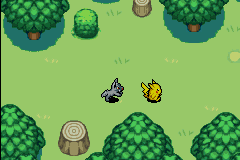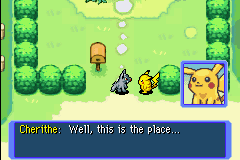 …I'm going to live in a birdhouse? I mean, I know this is short notice, but…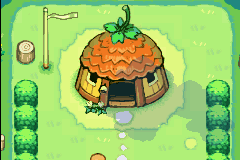 Oh.
Still, that looks like it has only one room.
Then again, that puts it on par with most human housing in the pokémon world, so fair enough.
| | |
| --- | --- |
| | Joat: (Wow! I can't explain, but I'm happy!) |
I can. I mean, come on. You have your very own house! When I was the age of this game's target demographic, I looked on in envy at anyone who had even so much as a treehouse. To have an entire HOUSE to myself would be pure bliss.
And then I would realize I have to keep it all clean. And then I would cry.
…Maybe it being only one room Is for the best, actually.
| | |
| --- | --- |
| | Joat: (I'm a human being, but I like this place. I feel weirdly happy! It might be an instinct thing for Pokémon…) |
Well, it has a well-kept lawn, surrounded by shrubbery, interesting natural look… just about the only problem I can see, aside from being a single room (which is about standard for humans, as mentioned), is the lack of glass in the windows, which is… actually a significant issue. Something tells me that happiness may fade, come winter.
| | |
| --- | --- |
| | Joat: (Maybe this is what it feels like to want to wag your tail…) |
Nobody's stopping you.
| | |
| --- | --- |
| | Joat: (It doesn't matter! I'm happy! Maybe I feel that way because I'm Poochyena!) |
Or maybe it's the fact that your prospects, earlier, were looking closer to "sleep outside every night forever."
And the fact that it's significantly larger than a birdhouse. That helps, too.
| | |
| --- | --- |
| | Cherithe: Oh, Joat. You're impressed, aren't you? |
Actually, I kinda am. Like, people just give houses like this away at a moment's notice? Or is Cherithe actually filthy stinking rich and just never told me? I guess mad science is pretty lucritive…
| | |
| --- | --- |
| | Cherithe: I thought so. I thought this would make a good place for you to live, Joat. |
| | Cherithe: I was sure you would like it. |
Well, hey, I've seen smaller human housing in the series, so…
| | |
| --- | --- |
| | Cherithe: This is your Mailbox. They deliver mail from Pokémon here. |
Oh. So it's not a birdhouse, then.
| | |
| --- | --- |
| | Cherithe: You know, just like the fissure Caterpie fell into… |
So, the fissure is a pokémon who will send me mail? Or, pokémon will mail me the fissure?
| | |
| --- | --- |
| | Cherithe: For some reason, there have been many natural disasters lately. |
So, what you're saying is, I should probably not get too used to the house.
| | |
| --- | --- |
| | Cherithe: Because of those disasters, many Pokémon are suffering. |
Then why are you smiling?
| | |
| --- | --- |
| | Cherithe: I want to help Pokémon in these tough times. I want to change things so all the Pokémon can live in peace. So, uh… Well, I liked how you handled yourself when we rescued Caterpie. Would you like to join me on a rescue team? |
Well, if the title of the game is anything to go by, probably a good idea.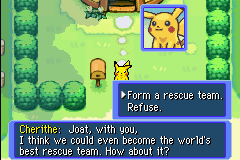 I'm almost tempted to refuse just to see how the game attempts to salvage things, but nah.
| | |
| --- | --- |
| | Cherithe: Perfect! That's it, then! We're partners in our rescue team from now on, Joat! Glad to have you on board! |
| | Cherithe: The team name… Well, I don't have one yet. So, Joat. What do you think would be a good name for us? |
I am sure that many of you are shouting profanities at the screen right now. Not out of rage, but as suggestions.
Well, okay, this is probably not nearly as applicable for the lp.zone community as most places, but I couldn't bring myself to remove that joke.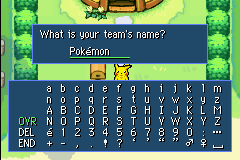 That is the default name.
There is nothing I can say to further highlight the absurdity of this.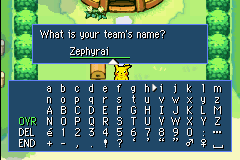 This is kinda my default guild name, so why not use it here? And hey, we already have two members, so it's already doing better than the last one! Pity me.
| | |
| --- | --- |
| | Cherithe: Zephyrai! I like it! It's a good name! It's perfect for us! |
How? I mean, it sounds cool, but not sure if "fitting" is what I would call it.
Though, it is far funnier to imagine if I had gone with the default. Either way, though, I suspect sarcasm.
| | |
| --- | --- |
| | Cherithe: Rescue Team Zephyrai! Let's do good starting tomorrow! |
I sense procrastination.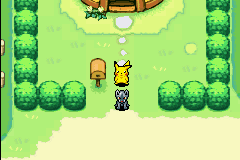 Yes, we know you're adorable, and thank you for turning around and reminding us of that, but would you mind doing something?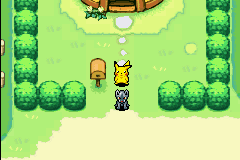 Um, I can't move.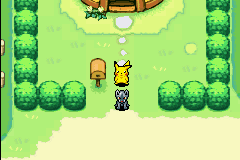 Um… help?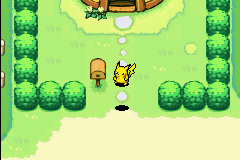 …Well, that's not normal.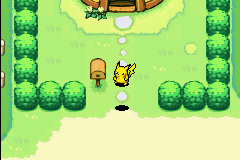 And then Joat was never seen again. The end.
…Okay, here's what actually went wrong. See, there are certain poses that only the player character and their partner are expected to ever do. So, to save time and space, the spriters apparently only did sprites for those poses for the pokémon that the player character or starter can be. Since I chose a non-standard pokémon, the game froze upon requesting a pose that, for Poochyena, does not exist.
I can temporarily change back to Charmander for those moments and I can try to capture as much footage as Poochyena as possible, but if I later show a screenshot where I am inexplicably a Charmander, that is why. I cannot change my species on-the-fly, only between scenes. So, if a pose requires me to be a Charmander, I'll be one from then until the scene ends.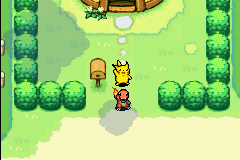 YEEEEAH!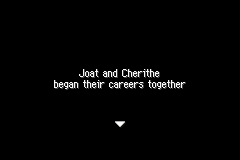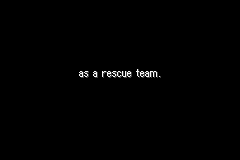 That is very
interesting.
I wonder how this will turn out as
the story progresses.