Day 2: Wherein Joat encounters "Deus Ex Post Office."
---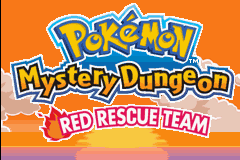 I forgot I wasn't playing Hotel Mario. Thanks, game!
Narrator: The next morning…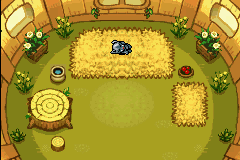 I must say, the artists did actually make the place look quite comfortable, while also letting it be simple and natural. Though, the tree stump table confuses me. It looks like it's still rooted to the ground. Did they cut down a tree, decide "hey, this'd make a good table," then build a house around it?
Also, sleeping poochyena is still adorable, and there is something about the straw that just makes it even moreso.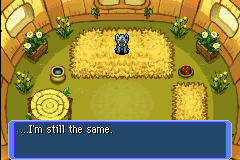 Yeah, I'm afraid so, but don't worry, you'll level up eventually.
| | |
| --- | --- |
| | Joat: The way I look… I'm still Poochyena. |
Oh.
| | |
| --- | --- |
| | Joat: But why would I be transformed into a Pokémon? |
Because it's adorable!
| | |
| --- | --- |
| | Joat: … Hmm… I don't understand this at all… … … I feel groggy and sleepy… Not feeling well… I need more sleep… |
You just woke up. Also, I don't know about you, but with the windows wide open and it being broad daylight outside, I would find sleeping quite tricky. Perhaps he plans on burying his head in the straw first?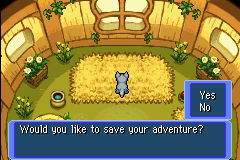 Uh, sure, I guess.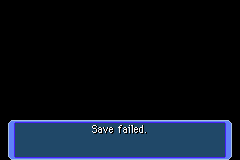 Oh, well, never mind, then. I guess I'll have to go through this entire game without saving.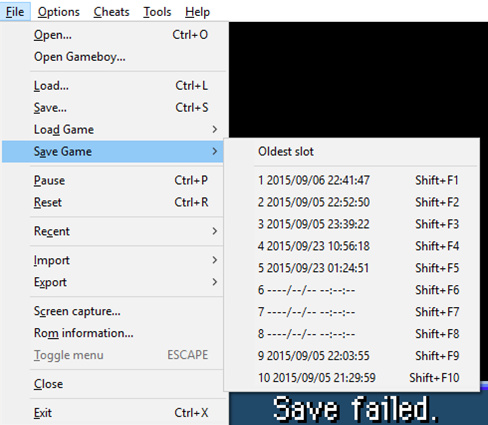 Admittedly, most of those save slots are mid-dialogue or otherwise "just in case I miss something and need to go back" save slots. But my point is, saving via this method is definitely viable.
Anyway, one quick nap later…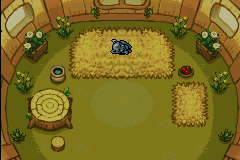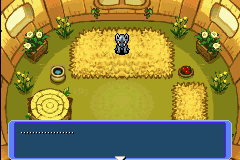 | | |
| --- | --- |
| | Joat: Oof… I'm feeling refreshed! |
"Oof"?
| | |
| --- | --- |
| | Joat: I still look like a Pokémon, but… … Oh, that's right. That Pokémon… I think it was Cherithe? |
Oh hey, my in-game avatar is terrible with names, too! Well, terrible-ish. I mean, he got the name, but it took him a bit.
| | |
| --- | --- |
| | Joat: We made a promise to form a rescue team together… I wonder what Cherithe is doing? |
SCIENCE!
| | |
| --- | --- |
| | Joat: I should go out. |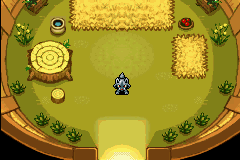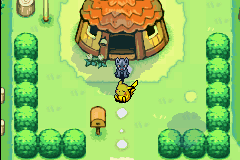 I think if I were going to sleep outside someone's door, even inadvertently, I would have enough presence of mind to not sleep on the stone path surrounded on either side by much-more-comfortable grass.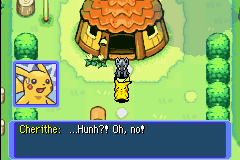 | | |
| --- | --- |
| | Cherithe: Hahaha, sorry! I was so excited, I came out here at dawn to wait for you. |
Why is it that I am the poochyena and yet Cherithe is the one who reminds me of an excited little puppy?
| | |
| --- | --- |
| | Cherithe: I must have snoozed off. |
You don't say.
| | |
| --- | --- |
| | Cherithe: Anyway… Today marks the start of our rescue team! Let's always do our best! |
And try not to think about dying horribly.
| | |
| --- | --- |
| | Cherithe: … |
| | Cherithe: … |
| | Cherithe: …But anyway… We don't have any job offers yet… Hahaha… |
Wait, does this mean she looked in my mailbox?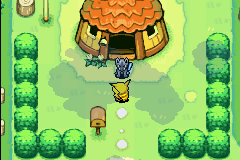 Did Cherithe just spot Solid Snake?
| | |
| --- | --- |
| | Cherithe: Oh, yeah! |
…or perhaps the Kool-Aid man?
| | |
| --- | --- |
| | Cherithe: Maybe there's something in the mailbox… |
Oh.
Wait, so she just assumed there were no job offers, despite never checking the place where job offers are sent?
Cherithe checked the Mailbox. The Mailbox contained a Rescue Team Starter Set!
| | |
| --- | --- |
| | Cherithe: I knew it'd be there! It's the Rescue Team Starter Set! |
No you did not.
| | |
| --- | --- |
| | Cherithe: They always give you one if you start a rescue team. |
Cherithe opened the Rescue Team Starter Set. There was a Rescue Team Badge inside!
Presumably to be placed on one's person somewhere, but how? There are no articles of clothing here. Maybe it's a necklace-badge? A collar-badge?
Okay, since making that supposition, I did see the canon answer according to the animated special. Apparently, the team stores the badge in, uh… hammerspace. I personally like my necklace idea better.
There was a Toolbox inside!
Either that's a pretty small toolbox or I think we may have a TARDIS mailbox.
There was also an issue of Pokémon News inside!
| | |
| --- | --- |
| | Cherithe: Yes! |
Getting excited about the news, in media aimed toward children who could not care less about the news.
| | |
| --- | --- |
| | Cherithe: There are some good things here! |
| | Cherithe: First off, the Rescue Team Badge. It shows that we're a rescue team. |
Yes, I was able to intuit that one.
| | |
| --- | --- |
| | Cherithe: This is a Toolbox. You use it for carrying items you find in dungeons. Let's put the stuff Butterfree gave us in here for now. |
That's useful! Now all we need to do is find a way to conveniently lug a packed toolbox around.
| | |
| --- | --- |
| | Cherithe: Items are very useful, so let's use them on our adventures. |
And then they find the Splash TM.
| | |
| --- | --- |
| | Cherithe: And finally, a copy of the Pokémon News. It's useful for rescue teams. |
Well, yes, I suppose keeping up on the latest news is helpful. I am sure it must contain a lot of information on the latest disasters we can help people out of.
| | |
| --- | --- |
| | Cherithe: I'll put the Pokémon News in the Mailbox. You should read it later on. Anything else? Is there any other mail…? Maybe not? |
Lass, I'd be surprised if anything else would FIT in the mailbox, given how much we got.
Cherithe checked the Mailbox. But the Mailbox was empty.
| | |
| --- | --- |
| | Cherithe: OK, so there isn't any mail for us after all… |
Except, y'know, all the mail we just got.
| | |
| --- | --- |
| | Cherithe: If there were any rescue jobs, we would be getting mail, but… |
| | Cherithe: Nobody knows about us since we're so new a team, I guess. Hahaha… |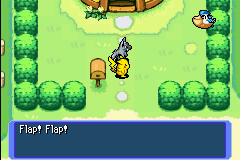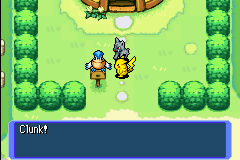 | | |
| --- | --- |
| | Cherithe: Oh? I wonder what it could be. |
My guess is plot-convenient mail.
Wait, if this is today's mail, does that mean we're just now checking yesterday's mail, which probably came in before we were a registered team?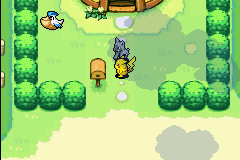 Joat checked the Mailbox.
| | |
| --- | --- |
| | Cherithe: Maybe it's a rescue job offer! What does it say? |
"Dear resident, you may have already won one million PoKé…"
Joat read the letter.
Letter: BZZ BZZ BZZZ
Riveting.
I understand verbal tics, but writing that down?
Letter: I HEARD ABOUT YOU FROM CATERPIE. PLEASE, WE NEED YOUR HELP. MAGNEMITE IS IN TROUBLE. A STRANGE ELECTROMAGNETIC WAVE FLOWED THROUGH A DUNGEON… AND IT STUCK TOGETHER MAGNEMITE AND MAGNEMITE…
"And my brother Darryl, and my other brother, Darryl."
Letter: THAT ISN'T ENOUGH TO FORM A MAGNETON. IT'S NOT COMPLETE THE WAY IT IS NOW.
So, if there were three, they'd be evolved now? Like, even if they were level 2?
Letter: PLEASE. WE NEED HELP. BZZ BZZ BZZ. FROM MAGNEMITE'S FRIEND
Well, that narrows it down.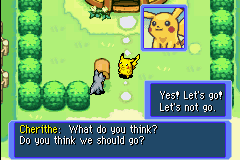 Sure! Let us go onward to… uh… some dungeon, somewhere.
| | |
| --- | --- |
| | Cherithe: That's the spirit! Let's do our best! |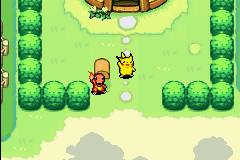 YEEEEAH!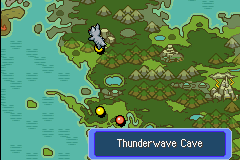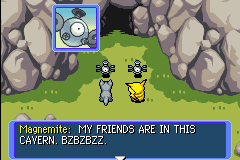 I wonder which one is speaking. Or are they taking turns speaking?
Also, which one of them wrote the letter? And for that matter, how?
| | |
| --- | --- |
| | Either Magnemite or Magnemite: MY FRIENDS SHOULD BE ON B6F. PLEASE HELP THEM! BZBZBZZZT! |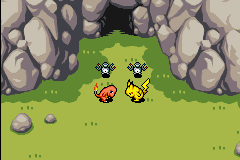 'Tis just a nod, but freeze-framing it like this, it looks like they're about to duel.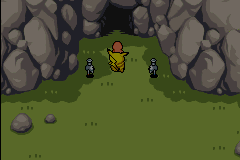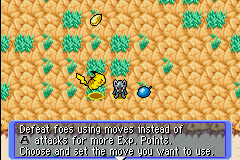 Ah, yes. Cherithe can level up even faster that way.
Also, once again, no help from the others.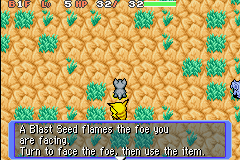 Ah, so I use the Blast Seed to demoralize my foes by hurling insults at them online, got it.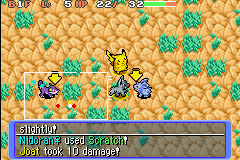 Ow.
12HP. Something tells me that the difficulty may have ramped up a TAD.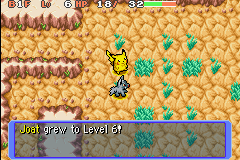 At long last! I'm finally catching up to you, Cherithe!
Y'know, that may sound good, but being level 99 near a muk may be an issue.
Also, that silly quote popping up every time I level up does make the whole immersion thing a fair bit harder, but then again, whose fault is that one, really?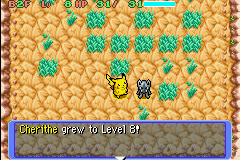 Oh. I guess I'm not catching up, after all.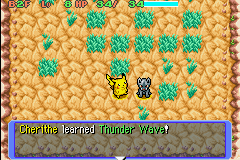 And I still have only two moves.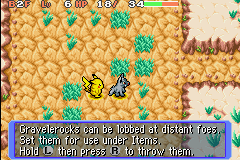 Yeah, let's rock!
…Sorry. (not actually sorry)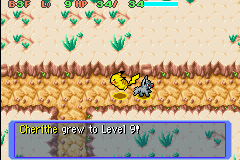 *sigh*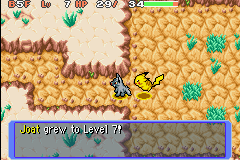 Woo!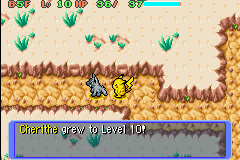 Fun fact: Poochyena and Pikachu, according to Bulbapedia, are in the exact same experience rate group. Just… thought I'd bring that up.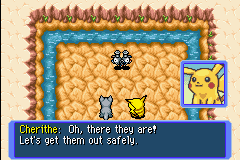 A process which is skipped over, despite the dungeon no doubt being just as dangerous on the way out.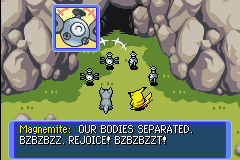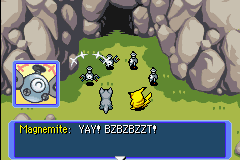 I am so glad this is not voice-acted…
| | |
| --- | --- |
| | Magnemite, Magnemite, Magnemite, or Magnemite: BE THANKFUL, YOU TWO. |
| | Magnemite, Magnemite, Magnemite, or Magnemite: YOU ARE OUR HERO. THANK YOU. BZBZBZZ! |
Joat's team received the reward 500 PoKé.
Okay, I have no doubts on how they can carry it, but how are they able to LET GO of it?
The team also received the item Reviver Seed. The team also receibed the item Rawst Berry.
On these, I am foggier on how they're carrying them.
Anyway, the Reviver Seed, as long as it's in your inventory, instantly revives a team member once they faint (that is, are reduced to 0HP). The seed then becomes a Plain Seed, which is mildly nutritious and refills Belly OH RIGHT, I SHOULD EXPLAIN BELLY!
Belly is, basically, a measure of how satiated the party leader is. Belly goes down over time and eating food increases it. If the leader runs out, they start losing HP. Technically, party members also have Belly, but theirs don't go down over time and can't even be viewed without switching leaders (which can't be done yet).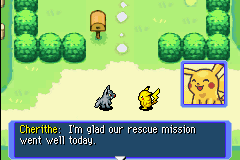 And I was only MILDLY the dead weight of the group, so that's nice.
| | |
| --- | --- |
| | Cherithe: Actually, since this was our first job as a proper rescue team… I was really tense and nervous. |
Probably because the party leader who does the most combat is made of styrofoam and tissue paper.
| | |
| --- | --- |
| | Cherithe: I'm exhausted now. I've got to go get some sleep. Let's keep up our good work tomorrow. See you. |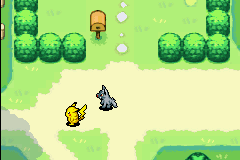 I suppose I shall do same, then, especially since I took most of the blows.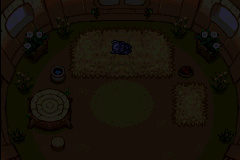 Look at the windows. That is SO not night.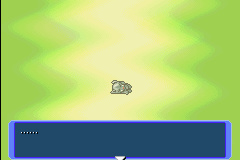 Oh hey, someone spiked my drink again.
| | |
| --- | --- |
| | Joat: … … Where… Where am I? Maybe… Is this a dream…? |
If so, it's rather boring. And meta. Seriously, dreaming of sleeping?
| | |
| --- | --- |
| | Joat: …Oh? There's someone here. |
Watching you sleep.
For the record, the only movement in this scene comes in the forms of the waving background and the sleeping Joat breathing. Joat has not moved otherwise, nor is anyone visible.
| | |
| --- | --- |
| | Joat: Who is it…? Someone I know…? |
Perhaps it's Cherithe. Or Magnemite. Or Magnemite. Or Magnemite. Or perhaps even Magnemite.
Imagine having Magnemite nearby when you're trying to sleep…
| | |
| --- | --- |
| | Joat: …Hmm… I can't remember. … |
Yep. Sounds like me, alright.