Day 8: Wherein oh good heavens, Malchoir…
---
The next morning…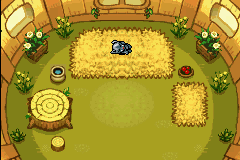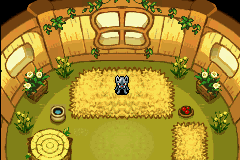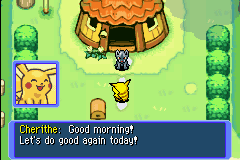 ???: Is this the place? Where that Team Zephyrai is based?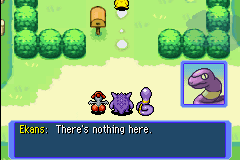 First the narrator, now you?
| | |
| --- | --- |
| | Medicham: Depressing, isn't it. |
| | Gengar: Keh! Who'd run a rescue team from a dump like this? Unbelievable! |
Well, comparing to the buildings in town, I'd say about comparable, really.
Though, this makes me wonder where they operate from. I mean, this IS a Gengar leading the group, here. Maybe they have some impressive haunted mansion?
| | |
| --- | --- |
| | Cherithe: Who are you people? |
Judging by naming the conventions of the area, these fine folks are known as Medicham, Gengar, and Ekans, respectively.
| | |
| --- | --- |
| | Medicham: Oh! Over there. A Mailbox~♪ |
That is not an answer.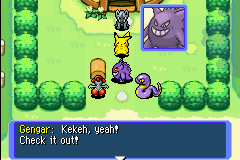 They are so jealous.
| | |
| --- | --- |
| | Cherithe: Now wait a second! What do you think you're doing?! |
| | Ekans: Yessss! Rescue job offers! |
| | Medicham: Oo-la-la! Isn't that rather tasty~♪ |
Well, maybe with a bit of salt.
| | |
| --- | --- |
| | Gengar: We'll have them all. |
Rescue job offers are available elsewhere. Were you banned from the bulletin board?
| | |
| --- | --- |
| | Cherithe: Stop! |
In any form of media, has that ever worked?
| | |
| --- | --- |
| | Cherithe: Those were meant for us! |
Yes, I think they could intuit that one.
| | |
| --- | --- |
| | Cherithe: Don't butt in! |
| | Gengar: Keh! It doesn't matter who does it! |
"Dear Joat and Cherithe, I need you find my friend by tracking them by scent."
| | |
| --- | --- |
| | Medicham: We're a rescue team too, I'll have you know~♪ |
| | Ekans: …But all we ever get up to is no good. |
This team needs a Stoutland. Yes, I know it wouldn't be very fitting personality-wise and I know said Pokémon did not exist yet at the time of this game's creation, but this team really needs a mustache to twirl and none of these three quite fit the bill.
| | |
| --- | --- |
| | Ekans: Wanna know how it works? |
Yes, please enhance my ability to stop your evil plans by spelling them out to me.
| | |
| --- | --- |
| | Ekans: If we have the cover of a rescue team, we can get away with so much more! |
Well, I guess I can see that. It might be a better plan if you were to, say, keep it a secret.
| | |
| --- | --- |
| | Medicham: We have our eyes on world domination~♪ |
…Um?
| | |
| --- | --- |
| | Cherithe: Wha… World domination?! |
I concur.
| | |
| --- | --- |
| | Gengar: Kekeh! You heard right! That's why we're raking in the cash and adding to our gang! |
Apparently, business isn't very good if you have to resort to stealing job offers.
Speaking of which, I can see that plan falling apart. "Hi, thanks for rescuing me, but why do you have my job offer when I mailed it to Joat and Cherithe?"
I mean, seriously, how else would they have gotten that letter, aside from theft?

…Oh, right.
| | |
| --- | --- |
| | Gengar: The world will be ours! |
…Is that the extent of your plan? Because, if so, I think you may not have thought this all the way through.
| | |
| --- | --- |
| | Gengar: The rescue team of evil! Team Meanies is who we are! |
Is that actually the name on your badge? Because that might explain the lack of job offers.
| | |
| --- | --- |
| | Gengar: See you around! Kekeh! |
| | Cherithe: Now wait just a second! |
| | Cherithe: …They took off. |
Aw, maaan… Now we might actually have to leave our house in order to get job offers!
| | |
| --- | --- |
| | Cherithe: What an unbelievable bunch. |
I know I certainly have a hard time believing it.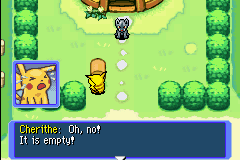 You don't say.
| | |
| --- | --- |
| | Cherithe: They took everything! |
They even took the newspaper, as a Medicham snack.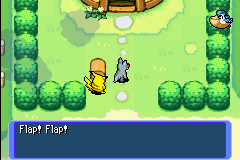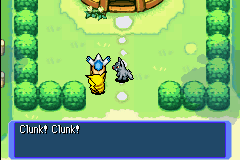 Oh hey, the Pelipper of Plot Convenience!
| | |
| --- | --- |
| | Cherithe: We're in luck! Pelipper delivered some mail! We can go on rescue missions again with this. |
…Does the bulletin board no longer exist or something?
| | |
| --- | --- |
| | Cherithe: But those guys… They'd better not try anything if we see them again. |
As a note, as a Gengar, the leader is at least level 25. We have a while to go before we reach that level. Or we could give Malchoir about five more minutes of training.
Er, wait, Malchoir is Normal-type and thus has trouble hitting Ghost-types, never mind…
For that matter, Gengar also requires trading to get to that stage. How does that work, in this setting?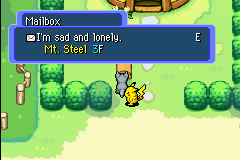 Sorry, Cherithe, no rescue job offers here, just someone hitting on me.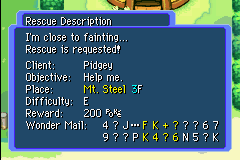 Oh.
Well, to be fair, this one's more plausible than Plusle's plight, at least.
Anyway, one bout of shopping about for a few friend areas, storing and withdrawing items, and getting more jobs from this "bulletin board" thing that we apparently keep forgetting exists (on which I only found one other job in Mt. Steel)…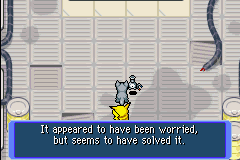 Well, I'm glad I wasn't around to hear what a worried Magnemite sounds like.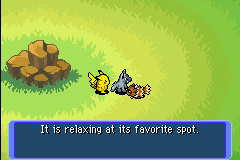 I wonder what makes that specific bit of grass so special.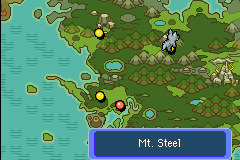 Onward we go!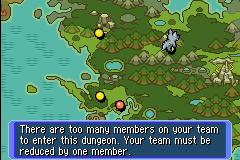 …Or not.
Alright, well then, I suppose I shall drop Tesla. It kinda pains me to do so, a bit, actually, but, as pointed out before, we already have an electric type.
Also, I like cute things, and Malchoir wins on that front.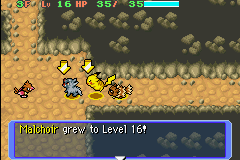 Naturally.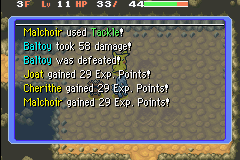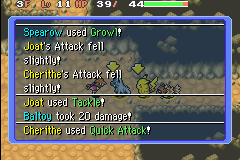 Even taking the Growl into consideration, that is one heck of a damage gap. Why am I leader, again?

Ah, right.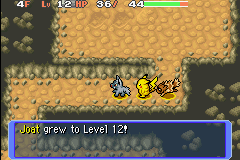 Ooh, hey, again! Maybe there is hope yet for my leveling rate!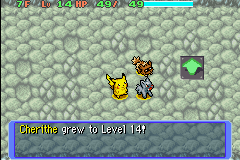 Well, sort of.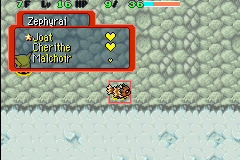 I think I have found someone more fragile than me. I mean, this is the third time in critical HP this dungeon. And he used a Reviver Seed the first time.
Still puts my offensive abilities to shame, though.
Okay, to be fair, that may be partially due to me setting his AI to "Go After Foes," but if I don't do that for my party, it tends to result in only one ally getting near the enemy, with the rest not taking the leap of logic to, say, take a step forward to get to the enemy.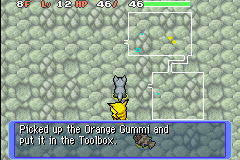 I have been finding a lot of white and orange gummies in these dungeons, but I do not think I have once seen any other type. Why is that?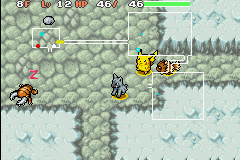 The way Pincer is laying on its front an raising and lowering its body makes it look less like it is sleeping and more like it is panting and barely staying conscious after receiving a beating, soon to receive its second wind and defeat its foes using strength, determination, a lot of shouting, and regrettable fashion decisions.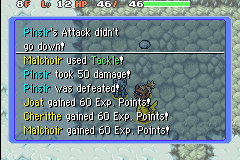 …Or that.
Though, I am a touch disappointed at the lack of recruitment on Pincer. While it's not one of my favorites, it still holds a place in my little gum heart, because it was my first bug-catching contest entry, my first victory in said contest, and, since then, a part of the roster for a fair chunk of Pokémon Gold. Along with Butterfree, Raticate, Pidgeot… I really have a thing for the underdog, don't I?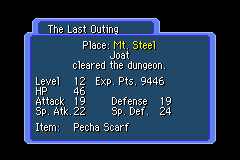 …Did Malchoir seriously only gain one level during all of this?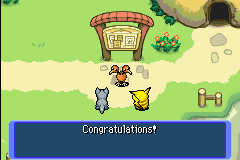 Zephyrai went up in rank from the Normal Rank to the Bronze Rank!
Woo!
I must admit, that genuinely does feel fairly nice. Even if Bronze still isn't exactly all that impressive-sounding.
Sadly, Cherithe gives no response to that. I wanted to see her reaction. I would imagine it would be quite adorable!