Day 12: Wherein Joat forgets to add 80's training montage music.
---
The next morning…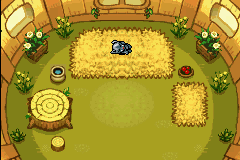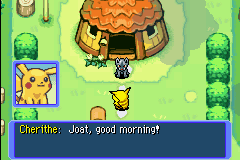 | | |
| --- | --- |
| | Cherithe: Yesterday, I did some checking around. It turns out that the Hill of the Ancients is apparently in the Great Canyon. We should go there right away! Off to the Great Canyon! |
Right! But first, we need to train.
…A lot.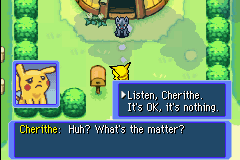 I imagine this decision would have more emotional weight if the player even knew.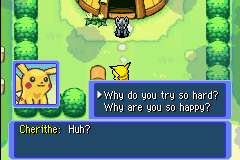 This clarifies why the player was not told in advance, but this is still clunky, since the player still did not know the available questions.
Anyway, I suppose I shall go with the second.

…It's a valid question.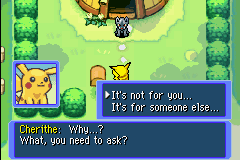 …What?
Like, seriously, who else? I mean, Reddybear certainly never inquired about it.
Neither of these responses make any sense. I'll just go with the second one. That's more likely to get me an answer, I imagine.
| | |
| --- | --- |
| | Cherithe: Someone else? Come on, what do you think I am? We're friends, aren't we, Joat? |
Oh, it's a cover story sort of thing.
…Does this mean that the game is shipping the protagonist with the partner? Rather bold, considering the game knows the gender of only the protagonist. That the two are opposite genders is kinda luck of the draw, in this case.
Also, Joat and Reddybear OTP.
| | |
| --- | --- |
| | Cherithe: I want to do my best because it's for you, Joat. That's what this is about. So, as always, let's try our best to do well! |
Wait, so this is about friendship more than saving others? I mean, friendship is fine and all, but when we started this whole thing, we barely knew each-other.
Heck, given how little I've spoken, you still barely know me.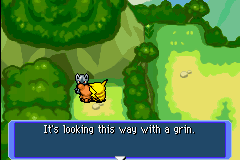 Would he be smiling if he knew he was going to be so busy today?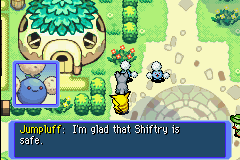 | | |
| --- | --- |
| | Jumpluff: Joat, your team is fantastic! It's shocking to hear that you've beaten Zapdos! |
Oooof course.
| | |
| --- | --- |
| | Lombre: Xatu? I wouldn't know. There's really a Pokémon named that? |
Pretty much my reaction when I got to the Elite Four in Pokémon Gold.
| | |
| --- | --- |
| | Bellsprout: I must say, I'm very impressed. Your team is surprisingly courageous. It casts you in a new light! |
And yet I still get no points from it.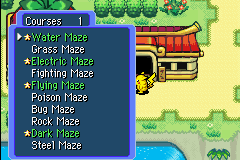 Starting with Bug, I suppose. And I think Fighting should go last, because… yeah, type disadvantage.
Except wait, Bug has the same thing on me. Bleh. Oh well.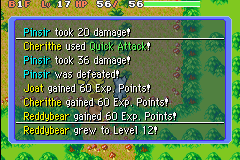 Choice to train validated!
Also, I have, thus far, seen Pinsir, Weedle (which I use a move for every time because I most definitely do not want to have to deal with poison), and Beedrill. There's actually more than one, for once!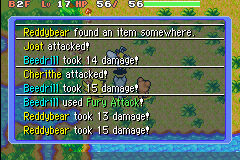 I should probably consider using moves on Beedrill, as well.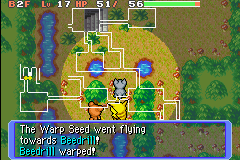 Well, uh… Thanks, Reddybear?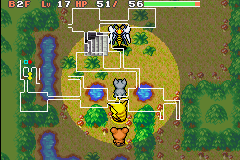 Sort of.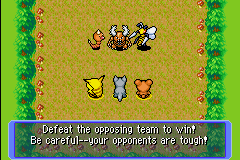 Here, though, Weedle is not much of a target, since poison would not be likely to damage the target more than once in this fight.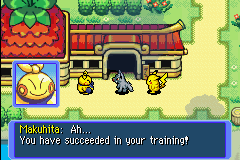 The opposing team made the strategic error of focus-firing Cherithe.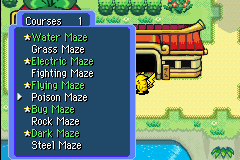 Yes, I dare. I may regret this…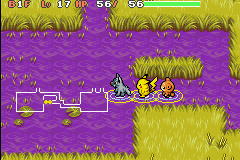 It looks like I should be poisoned just be being here.
Though, that may be partially due to me playing Pokémon Conquest before this.
We somehow managed to get through these floors without being poisoned once. Even considering Cherithe's Pecha Scarf, quite impressive.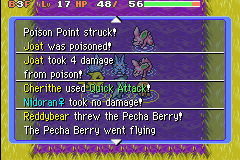 Well, that was a lovely brief thing while it lasted. At least the poison itself was even more brief, due to a gift from my beloved.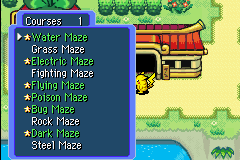 And next, the Grass Maze!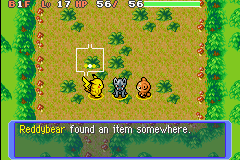 I think they could have made the Grass Maze more, well… grassy.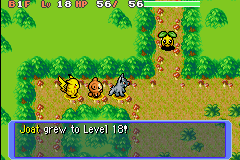 …!
I SURPASSED CHERITHE!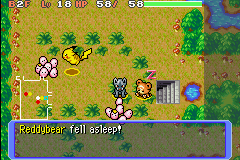 Why does there have to be enemies around? I cannot cuddle and fight at the same tiiiime!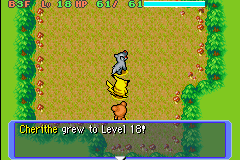 She's not exactly falling behind quite yet.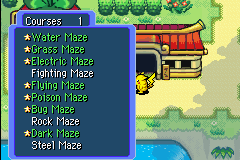 Well, now come the painful ones.
Going with Steel next, which two of us have some way to bypass the defenses of, at least. Not Reddybear, though, and I don't exactly think licking the enemy is a good idea if this place ends up being very cold.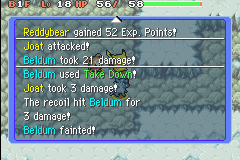 Pffft!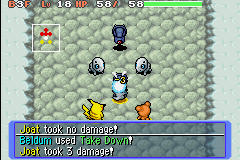 Now I know how Cherithe feels.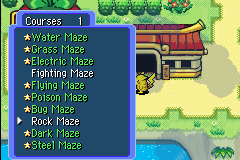 Next, let's rock! dodges tomato-shaped rocks
Anyway, nothing of note in that one.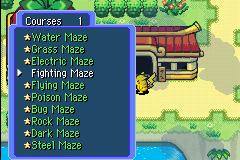 Well, here goes…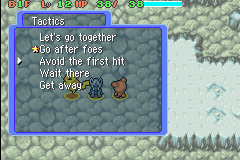 …Yeah, I think I should have Reddybear do this.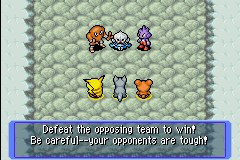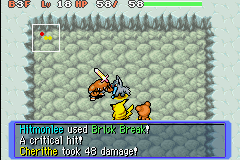 GOOD HEAVENS!
Can we get some steroid testing, here?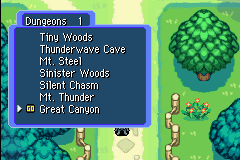 Well, here goes. Reddybear's still only level 12, but here's hoping it all turns out well.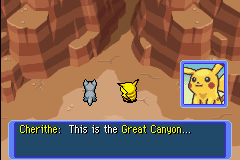 So it seems.
| | |
| --- | --- |
| | Cherithe: The peak is called the Hill of the Ancients. |
Just in case the player forgot.
| | |
| --- | --- |
| | Cherithe: According to Alakazam, the Hill of the Ancients is on 13F. |
Hoboy…
| | |
| --- | --- |
| | Cherithe: Xatu should be there. Joat, let's do our best! |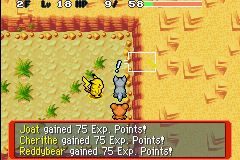 Yeah, sounds about like my best.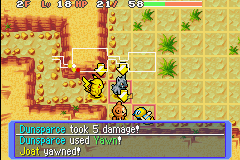 At least with this, there's some way to work around it.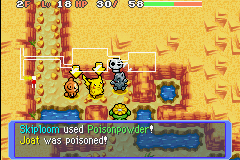 Lovely…
Honestly, I think I should be the one with the Pecha Scarf.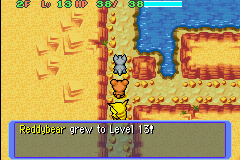 He needs this.
And so do the rest of us, honestly. Really, we're getting destroyed, here…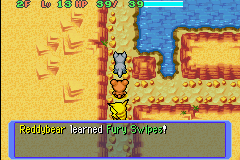 How appropriate.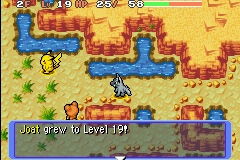 Very helpful, considering I am the one most getting destroyed, here.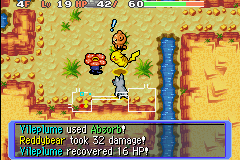 I believe our third party member is made of glass.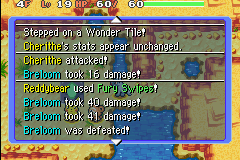 But when he gets an attack in…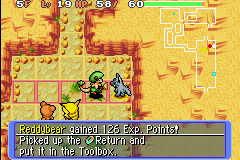 Interesting.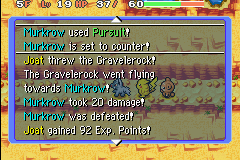 Yet another way in which rocks rock.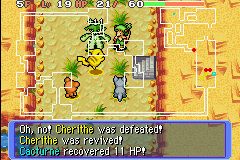 I think the universe just imploded.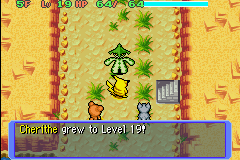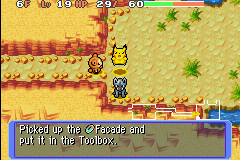 Honestly, an idea presents itself.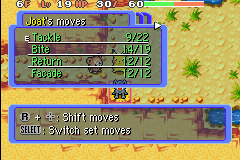 Yes, I know, this reduces the amount of different types of things I can do, but as the leader, I need all the attacking moves I can get.
Eeeyup. Reddybear just got one-shotted by a non-critical, non-super-effective move.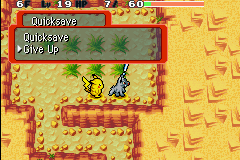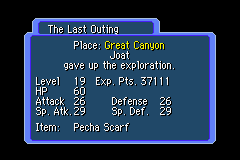 …Yeah. I hate to say this, but we need to do some more grinding before we continue the story. Yeah, theoretically, these two might suffice, but do I really want to continue without my beloved by my side?
I'll try to make it interesting, at least, but still, kind of a downer.
As a note, after writing the above, I went ahead and looked up recommended levels. One guide gave me the recommended level for Mt. Thunder of Lv.19, keeping in mind that is the entry level, whereas I was still under-leveled at the conclusion of the dungeon. The guide also has a similar recommendation for this dungeon, and while we are good on Joat and Cherithe… Reddybear suffers from being a late entrant. So, yeah, I will be taking the guide's advice and grinding Reddybear up to level 19. Maybe then, he won't go down if an enemy sneezes in his direction.