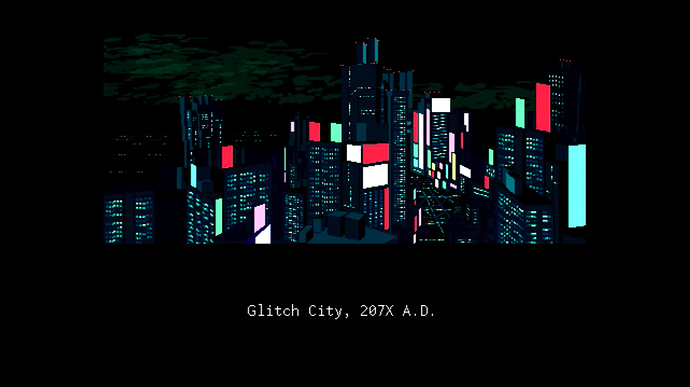 A city that shouldn't exist. A tax haven where corporations and criminal empires reign supreme.
In this place, all human life has been infected with nanomachines to keep them in check. Over them stand the White Knights, who ensure that a corrupt government's laws are obeyed.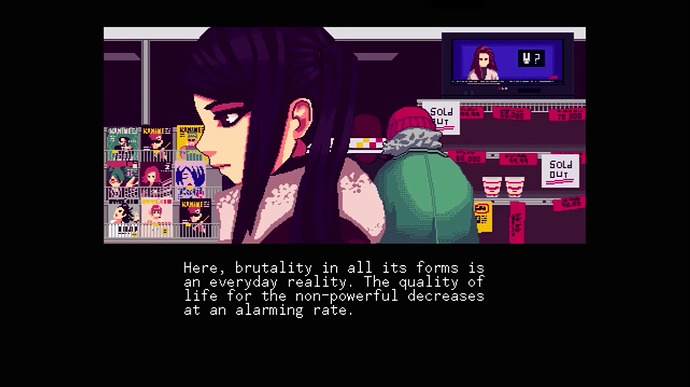 For many, this can be overwhelming. Some devote themselves to their jobs, their families, or even their studies. Some look for ways to escape this place, and others…just give up.
But for many of them, the answer lies at the bottom of a glass.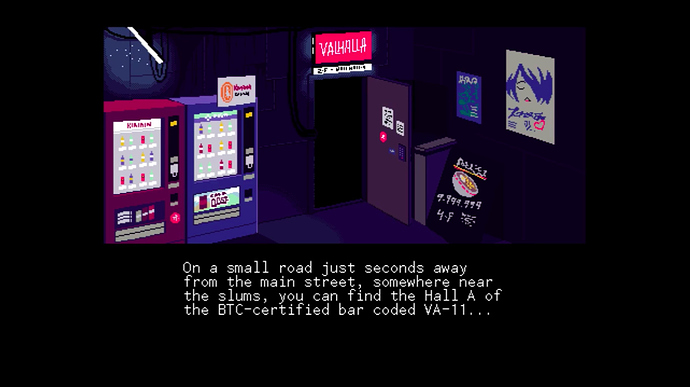 …but that's a mouthful, so we just call it Valhalla.
A small oasis in the middle of the concrete desert. A fountain of spirits waiting for tired souls.
And it's here where this story unfolds.
So just what is VA-11 HALL-A?
Developed by Sukeban Games and published by Ysbryd Games, VA-11 HALL-A is a "booze 'em up" in which you (or rather, the protagonist Jill) serve drinks to a variety of colorful characters. It plays very much like a visual novel, but rather than picking dialogue options, the drinks you serve impact the conversations and story. It's also not a very good game for many reasons, but we'll get to that later.
And the LP?
I'll be going through the main game and going for a perfect route, which means getting all the endings, and in another save file I'll get the Read Only Memories easter eggs for a future update. The prologue won't be covered, as it's not super important and only provides some minor foreshadowing. I'll provide some commentary to explain certain things and whatnot. The updates will (hopefully) be on a weekly basis, but college might interrupt that, so here's hoping.
Trigger warnings: Nothing is graphically displayed, but the characters talk about subjects such as: rape, pedophilia, there's also some minor transphobia, as well as general, well, misogyny. If there are some things you feel like I might have missed, let me know and I will edit this section.
Thread rules?
No spoilers and please be civil!
Chapter 1: Primera
Day 1: And/or Organs: Part 1/Part 2
Day 2: PR Century: Part 1/Part 2
Day 3: A Straw and Some Butter: Part 1/Part 2
Day 4: Enter Streaming-chan: Part 1/Part 2
Day 5: Lawrence: Part 1/Part 2
Day 6: Woman Cave: Part 1
Chapter 2: Amarga
Day 7: Preserving Cuteness Is One Of My Principles: Part 1/Part 2
Day 8: The Part-Timer Is A Devil: Part 1/Part 2
Day 9: Dictionary DRM: Part 1/Part 2/Part 3
Day 10: Lesbian Quota: Part 1/Part 2
Day 11: Chiens Sans Frontières: Part 1/Part 2/Part 3
Day 12: Franco-Belgian Comic Opinions: Part 1/Part 2
Day 13: A Mega Christmas Miracle: Part 1/Part 2
Chapter 3: Dulce
Day 14: For The Rest Of Us: Part 1