If you look back, it's kind of a miracle that we ever got any of the good Shin Megami Tensei games localized in the West, let alone the later Persona games.
Up until the release of Persona 1, Atlus had been making the mainline Shin Megami Tensei series, known for being a Wizardry clone that was just as hard and dickish as Wizardry itself: the early SMT games hated you for playing them and would do anything in their power to make you stop. Somewhere along the line, Atlus realized that this was a problem. No one wanted to play a game that effectively required a guide (or hours upon hours of trial and error gameplay) to finish.
Megami Ibunroku Persona (the original title for Persona 1) was supposed to be a way of fixing that: a spinoff with lower difficulty that more people were likely to finish and that could largely be played without needing a guide every step of the way. In a lot of ways, Persona 1 is a direct successor to Shin Megami Tensei: If… which takes a single mechanic from SMT If (namely the "guardian spirit" mechanic) and turns it into an entire game… though actually it's more like three games.
The first was the original Japanese release, known as Megami Ibunroku Persona: Be Your Own Mind, which was later re-released on the PSP as Shin Megami Tensei: Persona. SMT: Persona is the real localization of the game, with an accurate translation and very few changes made from the original Japanese script (and most of those changes are references to other SMT games that were added in for the PSP version).
Then you have what Atlus decided to localize as the debut for Shin Megami Tensei in America, which was released as Revelations: Persona. It was… not great.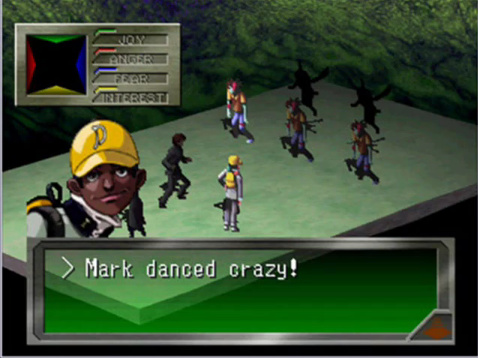 Apart from giving all of the characters western names, Revelations: Persona (as the original PSX release was called) was heavily censored and had half the game stripped out for no apparent reason. This is also the version that Sony decided to release on the PS1 Classic, which is part of the reason the PS1 Classic flopped as hard as it did. We will not be talking about or acknowledging the existence of Revelations: Persona in this LP, apart from a few of the memes that made it into the PSP re-release.
A side note: this LP is going to be done on an actual PSP Go, with no savestates or rewinding or any of that other bullshit. This is to keep the LP as genuine as possible, and also to avoid shit like that SMT 1 LP on the archive where the LPer abused savestates to do things that would be difficult to impossible to pull off on real hardware.
If this goes well, I'll also probably do Persona 2 Innocent Sin, which also does not have an LP on the archive.
(Excuse the fingerprints, I only use this PSP in composite output mode with a wireless controller).
I also decided that what I'd do is upload my saves for Snow Queen, so that people can try the Thanatos First run for themselves. They can be found right here.