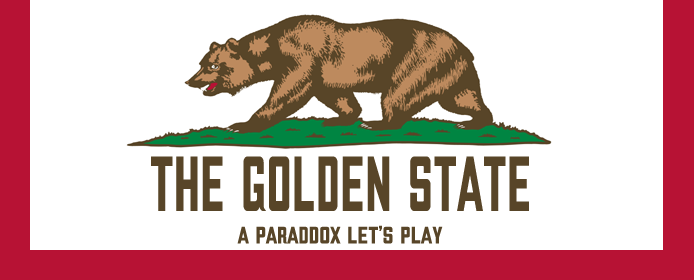 What's this?
This is a let's play of one of my favorite games, Crusader Kings 2, with one of my favorite mods, After the End. I'll be playing as the King of the Valley, in the Empire of California.
Whoah, slow down hoss! What does any of that mean?
Crusader Kings 2 is a game by Paradox Interactive, where you play as a dynasty in Medieval Europe (or Asia, India, the Middle East, or Africa, if you have the right expansions). Your goal is simple: keep your dynasty going for the entire game and try to one up some of history's greatest rulers, like the Hapsburgs or the Carolingians. Typically, games start in 1066 (earlier with some expansions) and go until about the 1400s or till you get sick of it.
After the End is a mod for CK2 that imagines a post-apocalyptic North and South America following some sort of world changing Event (its never specified, and is largely left up to the player to determine). The Americas are divided into numerous competing empires, kingdoms, and duchies with a truly staggering amount of religions thrown in to keep things interesting.
Of all the possible places to be playing, I'll be starting off as King Pollock I of the Valley, one of the five Californian kings that pay lip service to a kinda sorta divine Emperor of California, who is largely confined to the Imperial Palace in Sacramento; think of it a bit like the Warring States period of China or the Sengoku period of Japan.
What's California's deal?
California is a bit unique in AtE: it follows a weird syncretic religion known as Ceticism (coming from the word ascetic), which was founded by the first emperor of California, Elton the Lawgiver. More of a lifestyle than an actual religion, Ceticism reveres Old World religious figures, such as Jesus, Muhammad, the Buddha, as well as Old World authors such as L. Ron Hubbard and Ursula LeGuin, and consider their teachings and writings to have come from the same divine source, each with their own insights into how best to lead a holy and devout life. On top of all this, there's the Emperor of California who, from time to time, is expected to release new teachings as well as interpret old works to provide new insights for the people of California; in this way, the Emperor acts as both a holy figure and ruler for all of California.
Followers of Ceticism also have access to a unique form of government, called Californian bureaucracy. Basically, its a bureaucratic state headed up by the Emperor, which rewards rulers for having high stewardship and learning scores, usually in the form of an absolutely insane amount of monthly gold. Rulers with low stewardship and learning scores can find themselves quickly turned into puppets manipulated by their council or other characters, who usually use them for their own gains.
Is this going to be a mega-lp?
I don't really know; while I do have the skills to convert the game over to Europa Universalis 4, I don't know if I'll be inclined to. We'll just have to see how I feel at the end of playing 400 years of CK2!
For those of you not in the know, Paradox Interactive has released a series of grand strategy games that start with CK2 and have the potential of taking a player right up to the 1950s, allowing you to play a single nation for hundreds of in game years; mega-lps typically go from CK2 all the way up to the furthest end date, but given the nature of this particular let's play (it starts in 2666 for one thing!) I don't know if I'll be continuing the game into the next game in the line, EU4. If I don't continue the game into EU4, I'll end it in AtE's end date, which I believe is 3053; that's still a whole lotta game!
Table of Contents
Chapter 1: An Empire Divided
Chapter 2: The Shepherd and the Ram
Chapter 3: The Young King
Chapter 4: The Children of Zion
Chapter 5: This Year in Sacramento
Chapter 6: Courtly Intrigues
Chapter 7: The Golden War
Chapter 8: The Peaceful Years
Chapter 9: The Imamite War
Chapter 10: The Great Reform
Chapter 11: Interesting Times
Chapter 12: 2706 State of the World
Chapter 13: End of a Legend
Chapter 14: The Lecher
Chapter 15: A Bad End
Chapter 16: A Repayment of Debts
Chapter 17: The Baja Reclamation
Chapter 18: The Blossom Age
Chapter 19: Bleeding Jefferson
Chapter 20: The Bear of the West
Chapter 21: Greater California