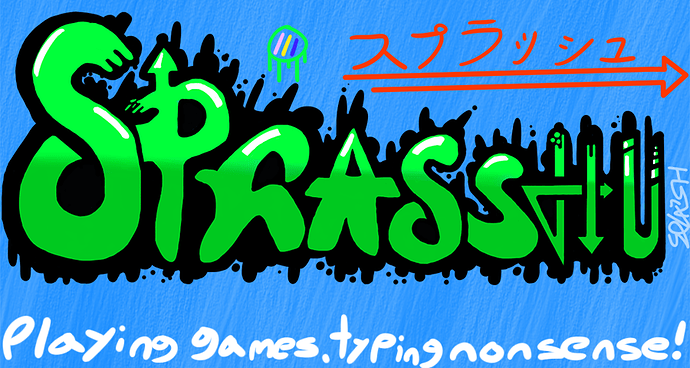 BIO
What's up everybody? Splash here! Round here, you'll see me streaming on Twitch whatever. I mostly stream Nintendo and Steam games, since that's what I own and that is what I play mostly. I am also an amateur graphic designer, but don't expect art streams anytime soon.
SCHEDULE
I used to stream everyday around 7 - 8 EST everyday, but now that I am unemployed, I plan on streaming alot more often until I find a new job
I announce when I am streaming over on my Discord server The Splash Zone
WHAT TO EXPECT IN TERMS OF CONTENT?
Party Streams
Weekly on my Discord server The Splash Zone, I also host party streams with my Discord members, where we stream games like Jackbox, Golf With Friends, Tabletop Simulator and whatever else people are game for. We also occasionally, alot more than once a week, play Mario Party Netplay, where 4 of us suffer for your entertainment!
Stream LP's
As an ongoing series for Twitch and later YouTube, I do these streams called Stream LP's which are self-explanatory. Basically, I stream a game all the way to completion that people either voted on to stream, or that I wanted to stream myself and then upload the edited VODs of it to YouTube as an LP series. Nothing special.
UPDATE: Stream LP's are no longer a thing I plan on doing anymore. All VODs uploaded to YouTube will not be of a series, but rather of my own accord for streams I plan on keeping a backloggery of.
Dedicated Patron Nights
As part of a Patreon obligation, whenever said Patrons are around, I do these streams I call Dedicated Patron Nights where I play a game they recommend to me for a while and give them my overall opinion on them.
Splatterdays
An oldie but a goodie. Splatterdays are dedicated Splatoon streams. Formerly held on a dedicated Splatoon Discord called The Spawn Point, Splatterdays have since moved over to Project Respawn after some internet drama caused me to leave The Spawn Point. They consist of me whether playing it solo, with a squad or in a private battle, simply playing Splatoon. They used to take place on Saturdays, but have since been sporadic with whenever I decide to stream Splatoon and/or can set up PB's, League Battles or Salmon Runs with my friends in the community
Races
Occasionally I participate in video game races set up by my friends. There are two types of races:
STORM: Races that occur every Saturday at 5PM EST that are run by my friends Ampillion, Nalwonk and NoxProph and usually last no longer than 2 hours, sometimes having secondary requirements to actually winning the race rather than beating the game first

TYME ATTACK: Races that occur every Wednesday at midnight EST, run by my friend Tymestalker, as the name implies. These are more laid back and usually last an hour or two
Splash Trash Streams
Streams where I intentionally play notoriously bad video games for my co-commentators amusement
CO-COMMENTATORS
I very rarely do solo streams because I just flat out am not good at doing solo commentary, so I usually have a few co-comms on hand for when I stream. Without these folks, my streams wouldn't be very entertaining to watch so I'd like to thank these people for their support on commentating with me on prior streams:
Ampillion
Babycowland
chaos_defrost
clark_mk_iv
DoctorSmiles
GeneJeanie
GenoKirby
gombs
Great Joe
Frey (AKA Hax)
Heavy Sigh
JeffCharizardFlame
JSpades
Lesgirl
MisterHan2000
Mr. Vareel
Nalwonk
PointlessKnowledge
RedCamp144
Shivaruka
SilverBlue-Neko (Former member of the Splash Zone)
Tiamos Loren
TriforceOfDoom
TruePikachu
Tymestalker
Yuyukirby (Former member of The Splash Zone)
ZeroGravyon
PAST STREAMS
100% Orange Juice (with various)
Blitz Breaker (STORM Race, 2nd place)
Bully
Captain Toad: Treasure Tracker (cancelled stream LP I did with Subzero7, MisterHan2000, Tiamos Loren and Terror Van)
Cook, Serve, Delicious!
Cook, Serve, Delicious! 2!! (with Terror Van, GeneJeanie and PointlessKnowledge)
Crazy Taxi
CrossCode Demo
Dark Scavenger (with Terror Van and gombs)
Day Of The Tentacle Remastered (Completed Stream LP with MisterHan2000, Terror Van and Tiamos Loren)
Def Jam: Vendetta
Drawful 2 (with various)
Duck Game (with ZeroGravyon, Tiamos Loren, Ampillion, Nalwonk, Terror Van and GeneJeanie)
Fibbage XL (with various)
FTL: Faster Than Light (with TruePikachu and Shivaruka)
Goemon GBA (Tyme Attack race, set up by GeneJeanie, last place, DNF, didn't get past the first world)
Grim Fandango Remastered (Ongoing Stream LP with Terror Van)
Invisible. Inc (with Terror Van)
Jackbox Party Pack 3 (with various)
Jet Set Radio
Just Cause 2
Keep Talking And Nobody Explodes (with Terror Van, GeneJeanie and ZeroGravyon)
Killing Floor (with Mr. Vareel, ZeroGravyon and RedCamp144)
Kirby's Dream Course (STORM race, last place, DNF on Course 3)
Left 4 Dead 2 (with Ikaheishi, Mr. Vareel and TruePikachu)
Legend Of Zelda: A Link To The Past (with Shivaruka, GeneJeanie and Nalwonk)
Legend Of Zelda: Ocarina Of Time
Luigi's Mansion
Mario Party 1 - 7 (with various)
Mighty No. 9 (with ZeroGravyon)
Momodora IV (Dedicated Patron Stream with ZeroGravyon)
Monster Party (STORM Race, DNF, didn't beat the first stage, last place)
Mushroom 11
Night Slashers (Tyme Attack race, set up by ZeroGravyon, 8th place)
Odallus: The Dark Call (with DoctorSmiles, kinda and Dedicated Patron Stream with ZeroGravyon)
Organ Trail (with various)
Overwatch (with Shivaruka, Kalvinis, ZeroGravyon and Mr. Vareel)
Paper Mario: The Thousand-Year Door (with Terror Van, Heavy Sigh and clark_mk_iv)
Pikmin
Pokemon Colosseum (with Subzero7, GeneJeanie, GenoKirby, Shivaruka and Ikaheishi)
Pokemon XD: Gale Of Darkness (with Shivaruka and Subzero7)
Puzzle Agent 1 & 2 (with ZeroGravyon and GeneJeanie)
Rocket League (with ZeroGravyon, Ampillion, ScurvyKip, Subzero7 and Tiamos Loren)
Rocket Riot (with Terror Van and gombs)
Saints Row: Gat Out Of Hell
Shadow Warrior
Sleeping Dogs
Snake Pass (with ZeroGravyon)
Sonic All-Stars Racing Transformed (with various)
Sonic Advance 1 - 3 (Tyme Attack Race, set up by NoxProph, DNFed, fuck Sonic Advance 3)
Sonic Adventure (Completed Stream LP with JSpades, MisterHan2000, DoctorSmiles, Terror Van, Lesgirl and gombs)
Sonic 2 (Tyme Attack race, 3rd place)
Sonic 3D Blast (STORM Race, 2nd place)
Splatoon (with various)
Splatoon 2 (with Project Respawn)
Stardew Valley (with Terror Van)
Strider (Dedicated Patron Stream with ZeroGravyon)
Super Amazing Wagon Adventure (with Terror Van and PointlessKnowledge)
Superbrothers: Sword And Sworcery (with Terror Van)
Super Hexagon
Super Mario 64 hacked ROM race (with various)
Super Mario Baseball
Super Mario Bros. ROM hacks (with various)
Super Mario Odyssey
Super Mario Strikers
Tabletop Simulator (with various)
The Beginner's Guide (with Terror Van)
The Witness
Ultimate Chicken Horse (with GeneJeanie, Ampillion, ZeroGravyon, Tymestalker and Nalwonk)
VVVVVV (with various)
You Have To Win The Game Race
So if any of that is right up your alley, then come check out SplashStreams! All are welcome to join my humble community!