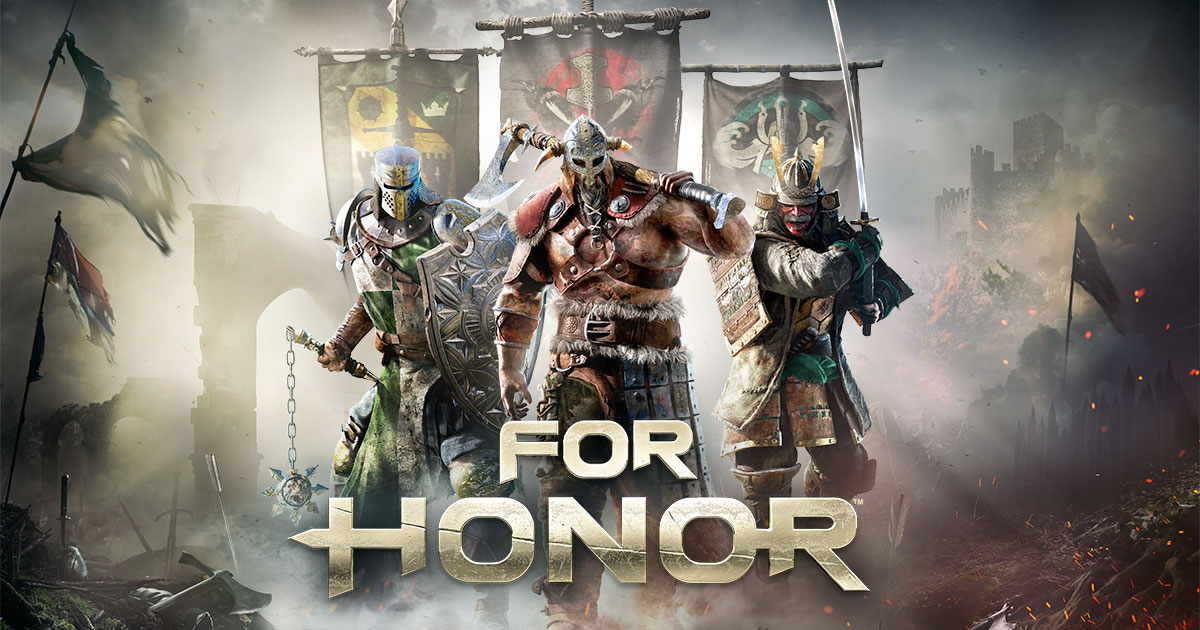 For Honor
For Honor is an Ubisoft Montreal game released in February of 2017. The game was first seen back in 2015 but after a good wait it finally came out to positive reviews but soon after release a slump followed.
The game focuses on a multi-faction war in a seemingly fictional version of our own world. This war will contain Samurai, Knights, and Vikings. That is the entire premise of the game, see awesome historical warriors duking it out. It's what a Deadliest Warrior game really should be but wasn't. Constantly at war with one another after a terrible calamity the samurai, knights, and you guessed it vikings, all fight over territory and resources. This is seen both in campaign and in the very competitive online multiplayer for the game. The game features four classes for each faction reaching a total of 12 with 2 new classes added each major update. Currently there are 4 added classes, additional classes cost a lot of in game currency or real money to unlock while base game classes are cheap. In For Honor you are able to fully customize your characters for each class choosing their gender(Though some classes are gender specific), skin color, armor color, designs, and even some of the fashion with choices related to loot you unlock as you play the game. It is microtransaction heavy but if you play the game a lot this can be totally avoided.
The LP
Hi I'm Tolvo I'll be the one recording, commenting over, and uploading for this LP. We will start off with an introduction to the game and then the majoriity of it will be spent on the story with additional updates for every class in the game that I can reasonably show off as well as every mode, training video(Basic and Advanced), and mutiplayer to give an impression of what the PvP is like. I plan on uploading two versions of each main video past the introduction, one with commentary and one without(For those who don't like my voice, just want the game only, etc). I will be putting content warnings on each episode. Mainly this game is very gory and bloody. This is not a 100% playthrough nor is it a hard or realism playthrough. I want to show off the game not particularly my own skill.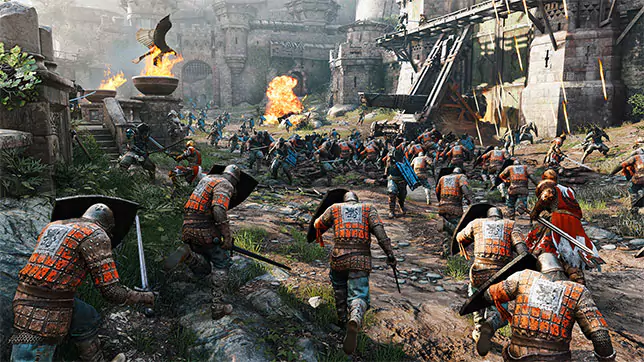 Characters
The Warden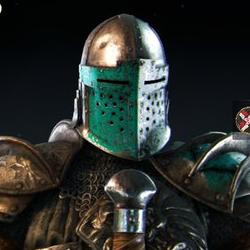 One of the main protagonists and playable characters of the story. The Warden is a morally upright person who questions unnecessary violence and wishes to see peace restored to the land. They are a Warden, a member of an ancient line of warriors known as protectors and for their prowess.
Hervis Daubeny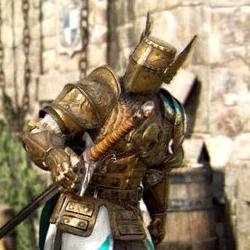 A coward and a traitor, Hervis Daubeny fled the Blackstone Legion and forsook his vows. He instead formed his own group and led them beneath his banner.
Holden Cross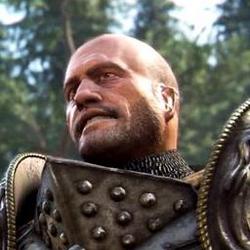 The 2nd in commander under Apollyon of the Blackstone Legion. Like Apollyon and the other leaders of the Blackstone Legion he took on a demon name, Asmodai but no longer uses it. He's stoic and rough around the edges with a great focus on justice. Cross hates the Vikings deeply and wishes to see them all exterminated. Holden is a Lawbringer.
Stone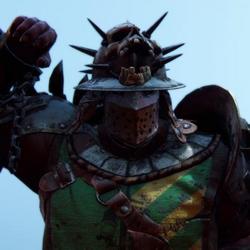 Stone was one of the commanders of the Iron Legion. He is a brute of a Conqueror who prefers to smash his way through his problems. The man enjoys taunting foes and can be quite a jerk plainly. His true motives for fighting are unknown but fight he does, and well.
Apollyon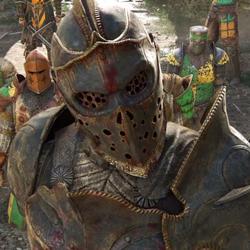 Apollyon is a Warden and is the Warlord of the Blackstone Legion. Her story starts out tragic as she had faced the loss of life at the hands of the Vikings at a very young age. Originally they had hoped a Lawbringer would aid their people but he simply left and claimed they were unworthy of being protected. When she was a teenager she trained and trained and became a Warden, finally she found the Lawbringer and destroyed him ruthlessly then had his armor reforged to make her own armor. Her and fourteen others grew tired of the weakness of the Iron Legion and formed a new organization, the Blackstone Legion. Eight of them tried to rule over it and they were killed, Apollyon was the only successful Warlord to come to rule it. She formed a group of seven who lead the Blackstone Legion, all of them took on the names of demons. Apollyon sees the people of the world as Wolves or Sheep. To her you are one or the other, predator or prey. She favors the Wolves and despises the Sheep which she sees as unworthy of life.
Ragnar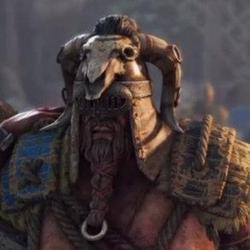 Ragnar is a Viking Raider who lacks any sense of honor. He is a Wolf, as dubbed by Apollyon. This conniving and wicked man cares not for the lives of others and only is interested in himself.
Mercy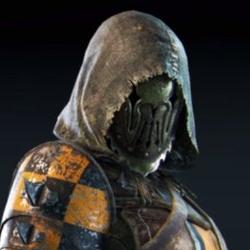 Mercy is a quiet and deadly person. Little is known about her, she is a member of the Blackstone Legion and is very fond of killing.
Gudmundr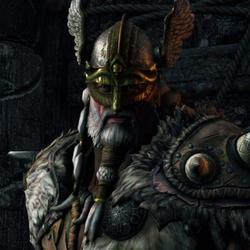 The Jarl of Svengard, Gudmundr is a heroic legendary leader among the Vikings. He's survived countless battles and is a true warrior of incredible skill. Dearly he protects those around him. Known as the Jarl of Wolves, he keeps Wolves as pets that are trained to fight.
The Raider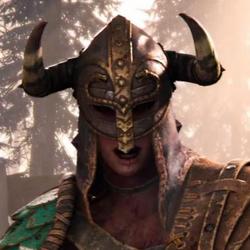 One of the fiercest Vikings to be seen. The Raider is a Raider who lived up in the mountains before they decided to descend to rally and free the Vikings. They strongly believe in Valhalla and is the leader of the Warborn clan.
Helvar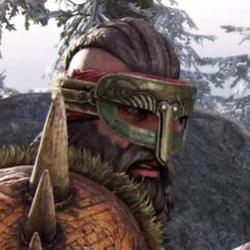 A Berserker and friend of the Raider. Helvar is not very bright and likes to take scalps from his enemies.
Runa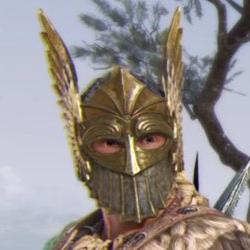 Runa is a Valkyrie and friend of the Raider. She is inquisitive and likes to go off on her own. She does not speak Japanese.
Siv the Ruthless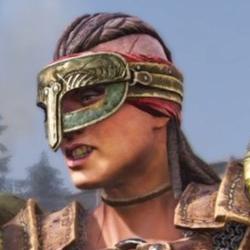 A Berserker, Siv and the Raider have a history. Whatever times their relationship was is unknown to others but Siv has a deep hatred for the Raider. Siv is known for her brutal ways as she likes to mount heads on spikes.
Stigandr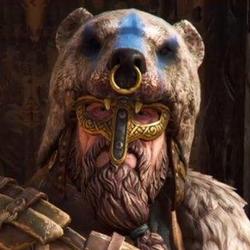 Stigandr is a Warlord and is the last Jarl of the Vikings. He is very fond of raiding and likes to work by himself often.
Julius Salavander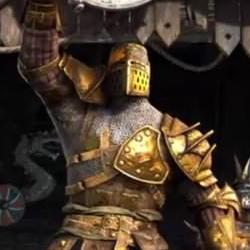 Julius Salavander is the man that Apollyon left behind to watch over the Viking shipyards. He is a Warden and wears golden armor.
Fujikiyo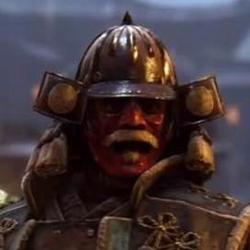 Fujikiyo is a Kensei and the leader in charge of the fortress Kaiyo Kabe that overwatches the sea. He despises the Vikings and sees them as mere savages.
Story Campaign
Update 1 - Warlords and Cowards
Update 2 - And Stay Out
Update 3 - The Blackstone Legion
Update 4 - Valkenheim in Winter
Update 5 - Sabotage
Update 6 - Wolves Among Sheep
Update 7 - Raiding the Raiders
Update 8 - Viking Diplomacy
Update 9 - Wood, Iron, and Steel
Update 10 - Up The Beach
Update 11 - Reconnaissance
Update 12 - The Great Raid
Update 13 - Duty
Update 14 - Thinning The Herd
Update 15 - Picking Up The Pieces
Update 16 - Unty
Update 17 - Honor
Update 18 - Apollyon(Finale)
Multiplayer
Multiplayer 1 - Warden
Multiplayer 2 - Raider
Multiplayer 3 - Kensei