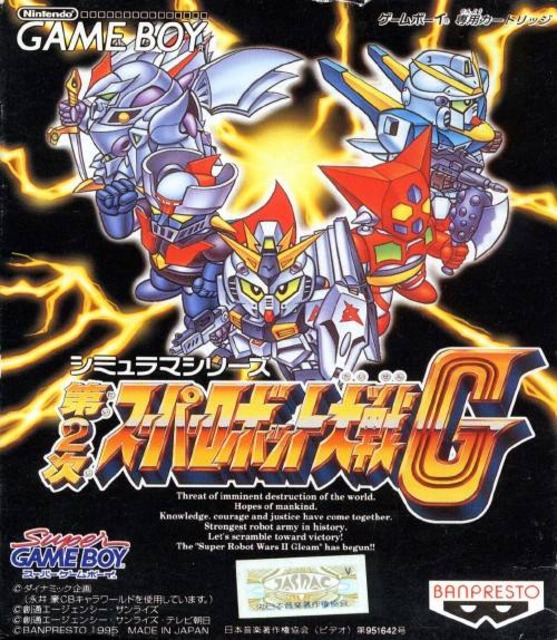 What game is this?
This is Super Robot Wars 2G (the G stands for Gleam). This is the 1995 remake of the 1991 Super Robot Wars 2. The original was for the Famicom, and the remake that we're playing is for the Gameboy. SRW2 and by extension 2G, is the start of the classic series of Super Robot Wars. Back when it was made by WinkySoft, had no problems being "Nintendo Hard" and decided that simple things like continuity between entries in the series didn't matter.
Speaking of continuity, 2G attempted to fix a few things to make the continuity work better, but ultimately was ignored when SRW 4 was remade into SRW F and F Final. Fortunately, it has the much improved battle system from Super Robot Wars 4 where you are actually allowed to select your counterattack, instead of setting an automatic response type that applied to all your units.
Why LP this game?
Because SRW 30 is coming out in 2 months, and it contains Victory Gundam, and so does this game!
No, the real reason is that I'm a completionist at heart. While the SRW franchise is too large for me to play in its entirety, I figured I could play the Classic series. That consists of SRW 2/2G, 3, EX, and 4/F+F final. This part of the franchise doesn't get much love due to how old and janky it is. I wrapped up my SRW 1 LP that I used as a practice run, so it's time to jump into this series.
Why does this intro block feel oddly familiar?
Because I shamelessly stole it from the great LPer of SRW, Brunom. If I can provide even a fraction of the utility and joy that he has given the SRW community, I will have succeeded.
What series are in this game?
Mobile Suit Gundam
Mobile Suit Zeta Gundam
Mobile Suit Gundam ZZ
Mobile Suit Gundam: Char's Counterattack
Mobile Suit Gundam F91
Mazinger Z
Great Mazinger
UFO Robot Grendizer [First appearance in SRW 2]
Getter Robo
Getter Robo G
Banpresto Originals [First appearance in SRW 2]
Mobile Suit Victory Gundam [First appearance in SRW 2G]
Mobile Fighter G Gundam [First appearance in SRW 2G]
How will you play this game?
Like all of my LPs, on and off platform, it will be a video LP. I know it isn't too conducive for interaction in the forum, but I'm hoping to do a few things to get more audience participation.
Unlike the original SRW 2, 2G has route splits. I know almost all SRW LPs take all splits, using alternative saves to make that work. However, I will not be doing that. For narrative reasons, I have already selected my route ahead of time. Don't worry, the other route is not going to be ignored. This game does not have a NG+ feature. However, I will build my own, with blackjack and hookers actually with cheat codes, and I'll cover the route splits we don't take on the NG+ run.
Audience Participation
The classic series is infamously hard. In fact, when I first mentioned I had a silly idea for what to do with SRW 2G on a SRW Discord, the first response was that SRW 2G is not forgiving of "silly ideas", before I could even share what my ideas were.
Fan Favorite: While the classic series is hard, I don't believe it's so hard that I need to minmax my playthrough, and bringing along a sub-optimal unit will be fine. bold your vote. I'll be keeping a running tally, not asking for votes after each mission. You can change your vote at any time. The favorite will be kept up level wise, and given some upgrade love. Not too much during the first playthrough, but I'll be much more free with money on NG+.

Deadpool: SRW 2G has the entire Shrike Team in the game. Maybe not all of it, but eight members of it, and that's more than your deployment limit at the start of the game. This is highly impractical, as they're all in grunt units, and don't really stand out as pilots. They won't be introduced for a few more stages. Once they do, you can send a Streamlabs tip, or subscribe or cheer on my twitch channel. You can either send money to kill someone from the Shrike Team, or to protect them. When someone has $5 more in death cash than protection cash, they will be given a brutal on-camera death, and I will treat it as a perma-kill.
I've read and reread the rules and guidelines, and I don't see any mention of not being allowed to monetize LPs. However, If I missed something, please bring it to my attention and I'll edit this to get it in compliance.
Second Victory

: We will get a second Victory Gundam as one of the secrets. Let me know who you want to be the pilot of it. Same rules as the Fan Favorite. Votes persist, but you can change your vote at any time.
Spoiler Policy: Please don't spoil the plot of the game (what little there is the unified story). However, please feel free to spoil stuff from the shows, especially once something has already happened on-screen.
Mission List
*Mission 1: League Militaire
*Mission 2: Tragedy of Woowig
*Mission 3: Rescue Zeta Gundam