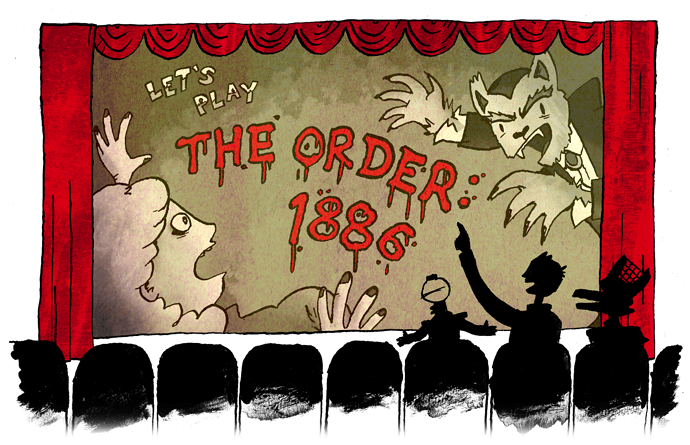 Thank you SuperGraffiti for the thread header
TRIGGER WARNINGS FOR THE GAME IN GENERAL: Violence
The Order: 1886 is a very disliked game for several reasons. Reason 1 being that it was only about 5-6 hours long. I don't think this would have been a big deal without reason 2… it was $60 at launch. Combined with reason 3 being that the game has more cutscene than gameplay, it's no wonder it didn't fair well to the public, who had been waiting for it for years, listening to the hype about how gorgeous the game is and how it will change the gaming world and blah blah blah.
I didn't listen to any of the hype. I also didn't buy it at launch. Truth be told I can't even remember when the game was launched. First I saw of it being released was about a year later, sitting on the $20 games shelf at my local Target. I picked it up then and played through it in two sittings. Honestly I liked it, even if it was just a generic cover-based third-person shooter with a meh story. I guess it was because I didn't drop $60 on it.
I also really like the setting. Sue me.
This LP is a bit different. I'm not really explaining the game much. Have you played a third person shooter? Well it's one of those with a "slow time down and shoot a bunch of guys in an autowin situation" button. Instead, the two versions of this will simply be commentary and no commentary. If you want to just watch a movie, that's cool. If you want to see three dinks riff on said movie, that's cool too.
Joining me is Bobbin Threadbare, AKA the guy what who played the Thief games, and SkippyGranola, AKA the guy who what did Magicka. Together we will go through a world of intrigue, magic, and Victorianism as we shoot werewolves with lightning guns that Nikola Tesla made for us.
Videos
Episode 1: Once A Knight … Commentary … No Commentary
Episode 2: Amongst Equals … Commentary … No Commentary
Episode 3: Inequalities … Commentary … No Commentary