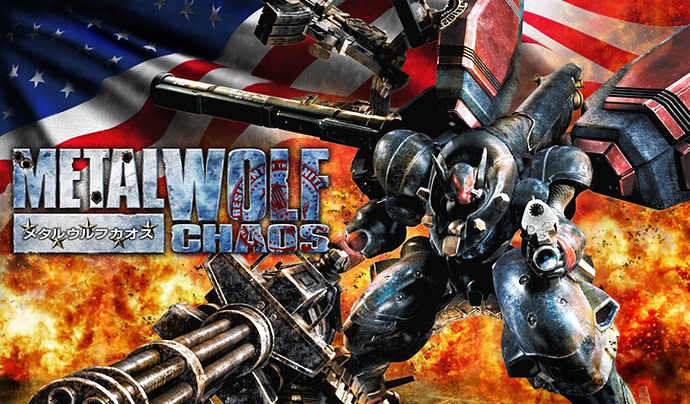 Welcome! It's that time again. Every four years, there's a lot of arguing, finger-pointing, and loud-mouthed drunk relatives that we all deal with (and I'm not talking about the Olympics). Rather than discuss this, let's take our mind off of it with a totally unrelated title.
In December of 2004, From Software released Metal Wolf Chaos on the original Xbox. If you were following gaming news around that time, chances are you heard of this at some point! The premise? A gun-toting president is ousted from power by his vice president! Why? I dunno, terrorism or something. Look, it's complicated. Let's not think about it too much! The president must now take back his rightful place, armed with his trusty battle-suit!
Even though it's by the same dudes who gave us Armored Core, from what I gathered, the devs involved were the same ones who dealt with the Otogi games (also on the original Xbox). So basically, we didn't necessarily have the Armored Core dudes heavily involved. That said, some GUI elements might be familiar!
The game didn't make it stateside, possibly due to it being a rather on-the-nose jab at President Bush (ie: worried about localizing a political-ish game). Alternatively, this was pre-Demon's Souls From Software, who somehow seemed reluctant to make good marketing decisions.
In spite of of us never seeing this in the West, the spoken audio is all English (with some wonderful voicework, lemme tell ya). Even though the dialogue was likely written by someone with a good grasp of the language, and all of the voice actors speak (what sounds like) native English, it is all slightly "off". You'll see what I mean.
Playing it is… Tricky. There is literally nothing in the sense of Xbox emulation, so the only ways to play this seem to involve either tracking down a Japanese Xbox or soft-modding a cheapo off Ebay. Guess what I did~

I'm running a very rough translation patch (by NemsMole). This translates a few things in the menus/UI but it's very spotty and chock full of typos. Past a point, Aegisub is doing almost all of the leg-work. On that same topic, I've made subtitles for all of the spoken audio. Since we'll be talking over fair amounts of this (as well as the audio-work being spotty), I figured it was the best approach.
What I show in the playthrough and what I know of this game is from a hodgepodge of information. Google is extremely light on details, but the LPs by Genpei Turtle and ArclightBorealis are a massive help. Props to those dudes, seriously. If you want additional info (or don't want to hear a bunch of rowdy boys shoutin' at the game), definitely give those a watch!
WHAT THE. POST-COMMENTARY?? What is this garbage?? YOU HEARD RIGHT. This game encourages repeat-runs of levels to grind for materials/cash, so you'll likely see some splices from different runs to show stuff I missed as well as more weaponry/gear.
Joining me again, hot on the heels of Asura's Wrath, is Vicas, Kuvo, & TieTuesday!