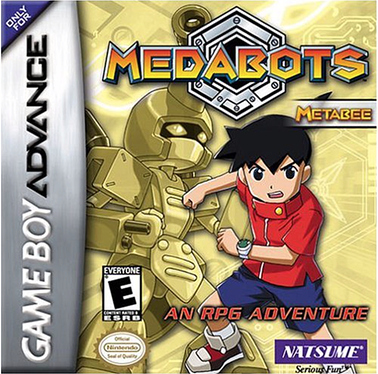 Lets Play Medabots: Metabee Version!
Q: Who exactly are you?
A: Niddo. Also go by Nidtendofreak or The Niddo depending what site you look at and how old the account is. I'm new to making LPs but not new to enjoying them. After over 5 years of reading and watching LPs I figured I should give making one a shot! Any and all feedback is welcome as long as its actionable, I don't doubt I got a bunch to learn through this little adventure.
Q: Alright, fair enough. What exactly are you playing here, it looks vaguely familiar from my childhood/I think I've seen a screenshot or two of this before/wasn't this on the Wii U VC?
A: What you're looking at here, is one of the few (and the best frankly) of the Medabots series released outside of Japan (known as Medarot within Japan). Developed by Natsume of Harvest Moon fame, the series started back in 1997 and had a fair amount of success. Medarot 1-5 were all created, followed by the spinoff game Medarot G. Then in late 2002 a GBA remake of Medarot 2 was released with two versions: Metabee and Rokusho. The remake went worldwide, with Medabots: Metabee and Medabots: Rokusho releasing outside of Japan. Along with the two versions of the remake release Metabots AX: Metabee/Metabots AX: Rokusho (a… brawler/platform fighter? on the GBA) and Metabots: Infinity (A 3D arena shooter for the Gamecube). Around the same time the anime aired outside of Japan and the toy line was released.
It was a massive hit… for a year or two. And then Medabots faded away outside of Japan. While the series is still ongoing with releases on the DS and 3DS (and even showing up in a Super Robot Wars mobile game), it failed to have a long lasting impact on the rest of the world and Natsume isn't particularly interested in rolling the dice again.
Q: Mildly interesting. Why are you LPing this game then?
A: Because it was the first RPG I ever played. I started on the Gameboy Pocket, then the Gameboy Colour, and then the Gameboy Advance, but I had never gotten an RPG or even knew what one really was. Yep, no Pokemon for me; didn't interest me, was busy playing other games. But when the Medabot toys hit my elementary school playground I just had to have them. I've always loved robots, they simply fascinate me. Not only did I get the toys (didn't get to watch the anime sadly, it was always on at the wrong time in my timezone), I saw that they had a GBA game. I immediately bought it and was hooked.
Another reason why I want to LP this game: I think it was sadly overlooked. It got run over by Pokemon pretty hard, Digimon didn't help, and at my school at least Yu-gi-oh was the final nail in its coffin. All things considered it was pretty rough timing for a NA release: Pokemon started only two years prior but had a massive foothold, and other popular series were coming up shortly afterwards. Kids knew Pokemon and loved it, thought Digimon were a ripoff but still kinda cool, and thought Yu-gi-oh was a cool "big kid" thing to get into. Medabots just… never grabbed a solid foothold. The fact that only the RPG game was any good didn't help either, even then if you wanted a more robot based/futuristic RPG on the GBA the MegaMan Battle Network line was a better series to go with.
Despite being overlooked it had some really good mechanics behind it. Not flawless, but a lot more detailed than you would perhaps expect at first glance, certainly a lot of things that flew over my tiny brain at the time. But it's good enough that every few years I come back to it and play it again. Its a shame it wasn't given a better chance, but I hope people can enjoy exploring it with me.
Q: Why the Metabee version and not the Rokusho version?
A: There's only a minor handful of differences between the two versions, all of them coming down to who's using what Medabot. Metabee sticks with common canon for the series (as far as I can tell), Rokusho mixes things up but really its only a handful of Medabots that get swapped out. Metabee version also has my favourite Medabot in terms of design so we're going with that one.
Q: Less talk, more getting to the fun stuff. What are the rules for this LP and how is it going to work?
A: This is primarily a screenshot LP. I'll have a few videos here and there, but it is an RPG at the end of the day, those don't tend to make the most fascinating videos. I'll aim to be fairly informative without going over ever single little piece of text and I'm certainly not grinding for every single Medapart because that's just insane as the drops are all RNG luck and its literally impossible to get every part without trading or cheating with a Gameshark. I'll be aiming to update on Saturdays, work and real life allowing. If I can figure out a good way to post music tracks I may do that as well, some of them are pretty great.
As for spoilers: no plot spoilers, not even in spoiler bars. The game goes to some locations you would not expect as it becomes a rather silly game later on and I'd rather not have that spoiled for anyone. Metaparts and Medals accessible in the near future may be discussed in spoiler tags, use your judgement for what "near future" means. Any Metaparts or Medals already seen are fair game to discuss without any spoiler tags.
Feel free to play along, there's very few things you're in danger of missing permanently.
Q: I know you said no spoilers for the plot, but what about the problem in the post-credits part where-
A: NO SPOILERS
First part should be up sometime today or tomorrow hopefully. Until then, enjoy the intro video!
Updates: