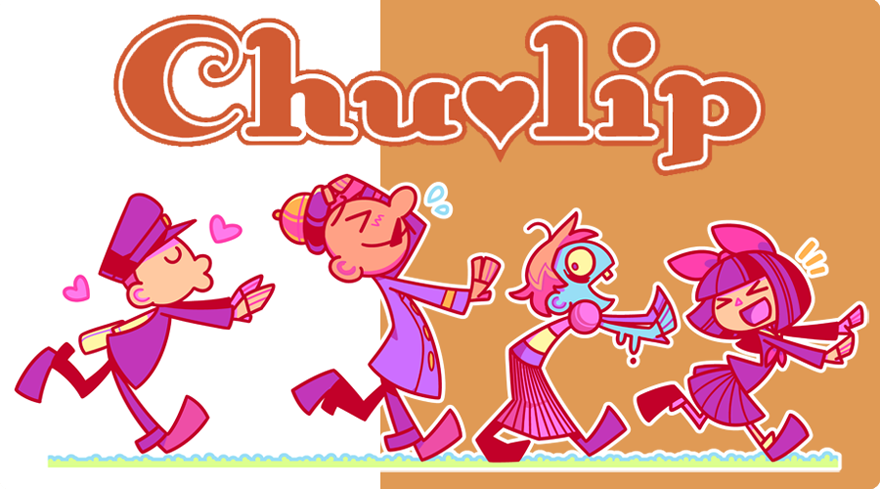 [Thanks to my good friend
AbstractCactus
for the banner image!]
"Video games, contrary to the all the bad the press they might have been given, are nothing but love. What must remain in mind is the message going on between the developers and the player: video games are love."
-Yoshirou Kimura, Director
Chulip is an adventure/simulation game for the Playstation 2 that was released in 2002 and, after a very rough localization process, saw an American release in 2006. Sorry Europe. It was also released for US PS3 in 2012 as a "PS2 Classics" title, despite dismal initial sales. The idea for Chulip came from two experiences that the director, Yoshirou Kimura, had. The first was that, during a visit to Europe, Kimura saw many couples kissing in public, which was a sight not often seen in Japan, where public displays of affection are generally discouraged and in some cases frowned upon. The other was during a party Kimura was hosting, where his drunken friends began shouting "kiss me" ("chu-shite" in Japanese) before talking about video games.
The game stars Poor Boy, who just moved with his father to a quaint Japanese town, Long Life Town. During the move, Poor Boy had a dream about meeting and kissing a beautiful girl. When he goes to meet his new neighbors, he discovers that this girl is real, and lives in his new town! Unfortunately, he has no experience with love, and can't express his feelings to her properly. Desperate to win her love, Poor Boy soon embarks on a journey to understand love and happiness. With a little help from the people he meets, Poor Boy is going to find the words he needs to make her understand, no matter what it takes!
Chulip is extremely obtuse, and a lot of the hints are either randomly given to you under specific circumstances or need to be parsed out via trial-and-error. The manual for the game even has a walkthrough and hint guide in it to help lost players along. The director has said that the game is about exploring rural areas of Japan and the lives people lead there, so it encourages exploration and examination in order to understand the world. I think that, while there isn't always enough in the game to move you forward in the story, there is a lot of charm to be found in Chulip if you take the time to explore. The game has stuff to say on subjects like suburban life, Japanese society, and business culture, and each of the characters was built to be unique, with their own little quirks that make the game feel special. It's a flawed experience, but it's a charming experience for sure.

"If I could cure one person's woes by kissing them, I'd kiss my neighbors. We know less and less about our neighbors, especially in big cities. I think we are afraid of them and don't want to be bothered, but that is not good. Kiss your neighbors. Better love than hate."
-Yoshirou Kimura, Director
I'm ChorpSaway and I'm the Poor Boy who will be searching for love. Acting as my questionable Cupids I have TheJayOfSpade, FutureFriend, Hobotron and Taoc as rotating guests. Together, we'll kiss all the residents of Long Life Town and the surrounding areas and have a good time looking into this quirky little game. I've tried to be pretty snappy with my playing and editing so we'll probably be a bit more focused than usual but I'm sure we'll still be able to find plenty of time for jokes as well.
I will be showing off as much of the game as I can, including kissing all of the residents and as much of the hidden signposting as I can. I'll also be getting translations for the portions of the game that were left in Japanese, and going over the substantial bonus content.

"Making games is, for me, like writing poems. I want to write my poem for everyone on this planet - not just for the Japanese, but for all people in the world."
-Yoshirou Kimura, Director