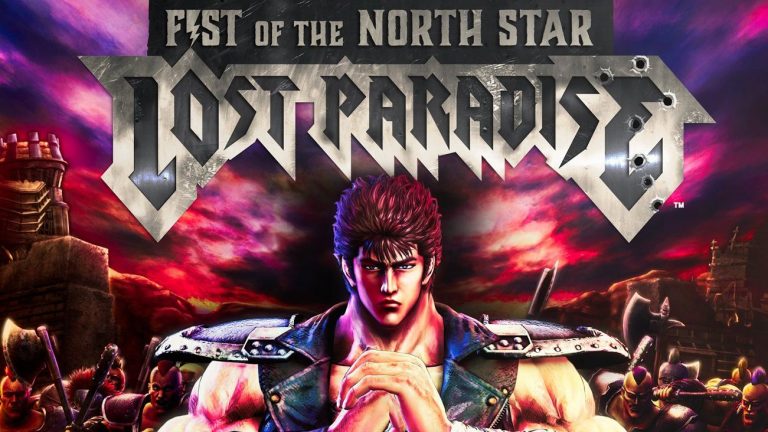 The world is in turmoil. The last major nuclear war has turned the world into a barren wasteland. Biker gangs run rampant across the landscape terrorizing the defenseless, led by ruthless warlords. Food, water, and gasoline are all at a premium. One man treks across the wasteland. A man who was happy before the disaster, and now a man searching for salvation. His name is Max Kenshiro.
Fist of the North Star: Lost Paradise is a pretty good game made by Ryu Ga Gotoku Studios, the same folks responsible for all the Yakuza games. It follows the story of Kenshiro, protagonist of the anime Fist of the North Star, as he searches the wasteland for his fiancee Yuria. His search takes him to a city in the desert named Eden where, naturally, not is all as it seems to be. As far as MY STORY CANON, the only real timeline is that the game takes place after Kenshiro's second fight with Shin. We'll still run into a few of his classic enemies, as well as some new faces. In the meanwhile, we'll be punching enemies, making them explode, and making great use of the various secret techniques of Hokuto Shinken.
It runs on the Yakuza 0/Kiwami engine, and bears a lot of resemblance in how the game handles your free time and activities. The wasteland is filled with opportunities such as baseball practice, bartending, racing, and a hostess minigame that doesn't make me cringe and is faster paced than the Yakuza 0 Cabaret Club Czar. I'm also generally a fan of the coliseum since you gain the ability to re-fight the big battles.
The game starts out with a bang but is at its weakest during large group fights and the opening chapters. It does shine during the one on one fights, and if you're willing to sit through the slow opening pace of the story, I quite enjoy it. This was my first Yakuza series game, and I'm excited to share it. My plan is to complete the main story and all side stories, though I won't finish the game's "completion list" since that way lies insanity. I've already got my platinum trophy for this game, no need to show off. I may dip into my completed file since I can show off all the destiny talismans and fights and whatnot from there, but we'll see when we get there. I'll probably also riff on some North Star nonsense since it's been a property I've admired from afar for a while. There's a chance I'll say something wrong about the story. If I do, please correct me! I would actually enjoy hearing about the insanity in this universe! But as far as story spoilers for this game, please do not. It's not real in-depth but c'mon.
Videos
1: Shin Kicker/Polsy
Recommended supplemental viewing: Kenshiro vs Shin 1, Kenshiro vs Shin 2, Another take on Shin 2
2: Bartering is Boring/Polsy
Recommended supplemental viewing: Kenshiro punches a tank, The Hundred Crack Fist of the North Star!
3: Breaking In and Out of Eden/Polsy
Recommended supplemental viewing: Kenshiro is a master of stealth, Nobody saw that coming
4: Kenshiro the Gladiator/Polsy
Recommended supplemental viewing: How have I not linked the theme song?, Nanto Bakusatsu Ken!
5: Detective Kenshiro/Polsy
Recommended supplemental viewing: Kenshiro hates chicken killers, Kenshiro hates hugs
6: One Man Army/Polsy
Recommended supplemental viewing: The deadly art, Pole dancing
7: Bat Outta Heck/Polsy
Recommended supplemental viewing: What if wasteland, but zombies?, Almost definitely Hokuto Shinken
8: Learning to Drive/Polsy
Recommended supplemental viewing: Oh yeah, Kenshiro just casually bends bars too, Put me down quickly!, Taking a cat nap
9: Death Prison Cassandra/Polsy
Recommended supplemental viewing: Kenshiro vs Amiba, Fighting against Raiga and Fuga, Raiga and Fuga's Sacrifice, Uighur's death, Toki's Humane Techniques
10: An Eye for an I-Beam/Polsy
Recommended supplemental viewing: Mighty Kenshiro has not struck out, Two men suplexing through a wall why not
11: Bounty Hunting/Polsy
Recommended supplemental viewing: Kool-Aid Ken, Hug it out friends
12: The Chill Bartending Episode/Polsy
Recommended supplemental viewing: Here's Heart!, Say your goodbyes lardass, A Good Kitty
13: What Color Is Your Blood?/Polsy
Recommended supplemental viewing: The graceful Nanto style, A man with seven scars?, A MAN WITH SEVEN SCARS?
B1: The Language of Cocktails/Polsy
14: The Shoulder Killer/Polsy
Recommended supplemental viewing: Good Guy Toki, A Strong Lad, The last time Kenshiro was in a bar
B2: Love at the Rusty Nail/Polsy
15: Are You Not Entertained?/Polsy
Recommended supplemental viewing: Exploding Five Finger Strike!, The Lone Wolf, These kids are mine now
B3: Jagre's Tab/Polsy
16: Part Timer Kenshiro/Polsy
Recommended supplemental viewing: Kenshiro vs Amiba, Bear Wrestler Kenshiro, Stone Mountain Splitting Slash!
C1: Colosseum Revenge/Polsy
17: Hide and Seek Master/Polsy
Recommended supplemental viewing: Good dogs, Kenshiro really hates child abusers, Kenshiro is the trump card
B4: Eden's Lord of the Night/Polsy
18: Doctor Kenshiro, Medicine Man/Polsy
Recommended supplemental viewing: Nunchuck Master, Hangman's Skull Crusher!, Haystack Revenge
M1: Boogie Down/Polsy