AKA: Donald Trump's America Simulator 2017 – Let's Play Ace Combat 5: The Unsung War

Kazutoki Kono's Wild Ride continues.
This is the fourth entry in our larger look at the Ace Combat series' Strangereal-based games. Much like the previous LPs I helped create with my partner in LP Crime Blind Sally, Star Wars: Shadows of the Empire, and Killzone/Killzone: Liberation/Killzone 2, this LP will also be an in-depth look at the fictional history, politics, setting, and characters of Ace Combat's Strangereal shared universe as told over the course of multiple games and done in in-universe chronological order.
Just as before, I would also like to pay tribute to my predecessors in the realm of "LPing Ace Combat 5": AC LP thread regular and lovable forums gadfly bunnyofdoom attempted to LP it back in 2010 before it was eaten by Viddler. And The Hater (previously PauseAction) attempted to LP it back in 2008 before that LP was eaten by both Viddler and GameVee. And lastly, Concordat attempted an LP of it even earlier than that (I want to say in 2006?), before it was eaten by Google Video and the fucking forums themselves.
Seriously. Where did Condordat's Ace Combat 5 LP go? Has anyone figured that out?

To date, the only surviving record of its existence remains a select few videos covering Operation Katina on their YouTube channel. But I swear to god, it happened. I'm not making it up. I'M NOT FUCKING CRAZY!!!
Games covered thus far: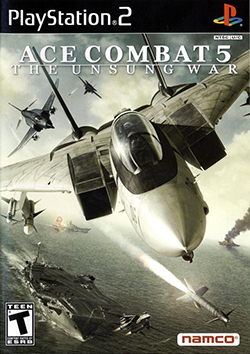 Ace Combat 5: The Unsung War is the summer blockbuster movie of Ace Combats. To date, no other Ace Combat has been as flat out large and over the top as The Unsung War in terms of story, scope, presentation and mission size. It is the tentpole game of the "Golden Trilogy;" every other Ace Combat game is measured against Ace Combat 5 and generally all come up wanting in most fans' eyes. "Yeah, but it's not as good as Ace Combat 5 was" is the most damning barb anyone can throw at any given Ace Combat game from Shattered Skies on down.
While I enjoy 5 immensely, and I don't begrudge it its place on most people's pedestals, I am not one of those people who says that it's where the franchise is at its categorically best because each Ace Combat game does different things well, as we've seen several times over now. So let's reserve our "Crow vs. Popular Opinion" ammunition for when we really need it and I tell you all my Real Thoughts on Ace Combat 6 come summer (hopefully).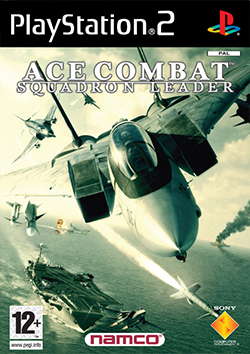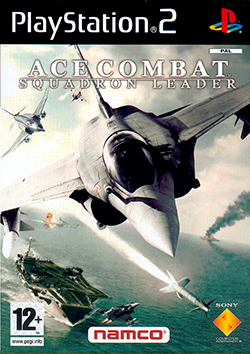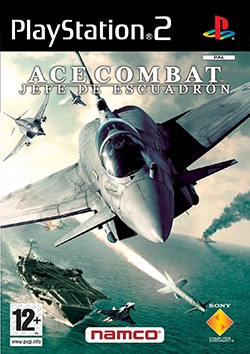 Like Ace Combat 04, Ace Combat 5 was also released in the PAL territories under a different subtitle: Ace Combat: Squadron Leader. It also featured a different plane on its cover in certain reasons, the first and only time an Ace Combat game has done this. The North American, Japanese, Australian, and UK version featured the F-14 Super Tomcat. The French version features the Rafale, and the Spanish version features the EF-2000 Typhoon Eurofighter.
As for what exactly The Unsung War is, it is the proper debut of the Strangereal setting in its 100% completed form. 5 took all the waffling retcons of the games that preceded it and made a bold and blatant statement on them that yes, this was in fact a completely different, strange but real world apart from our own that the franchise was set in. It also introduced us to several of what would become the series' mainstays like the America analog of the Osean Federation and the ever-present thorn in Strangereal's side, the Principality of Belka, among other things.
Ace Combat 5 picks up 5 years after where Ace Combat 04 left off in the late summer of 2010. The action begins on a small and seemingly unimportant naval air station out in the Pacific Ocean far removed from the contemporary society and geopolitics of the massive Osean Federation, easing us into this new Strangereal we find ourselves in by starting small and slowly opening up to a larger perspective as the game goes on.
Much like the majority of other Ace Combats, The Unsung War also has a frame narrative told by an outside narrator, in this instance freelance photojournalist Albert Genette. However, what sets 5 apart from its siblings is that its frame narrative is also its main narrative. Other narrators in the franchise tend to be separated from the gameplay narrative by either time or distance; Ace Combat 5 places Genette shotgun to the main action, making The Unsung War effectively one seamless story as opposed to several that need stitching together.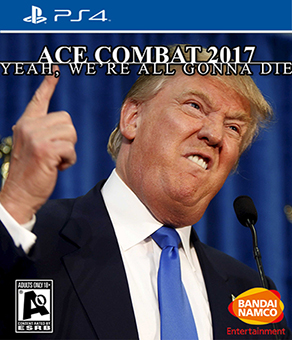 Now, I am not going to lie, I expected to be LPing this game in a much different political climate when I first outlined this project. Thought it is surprisingly more politically relevant today that it probably would have been had a certain election gone in the direction everyone had just assumed it was going to. And it's not like I can sidestep politics anyway seeing as how Ace Combat 5 itself was a political statement in its original time anyway.
Ace Combat 5 is, no bones about it, an anti-war game. A hilariously inapt and ham-handed anti-war game, but one none the less. It was written in response to the 2003 Iraq War, a war initiated by politicians under false pretenses purely for the sake of re-litigating old international and personal grudges which the entire world is still dealing with the repercussions of nigh on 15 years later, and to the George W. Bush Era of geopolitics in general. So without spoiling anything too deeply for AC5, basically mid-00s era politics ahoy! It also definitely prefigured the Obama Era in many prescient ways with its hammer-fisted peacenik messaging. …But then again, Barry also droned more people to death than any other modern President, so make of that what you will too.
Basically, what I am saying is that while I will try to keep this LP as apolitical as I can, there will be moments where, for the sake of analysis, I will have to stray into political discussion because the game itself is dragging me into it. Now, I still, despite the bevy of evidence against it, have a shred of faith in human decency and that no one is going to set this thread on fire with abhorrent political statements. I will say straight up though DON'T SHIT UP MY LP WITH POLITRASH ARGUMENTS. If I feel anything has crossed the line I will start reporting people to the mods for complimentary cooldown probations, and if you turn this thread into a fucking dumpster fire, I will lock it for up to three weeks and just go play Final Fantasy XV or something depending on how exasperated I get.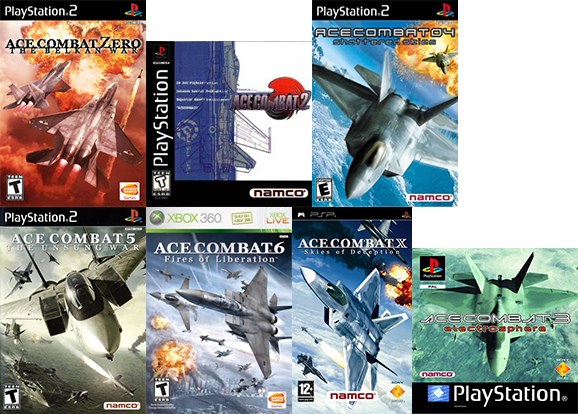 Project Aces' Ace Combat franchise is a sprawling mass of games spread out over many different consoles and handheld platforms with several wholly unrelated continuities depending on which sub-set of games you want to look at. The games most people are familiar with and have played, however, are the ones we will be covering over the course of this Mega LP: the ones set in Strangereal.
These of course are Air Combat, Ace Combat 2 / Assault Horizon Legacy, Ace Combat 3, Ace Combat 04, Ace Combat 5, Ace Combat Zero, Ace Combat 6, Ace Combat X, Ace Combat Xi, and the recently announced Ace Combat 7.
That said, I will not be covering the following games:
Air Combat

– The very first AC game is a sparse arcade-y game with zero real connection to the Strangereal games. It was later retconned into Strangereal with the mightiest of :shrug:s

Air Combat 22

– A literal arcade game.

Ace Combat: Joint Assault

– A PSP game set on real world Earth, not a part of the Strangereal series.

Ace Combat Advanced

– A GBA game also not set in Strangereal.

Ace Combat: Infinity

– A freemium PS3 game built on Assault Horizon's engine that takes missions from Strangereal and sets them on our Earth.

Ace Combat: Assault Horizon Trigger Finger

– iPhone multiplayer game designed to hock Assault Horizon. Pass.

Ace Combat Xi: Skies of Incursion

– It's literally Ace Combat X told from the perspective of the game's B-Team. It's also not available on the App Store any more, nor was it available in Canada when it was anyway.
Now, the uninitiated among you might be asking yourself "What the fuck is a Shakespeare Strangereal?" And to that I say "welcome to the weird and wonderful world of Ace Combat!"
The majority of the Ace Combat games are set in a shared universe setting that has been dubbed by fans as the "Strangereal" world. The name originated from a trailer for Ace Combat 04 which contained the phrase "A strange, real world." Fans compacted the phrase into the portmanteau of "Strangereal" to describe the setting of the game. As you can see by the two world maps (the left one is "canon", the right one is fan-interpolated conjecture), the world of the Ace Combat series shares a number of similarities to our own while also being radically different. Namco itself would come to adopt the term Strangereal to describe the setting in more recent Ace Combat games such as Ace Combat: Infinity. It has also been implied that the Ridge Racer series also takes place in Strangereal, as background worldbuilding elements and settings from the Ace Combat games appear various Ridge Racer games, particularly the character of Reiko Nagase, who is implied to be a relative of several other Nagases who appear throughout the Ace Combat franchise.
Project Aces also previewed a trio of concept games at the dawn of the PlayStation3-era that used the Strangereal setting as well. They were, in no particular order, Brave Arms, a Metal Gear Solid 4/Bionic Commando third-person action/espionage game set in the Kingdom of Sapin; Second Season 01, a first-person cop drama game which appeared to be set in Oured, Osea; and Chain Lim!t, an Alpha Protocol-style action spy game with multiple user-determined solutions to action problems. All three games were either cancelled shortly after their announcement or were just internal proof-of-concepts that somehow were teased to the public as actual games before being pulled. Either way, they remain just another aspect of the enduring enigma that is Strangereal.
The Strangereal world is a massive, intriguing, and reactive place that gets developed a little more with each Ace Combat game set in it and elements of this setting speak to each other across multiple games. We're going to be looking at this setting from a near-pedantically scholarly viewpoint, so I hope you all have your over-analysis caps on like I do!
Because this is a thinking man's LP, not one of those "Shoot Visari in the face—RICO NO!!!" LPs. (Actually it is one of those LPs, don't tell anyone though!)
For the purpose of this LP series, we will be following the games in in-universe chronological order from 1995 to 2020. The order we will be going in will be Zero > 2 > 04 > 5 > 6 > X > 7 (depending on where it falls in the timeline when it eventually comes out). We even might do Air Combat and Ace Combat: Assault Horizon in some capacity for shits and giggles at the end as a bonus depending on how burnt out I am of Ace Combat in general and how good you've all been.
For more information about the Ace Combat franchise, please consult Acepedia, the Ace Combat Wiki. (Note: there's a lot of bullshit conjecture stuff on the AC Wiki, so read at your own risk. Also, lots of unmarked spoilers for the whole franchise.)

I'd prefer you didn't post spoilers, if you are one of those people who do know what happens in this and subsequent games. So try to avoid letting huge things that could ruin the game for people who are experiencing it fresh slip out like how Blaze is actually Wes Scantlin trapped inside Ace Combat 5 itself, or that Captain Hamilton voted for Donald Trump.
Because that shit just sucks.