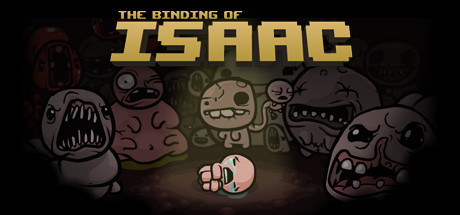 WHAT IS IT?
---
What stared out as a jankie flash game by Super Meat Boy creator Edmund McMillen and programmer Florian Himsl turned into a full fledged pixel art remake by port house Nicalis. This is one part twin stick shooter, one part The Legend of Zelda dungeon, one part rougelike. You play as Issac, who one day finds himself retreating to his basement when his ultra-christain mother receives a message from god telling her to kill her son. From there, you journey through a world of dead pets, child abuse, and all sorts of terrifying body horror nightmares.
WHAT DO YOU DO?
---
Using the power of your constant sadness, you journey through the ever shifting layouts of your basement whilst shooting flies and piles of meat with your VERY POWERFUL tears. Along the way, you find hundreds of items with effects ranging from simple health upgrades to barrages of blood that shoot out of your mouth. The main draw, besides the randomly generated room layouts, is the various ways that the items combine together, meaning that some runs will cause you to become a powerhouse of bouncing tears that split into a thousand explosions that instantly kills everything on screen, including you. This being a rougelike/likelike/lite, however, you're just as likely to get nothing but trash items and get killed by the third boss.
#
#WHERE

CAN I GET IT?!

The original is only available on steam. It has been basically completely overshadowed by the remake at this point, as not only is there less content and content, but being programmed in flash means it runs like shit on basically every system. If you're still interested, you can buy it Steam or on Humble.

The Remake is also available on Steam and Humble as well, but has also been released on basically every system imaginable. You can pick up a copy on PlayStation 4, PlayStation Vita, Wii U, New Nintendo 3DS, Xbox One, iOS, and the upcoming Nintendo Switch.
THIS SOUND GREAT, IS THERE MORE??!
---
Well, there's the first DLC pack,
Afterbirth
, which adds a ton of content to the game, including a slightly contentious game mode, a slightly less contentious new character, and a very not contentious overhaul of the item combination system. It comes highly recommended.
The second DLC pack,
Afterbirth+
(which strangely is actually a dlc for Afterbirth, not Rebirth) is the most recent addition of the game. Despite adding official mod suport, it was heavily panned upon release. Many felt that the bosses and items added to the game were not only sub-par, but also glitchy and annoying. Some problems with the pack have been patched out, but your mileage may vary. I came into it late and have been enjoying myself.
https://www.youtube.com/watch?v=iif305LOlh8
Probably not helping matters was the free fan-made overhaul Antibirth coming out at almost the exact same time. Adding several new alternate chapters, dozens of enemies and bosses, 2 new characters, and nearly 100 new items, it rivals Afterbirth in terms of content for none of the price. It also only requires the base game to run, so if you're itching for more Issac and don't want to drop the money for the DLC, it comes highly recommended. Either way, though, you're most likely going to have a good time.

___________________________________________





___________________________________________


PREPARE YOUR BODY AND ENTER THE BLOODSHED