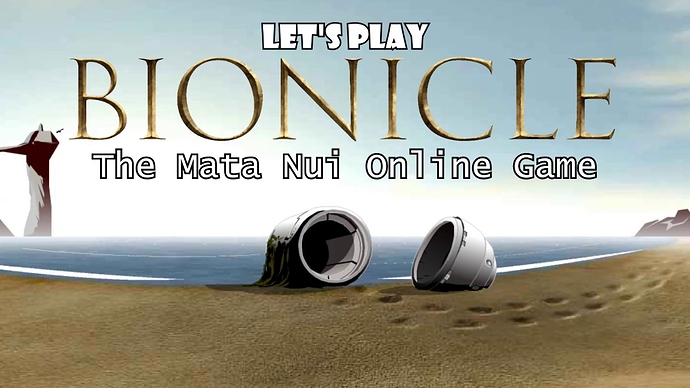 "One of the finest adventure games ever crafted, second perhaps only to Pajama Sam."
-Wilhelm Richard Wagner
What's this 'BIONICLE' thing?
this basically

BIONICLE (hereafter "Bionicle") is a franchise about six robots who have magic powers fighting an evil spirit to protect other, smaller robots who don't have magic powers. The evil spirit is also a robot. Bionicle was created by Lego in 2001 as their first original story-focused product, and was very successful, running for almost 10 years.
What's this 'Mata Nui Online Game' thing?
The Mata Nui Online Game (hereafter "MNOLG") is a point-and-click Flash adventure game developed by Templar Studios. 'Mata Nui' is the island the first few years of the Bionicle storyline take place on, and is also the name of the protector spirit of the island's inhabitants. It is 'online' because you originally played it on Bionicle Dot Com. A 'game' is not a sandwich.
The MNOLG came out in 2001, released over the course of the year in nine chapters. With the first chapter being released in January, it was future fans' first glimpse into the mysterious blend of the natural and mechanical that is the world of Bionicle - the first wave of sets had just come out in Europe, and wouldn't even be released in North America for several more months. (According to some post on Medium. I don't know if anything after the em-dash is true.)
If the intricacies of the early cross-media promotion of a 20-year-old action figure line thrill you, check THIS out my dude!

Lego intended to cross-promote Bionicle intensively, and for the most part succeeded: along with the MNOLG there were a handful of minigames on Bionicle.com, a GBA game (Tales of the Tohunga, later renamed Quest for the Toa), a three-issue DC comic series, multiple promotional CDs, six sets released as McDonald's Happy Meal toys (called the 'McToran' by fans after the villagers' name change), and probably even more crap I don't know about.

However, the flagship of the 2001 story year was supposed to be BIONICLE: The Legend of Mata Nui. It was meant to be released for PC and GameCube and would have covered the adventures of the six Toa (the heroes that the Bionicle series is theoretically about). However, it was delayed multiple times and in October of 2001 (or sometime thereabouts) it was finally canceled. That, however, is a story for another time, and probably told by another person.

(There are also occasional mumblings about the possibility of there being a Bionicle film in 2001. Details about this film aren't merely scarce, but nonexistent. I suspect it may have been a false rumor or misinterpretation.)
All that being said, the narrative heavy lifting for Bionicle's first year was shouldered by a game both about and from the perspective of (in the words of Templar Games' president Peter Mack) "misfits and comic relief characters that were, at best, footnotes in the style guide."
And Templar succeeded. People love this game. They adore this game. They are in awe of this game. I am…more reserved, but I do think it's good. I think a lot of the positive feelings about this game were born out of wandering around in it in utter confusion for hours as kids. Still, I would say it's without question the best Bionicle game. There's some good music, evocative ambient sounds, and lush visuals (that still look good because they're mostly vector graphics that scale indefinitely). In short, it succeeds in drawing the player into a world that neither they nor even the people who inhabit it can fully understand.
Neat I guess. Anything else I should know?
About the LP

I went back and forth about doing a video or screenshot LP for this game. It's a point-and-click game, so it's pretty static, but there are a lot of nice subtle background animations, and the game is maybe best-known for its music and ambient sounds. After looking at footage of nothing but waves lapping on a beach while I babbled incoherently for a solid minute about the design philosophy of the ad agency Lego hired, I decided screenshot was the way to go. I did, however, make sure to record those soundscapes.

As for a schedule…updates will probably be a little more frequent than once a week.
Spoiler policy??

I guess you probably shouldn't spoil things. Except like, in tags or whatever. I dunno. Use your judgment.