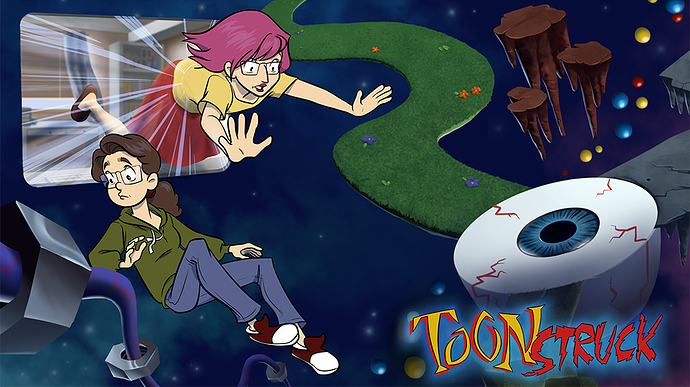 The Story…
Toonstruck is a point-and-click adventure game released in 1996. The game follows animator Drew Blanc who, in the midst of an all-nighter, finds himself suddenly drawn into the cartoon kingdom of Cutopia, which is under attack by the evil Count Nefarious. Drew is tasked with journeying across three cartoon lands to find the means to stop Nefarious' plans in their tracks.
Will Drew be able to stop Nefarious and get back home? And most importantly, will Drew be able to met his deadline before his boss finds out? Tune into Toonstruck to find out!
The Game…
Toonstruck was developed by Burst Studios and produced by Virgin Interactive. The game is a veritable 'Who's who' of voice acting. If you're a child of the 90s, be prepared to hear a lot of familiar voices.
The LP…
Bringing you this LP is GenghisKait and myself. I'm in the driver's seat this time, while Genghis is going in blind. We're playing the Steam release of the game, which came out in 2016.
Toonstruck is fairly free-form, aside from certain parts of the game there's no particular order that we have to follow. The route we're going to be showing in the LP is the one laid out in an original copy of "Toonstruck: Official Hints and Solutions", released along with the game in 1996. There are efficient ways to get through the game, and then there's this LP. My hope is that I've shown off the majority of dialogue, and presented all the puzzles in a way that allows the viewer to follow along, rather than jumping straight into the solutions each time.
With all that said…
I'm going to include a

for this LP. This is a 90s era computer game and as a result this game contains some 90s era comedy/tropes that feel pretty dated nowadays (Such as the use of stereotypes, some ableist language, and some attempts at gross-out humour). In spite of these elements, I feel like Toonstruck has some memorable elements to it, and I hope that everyone is still able to get some enjoyment out of the LP.
Episodes
Part 1
Part 2
Part 3
Part 4
Part 5
Part 6
Part 7
Part 8
Part 9
Part 10
Part 11
Bonus Footage
Toonstruck 2 Creepypasta