Opening Cutscene
So what is this game?
Battleblock Theater is a puzzle platformer made by The Behemoth (who you might remember as also making Castle Crashers). It's a neat little game; however, there is one thing to note about it. This game is absolutely infuriating to play in co-op, and I mean that in a good way.
Take NSMBWii, crank up the ability to dick your allies over even further, and you've got Battleblock Theater. It's delightful.
So how will this LP work?
This will be a cooperative LP with my """""""best friend""""""" JetGrind. We've both played the game before, though we've never finished it. We're gonna try and get through the main story without destroying our friendship.
Also, yes, I will be keeping a running death counter in the thread.
Weren't you LPing a game before?

BATtlEborN is: Fps; hoOby-grADe coop caMpaiGN; gEnRe-blEnded, MultI-moDe competitive E-sPorts; metA-gRowTh, choice + epiC BATtleBOrn HeHeHeHeHeHeroes!
Death Counter:
JetGrind Deaths: FUCK
Kobuddy Deaths: THIS
Episode List:
Episode 1: Today's Theme is: Drowning
Episode 2: Emphasis on Skeebop
Episode 3: TEAMWORK
Episode 4: We're "Competent"
Episode 5: The Angry Episode
Episode 6: PUZZLES
Episode 7: Food Break
Episode 7.5: foodbreak.mp4
Episode 8: Buckle Your Pants
Fanart:
Decade shows me and Jetgrind's deep friendship in art form:
FUCKING BOATS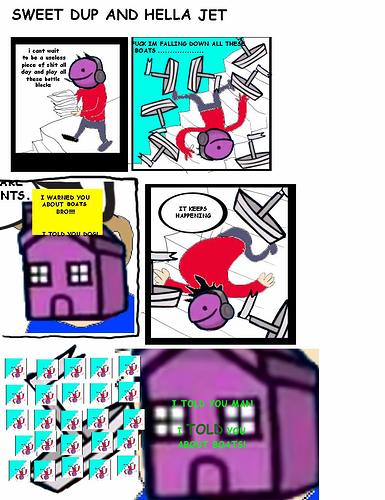 Wottermelon shows us something beautiful.