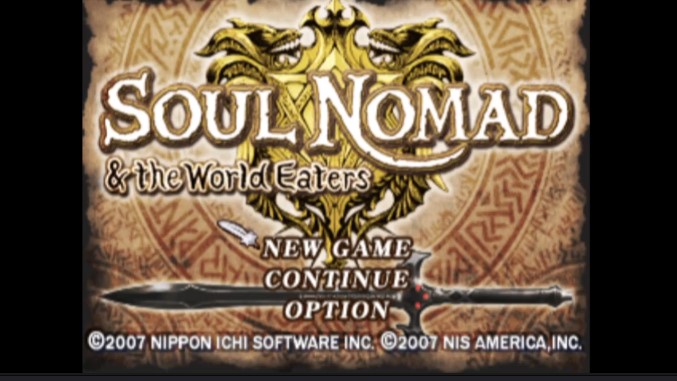 Well that's certainly a Title Screen.
Welcome everyone to Soul Nomad And The World Eaters, a Tactical Strategy RPG. Known as Soul Cradle: World Eaters in Japan, this game was developed by Nippon Ichi and published by NIS America when it eventually came to the States on the PS2 on September 25, 2007.
Many of you likely know Nippon Ichi as the company who developed the famous Disgaea Series of JRPGs. I know this as well, and this game follows in the vein of their signature fantasy RPG style.
At least, I think it does.
Cause I haven't played this game before…save for the bit where I got footage for screenshots, and the above bit.
I have played some of the Disgaea games, but never finished one. Mainly cause I played them back when I was a stupid kid who didn't understand how to grind efficiently in JRPGs. Now that I am older (and maybe wiser) I hope to actually finish one of these games. And what game better to start with than a Strategy RPG? I like Strategy and I like RPGs. Win-win.
If you need a bit more info on the game, here's the Summary from the back of the Box (found on Gamefaqs):
Gig, the fearsome Master of Death, is back…and he's pissed off! Taking over your body is just the first step on his quest for global domination. It's up to you to rein him in and use his power, along with your band of fellow warriors, to stop the horrific World Eaters from annihilating everything.
Now with the preamble out of the way, allow me to explain the features/rules of this LP:
1. How will I be playing the game?: Using an emulator. Whatever your feelings on that fact are, it's the best way for me to play this game right now. And get footage for screenshots.
2. Will this LP be completely Blind?: Correct. I know absolutely nothing about the game, outside of what I've already gotten footage for screenshots for. Thus everything that happens will be as new to me as it is to some of you. Know that this means I won't be following any guides or going for any kind of challenges or perfect runs. I'm just gonna play through the game at my own pace and see how it goes. With that said:
3. Rules on Spoilers or Discussion of Spoilers?: Absolutely None. I would like to see this game's twist and turns for myself, thank you very much. Please refrain from discussing or talking about Spoilers or Major Events until after they occur in game.
4. Will you be adding anything extra to the LP?: Yes. Specifically, I will add in my own commentary. This is mainly because the Protag is of the Silent Variety, thus I feel the need to add in snarky and humorous dialogue to enhance the LP. Know that I make no promises that all my added dialogue will be snarky or funny. I will try my best to entertain though.
Any normal dialogue will be typed out like this.
Any added dialogue will be typed out like this.
4. Will there be Audience Participation?: Yes…kind of. See, I do know that this game has choices that affect the Ending (I guessed as much from how far I went for my Screenshot Footage). However, since this will be a Blind LP, I feel it best for me make to those choices for myself, so I can get my own experience from this game. However, from what I remember of my time with the old Disgaea games (specifically 2 and 3), you can create your own Party of Badass RPG characters. You can name them whatever you want, choose their class, how they level up, and overall just have your own personal death squad of OCs.
So, when I reach that point in the game, I'll open up Applications for people who want to get their character in the game. If you wish to put your hat in the ring, please wait until I reach that point in the game. This will let me know how to set up the Application itself.
With all that out of the way, let us begin this Epic Tale!