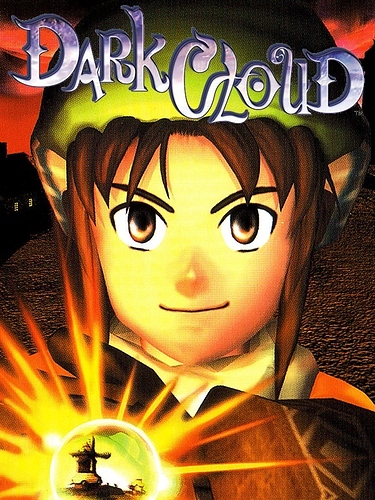 Hello there my friends. Welcome to my playthrough of Dark cloud, A clunky (not helped by a bad ps4 port) and slightly charming rpg created by level-5. Their first game in fact and it kinda shows…but believe me I snark because I care.
The plot
Joseph Stalin unleashes a terrifying world destroying abomination on the world of [insert world name] Our hero Toan (or as we shall get to know him Kazan) awakens to find his friends, family and village gone. Luckily an old man known as the fairy king saved them and placed them in Atlamillia a kind of magical maguffin. Unfortunatly they are blasted into dungeons…
Who am I?
I am YerPalHal I am kinda new to this the only prior lp I did was Jojo's bizarre adventure eyes of heaven. An lp that might make it on this very site once I rerecord the final chapters of it. I am still very new to all this so err pardon my dust. I belong to a group known as the Jaded Desktop and select members of this group will be joining me on this little endeavor. My friend Kazan will be my constant co pilot and we drag our unwitting compatriot Hwhite with us.
Also theres nidoking from this very board who while not in any video feels like an unofficial fourth member thanks to all the feedback, tips and general knowledge of the game is helping make this thread a bit special.
So about this…
This will be a 100 percent town and fetch quest run. I am NOT doing the demon shaft because even my dungeon crawling has limits. I will also be making liberal use of edits for later dungeons but I will try to show as much of the town building side as i can. Feedback is encouraged and while there is not much to spoil lets keep the future pcs and areas quiet until they show up in the game. So sit back, relax and join us every sunday as we enter into Kazans bizarre adventure…
The Story so far
The original trailer seen at the end of my previous lp
Book 1: Our hometown
Chapter 1: the day Majinn Buu and Stalin killed everyone I loved
Chapter 2: Lurse of the Lave Bat
Chapter 3: The Fairy kings powerpoint presentation
Chapter 4: Stray Cat
Chapter 5: The backdoor breakdown
Chapter 6: Divine beast Dran
Book 2: The village of hunters
Chapter 7: Conversation Street
Chapter 8: Kazans final sting in the monster house
Chapter 9: POISON
Chapter 10: Economics
Chapter 11: kingnothing
Chapter 12: Conversation Street
Chapter 13 1: Forest Keeper Master Utan
Book 3: The port of broken relationships
Chapter 14: ps2 classics on ps4 are a bit crap
Chapter 15: Breaking the game with junior chief
Chapter 16: Red
Chapter 17: Conversation street the third
Chapter 18: carbondated commentary
Chapter 19: Pumpkin Panty Fortune Telling
Chapter 20: The music box incident
Chapter 21: Ice Queen La Saia
Book 4: The village in the desert
Chapter 22: Wamuu
Chapter 23: The filler town
Chapter 24: The filler arc 2
Chapter 25: Filler arc heart gol and soul sil edition
Chapter 26: Filler arc 4: Feeling the burn
chapter 27: The filler arc 5: I will do anthing for completion…except for THAT
chapter 28: past Hal trolls current Hal
Chapter 29: The Kings Curse
Book 5 Bam, Zoom, Straight to the Moon
Chapter 30: Conversation street in space!
chapter 31: The Isabelle show guest starring Fonzy
Chapter 32 kraftwerk
Chapter 33:Mystery Science Theater 3000: thanus
Chapter 34: A weapon to surpass the Dark Genie
Chapter 35 Raging Moon Warrior Minotaur Joe
Book 6: The castle that time forgot
Chapter 36 Seda
Chapter 37 The Nidoking appreciation episode
Chapter 38 One last conversation street
Chapter 39: The penultimate peril
Finale: The Dark genie
Bonus video
The Demon shaft experience featuring Nidoking
Halloween extra Bonus