Link Directory (no pun intended, for once)
Part 1 - Hyrule Castle: Wherein Link exploits workplace safety violations. <-- You are here.
Part 2 - Kakariko Village: Wherein Link offers free home renovation.
Part 3 - Eastern Palace: Wherein Link is not good at keeping secrets.
Part 4 - Desert Palace: Wherein Link outsmarts the floor.
Part 5 - Tower of Hera: Wherein Link does not receive any carrots.
Part 6 - Hyrule Castle II: Wherein Link unleashes his most powerful weapon.
Part 7 - Palace of Darkness: Wherein Link goes on a magical mystery tour.
Part 8 - Swamp Palace: Wherein Link demonstrates the superiority of cottontail over cotton.
Part 9 - Skull Woods: Wherein Link discovers that not all carrots are tasty.
Part 10 - Thieves' Town: Wherein Link saves the day via sunbathing.
Part 11 - Ice Palace: Wherein Link is taunted by an equipment upgrade.
Part 12 - Misery Mire: Wherein Link uncovers a sinister plot.
Part 13 - Turtle Rock: Wherein Link does not gain Tower Shield Proficiency.
Part 14 - Ganon's Tower: Wherein Link proves that three heads are not better than one net.
Part 15 - The End: Wherein Link fights against the literal darkness.
---
Part 1 - Hyrule Castle: Wherein Link exploits workplace safety violations.
---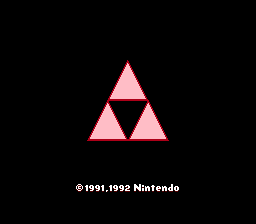 I guess that's what happens when you put your triforce in the wrong laundry load.
In any case, welcome to…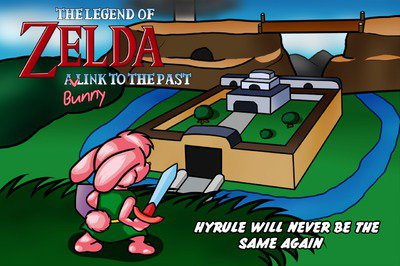 This hack (and the above image) was made by an artist known online as Ryusuta. Included in her announcement post was a story. But before we get to that, there is something I should disclose: This is a transfer/revamp of a previously-written LP of mine which I posted on, of all places, sites like DeviantArt (I'm too cheap to pay SA's registration fee and I don't think the Let's Play Zone even existed back then). This does mean that, while my commentary may be changed to reflect feedback, the gameplay/screenshots are set in stone, sadly.
Anyway, let's take a look at the story Ryusuta provided!
Walking and keeping to himself in the fields near Hyrule Castle, a young child named Link hears a distressed cry for help. Running towards the cry, he sees Princess Zelda being imprisoned by the dark priest Agahnim and rushes in in to try to save her. Sadly, the inexperienced child is defeated easily and subdued.
What was Link's plan?
For his trouble, Agahnim transforms Link into a monster, leaving him in the fields of Hyrule to fend for himself as the new creation of the mage.
I am all for pink, mind, as my avatar probably gave away, but if I were trying to pass someone off as a menacing monster to be feared by society, I would have gone with something different. Perhaps red?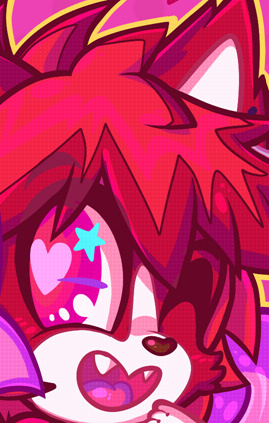 Image by Dolcisprinkles (as a commission for Red, who bought it as a gift to me).
The face of fear incarnate!
As Link lies on the ground, a pouring rain begins to fall. When all hope seems lost, a lone figure approaches, having heard the commotion and taking note of the loose, green tunic that is so familiar.
That does remind me. Where did Link's hat go when he transforms?
Coming closer, Link's uncle sets the lantern to the side and scoops the pink rabbit into his arms, confused and fearful for his charge.

As Link lays unconscious, sniffling and shivering on his bed, his uncle looks at the shield and sword hanging on the wall. The dark priest Agahnim has gone to [sic] far.
Given the existence of the canes, presumably named after powerful wizards, not to mention wizzrobes, other wizards exist. How does he know it was Agahnim? Is this his calling card? Maybe it's his calling card. I know it'd be mine. Maybe there's some pink bunny refugee camp Link can join.
Taking the sword in his hand, he contemplates what could be done. He's now the uncle of a monster, but he knows that Link is still Link, no matter what. His nephew…
Something tells me he would be less confident in that assumption if he knew about the fate of the soldiers of the kingdom.
Link's uncle examines the sharp blade carefully, hesitating only a little. And yet, he had always taught his nephew about courage and compassion. If he wouldn't protect his family, no one would.
Protect him from what? I mean, the damage is done, right? The biggest threat to him at this point is judgmental townsfolk. Or overly-cuddly gum phoenixes like myself. Wouldn't the ideal way to protect his nephew be to stay home and guard him?
Meanwhile, Link's body remains that of a rabbit. As he slowly regains consciousness, he hears a voice in his mind. It's Princess Zelda, and she is calling to him, begging him to help her.

Link slowly opens his eyes. He knows he is different now, but it doesn't matter. He has to do the right thing. It's time to save Princess Zelda, no matter what form he's in. Thus begins the unusual tale of the hero people least suspect.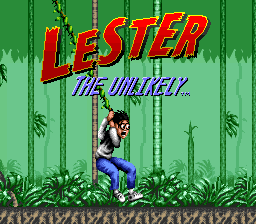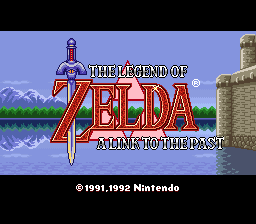 And so, the stage is set! Let us begin!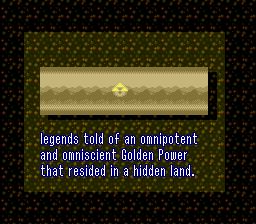 Other than the pinkforce, the title screen and in-game intro story remain uncha… Wait, Golden Power?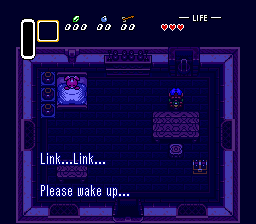 BUNNY!
…cough moving on.
Telepathic voice of Zelda: I am a prisoner in the dungeon of the castle. My name is Zelda. The wizard, Aghanim, has done… something to the other girls. Now only I remain…
Uhm… that sounds extra-creepy. Moving right along.
Telepathic voice of Zelda: Aghanim defeated you and transformed you into a monster when you tried to save me…
I do believe I was present for that, yes.
Telepathic voice of Zelda: Please, Link… I am in the dungeon of the castle. Please help me…
Link's uncle: Don't panic, but I found you injured in the woods. And well… You seem to have been transformed…
I do believe I noticed that, yes.
Actually, I guess I shouldn't be hard on him for pointing it out. The protagonist stumbling around thinking they're still human for a bit happens in more woke-up-transformed stories than not, it feels like, so…
Link's uncle: I don't know what is happening, but you should rest and recover.
Bah! I have full health!
Link's uncle: I'll be… Well, I MIGHT be home soon…
For that matter, what's your plan? Okay, sure, you're at least armed, but I still don't see how you plan on taking on an entire kingdom and wizard by yourself.
Maybe he's hoping they'll be too busy snickering at the pink shield to defend themselves.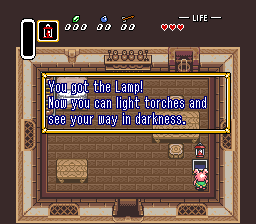 Careful not to light your tail!
I know fire is dangerous, but if he somehow manages to light his little puff tail on fire with this, he should probably just stay home and quietly not touch anything ever.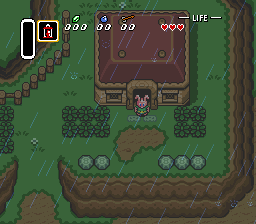 Alright! Here we go! I have my lamp (which, given the lack of magical power or any other armaments, I apparently intend to bludgeon Agahnim to death with) and I'm off to storm the castle!
But first, let's go talk to the guards!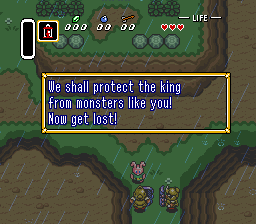 …Good talk.
Wait, you realize you're blocking the way away from the castle, right?
Hyrule Mustard Guard: I see you brought a map so you don't get lost. (Press the X Button to see your map).
Ooh, good tip! Now I can find the castle where the king lives more easily!
Hyrule Mustard Guard: You call yourself a monster? How much can you lift? (Press theA [sic] Button while touching a thing to lift it.)
I believe many of these spelling errors have since been corrected in a later version.
Hyrule Mustard Guard: You want to use a sword? What nonsense! Only humans can press the B Button to use a sword!
Wait, does this mean that Link just asked the guard who suspects he is trying to threaten the king if he can borrow a sword?
Actually, given the intelligence level of this guard thus far, compliance would not have surprised me.
Hyrule Mustard Guard: That mark on your map must be your destination.
You mean that X over the castle's front doors? Thank you.
Hyrule Mustard Guard: You can often find valuables in chests. (Press the A Button in front of a chest to open it.)
Hyrule's finest, ladies and gentlemen, teaching Link how to steal other peoples' stuff!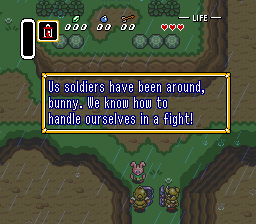 Oh, I'm sure you do.
Well, I guess I'll go ahead and progress the plot, now.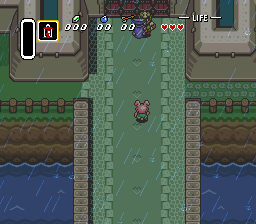 Tum dee dum, don't mind me, just a monster blatantly approaching the castle…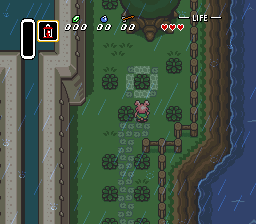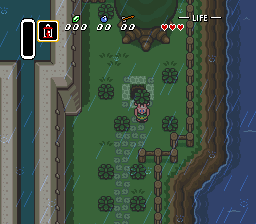 …So, the bush was levitating?
For that matter, how can Link, bunny or otherwise, pluck fully-grown bushes from the ground with his bare paws?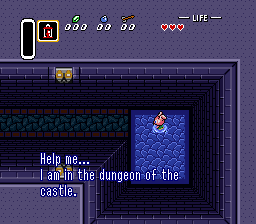 Telepathic voice of Zelda: I know there is a hidden path from outside of the castle to the garden inside.
You don't say…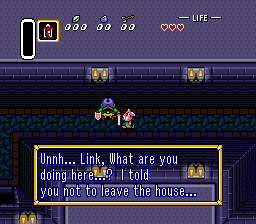 Link's uncle: …Huh…? A princess…? …I suppose you won't take no for an answer… Very well…
The quest is all about getting the girl? Okay, now I know this Link is a teenager. That would explain why nobody lets Link drive Epona in this game.
Link's uncle: My sword and shield look a bit big for you, but they will have to do for now…
Well, honestly, the sword seems kinda just the right size for me. For you, on the other paw…
For that matter, were it not for the shape, I would think that shield were a buckler.
Link's uncle: Link, what matters most is what is in your heart. Take care… … …
Wow, so what matters most is blood? That is SO METAL!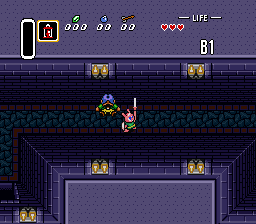 OH GOOD HEAVENS, THOSE EYES!
…cough In any case, yeah, this sprite (and thankfully, thus far, only this sprite) is an unfortunate issue with this rom hack. Link's right eye looks substantially larger than his left one, which is… not so adorable.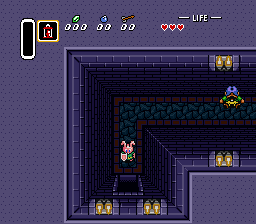 …You're stiil a cutie the rest of the time, though, Link! Especially with that little pink shield of yours!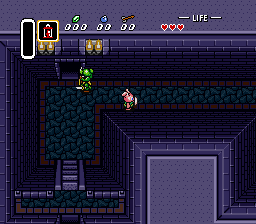 …This hostile soldier just walked right past me.

You sure do.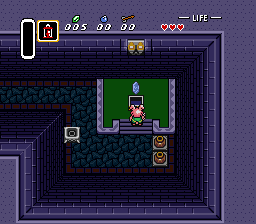 Hooray! I got… my allowance.
Like, seriously, the chest itself is probably worth more than its contents.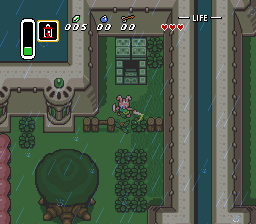 ProJared sends his regards, foliage!
Also, a pretty good sword. Most would probably fail to come even close to cleaving a bush like this, or remaining intact for that matter. Then again, Link can lift the bushes without a second thought, so perhaps all the bushes in Hyrule are made of styrofoam.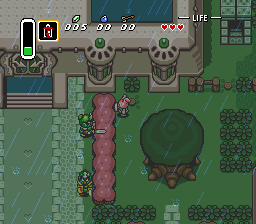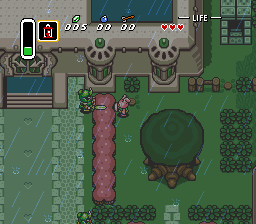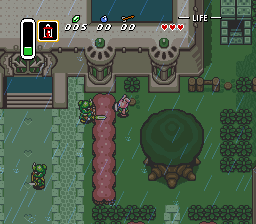 I am just standing here.

…Eeeyup.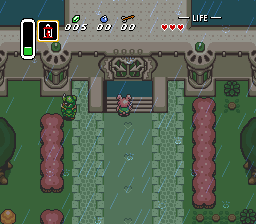 This soldier, upon witnessing the murder of his co-worker via giant anthropomorphic pink bunny, quietly questions what was in his drink rather than attempting to intervene.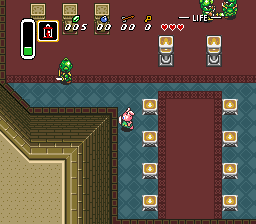 The guards are watching ever vigilant.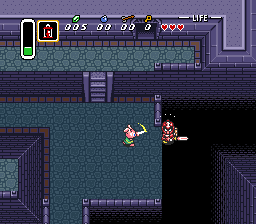 This. Is. NOT OSHA-COMPLIANT!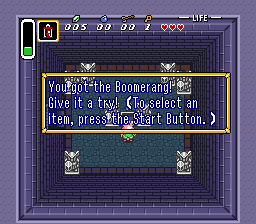 Fun fact: From what I can gather, no boomerang meant for combat or hunting can return to the thrower, even if it doesn't hit anything.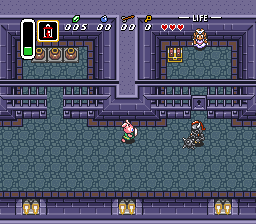 And here, we have one of the soldiers flailing about at the bunny.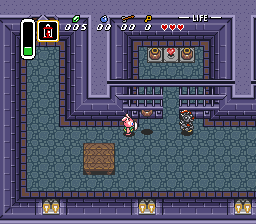 Link is unimpressed.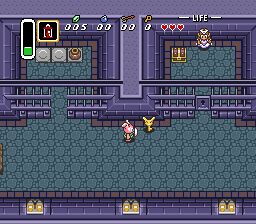 Issa bunny key!
The bunny key is the master key, because bunnies are awesome.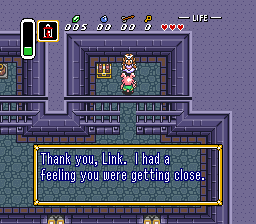 That's an awful lot of faith to put in him, given his performance last time.
Zelda: Link, listen carefully. When the wizard kidnapped me and transformed you, he took control of all the soldiers in the castle.
I can see several perverted potential applications for this.
I have spent far too much time on the internet, clearly.
Zelda: I fear the worst for my father… The wizard is an inhuman fiend for what he's done to us!
Is it truly tactful to use "inhuman" as an insult, given present company?
Zelda: All right, let's get out of here before the wizard notices. I know a secret path, but first we have to go to the first floor. Let's go!
…So, we're not going to jump out the window as things explode behind us, then?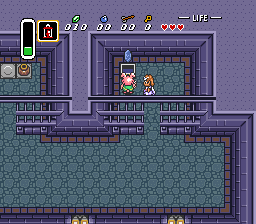 You can tell she's a princess when even her prison cell has valuables in it.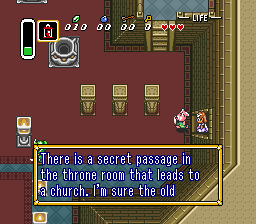 Zelda: preacher there will help us find sanctuary.
Useful here, yes, but I'd imagine the reason it was built would be to allow the royal family to escape in an emergency. Most such theoretical emergencies would probably involve an opposing army having invaded Hyrule, and if they got to the throne room, they've pretty much already won the war whether they kill you or not. I doubt a king or queen would be in much position to command from a church when the kingdom is overrun by opposing troops and the Hyrule army has probably been decimated.
Perhaps I am missing something, but this seems like a waste of tax rupees.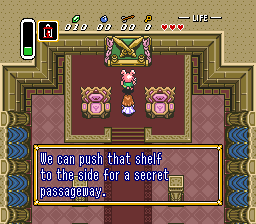 Zelda: Can you still grip things? Oh… right! You're holding a sword and shield. I forgot!
Actually, the real reason that was a silly question is because pushing the shelf doesn't require gripping things.
Zelda: By the way, do you have a light? It's pitch dark inside and you can't see without one. If you're ready, let's go! Help me push it from the left!
Every time I saw this line as a child, I wondered what would have happened if I forgot to open the chest at the beginning. I later found out that the lantern would appear in Zelda's cell chest instead of the blue rupee.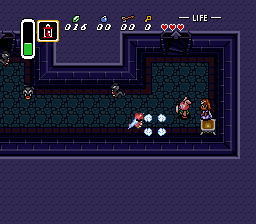 Eat that, food chain!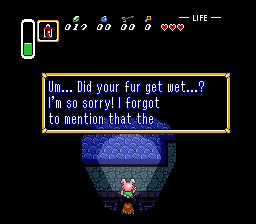 Zelda: path lead through the sewer waterways… We're almost there, though! Let's be careful!
Um, I haven't stepped in the water yet. Not that it helps. I'm still probably drenched from the trip here.
Anyway, it's a good thing nobody poops in these sorts of games.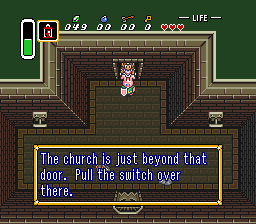 How helpful.
Only one of these switches opens the way forward, by the way. The other drops snakes into the room.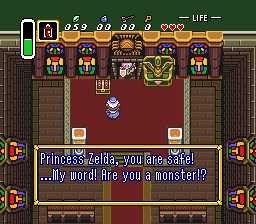 By some particularly loose definitions, perhaps.
Priest: Princess Zelda, did this rabbit save you!?
Unfortunately, his sprite is turned away from the camera, so we cannot tell whether he managed to say that with a straight face or not.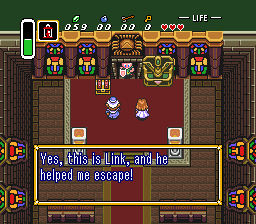 Zelda: Yes, this is Link, and he helped me escape! Though he looks like a monster, he is a true friend… Aghanim is to blame for changing him and imprisoning me! When I was captive the wizard said, "Once I have finished with you, the final one, the seal of the wise men will open."
"And there is no way in which loudly proclaiming my evil plan to you before putting you in a minimum-security prison cell could possibly backfire!"
"I'll even put my good-luck rupee in there with you to make sure."
Zelda: Link, I believe in you. Don't let the land of Hyrule fall into the wizard's clutches. If he releases the seal of the seven wise men, evil power will overwhelm this land and others will suffer, too!
Wait, by your wording… Does that mean the land will be full of giant pink bunnies?
Zelda: Before that happens… before it's too late… destroy the wizard before he destroys all of Hyrule! I just know you can do it!
Destroy it? Why would he want to destroy it? Wouldn't you want to rule it? I mean, then you would have all the power, wealth, soldiers, politics, paperwork, responsibility…
Okay, point taken.
Priest: If you were once a human I suspect that a great evil has come to this land…
The princess being kidnapped didn't tip you off?
Priest: Perhaps the legendary Master Sword can be called upon to save us all. It is said that the village elder is a descendant of one of the seven wise men.
That may sound epic in theory, but the seven wise men were from a long time ago, and, well, to quote a character from Digger (which I highly recommend), "I had eight sons. A thousand years ago. You do the math."
Priest: Maybe he can tell you more… I will mark his house on your map. But watch your every move! I am certain that the castle soldiers will be looking for you now! … … …
Somehow, I am not concerned.
Priest: Not only that, but I have no doubt that many people will fear you in your monster form. I will hide Princess Zelda here. Do not worry! Seek the elder!
I will get right on that!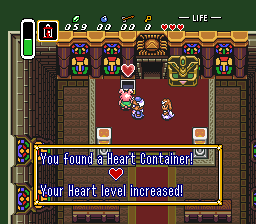 …Right after I swipe your stuff.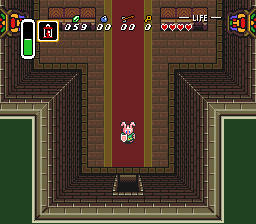 Another fun fact: This cathedral used to have a fancier entrance.
Not sure why Nintendo removed the fancy entrance. It's a secret to everybody, I guess.