Link Directory
Part 1a: Wherein AIYEEEE, It's IE! <-- You are here.
Part 1b: Wherein dragons are pansies.
Part 2: Wherein bandits are an unlimited resource.
---
Part 1a: Wherein AIYEEEE, It's IE!
---

Joat
Wow, this is gonna be embarrassing.
So, from a young age, I had dreams of being a game designer, and after a while, I found that I actually had some aptitude for coding. And so, at a young age (middle school), I decided to make a web-based game! And the "at a young age" certainly shows.
But before we continue, I'll go ahead and tell you about another aspect of this LP. My beloved suggested that I have experiment with my LP style to help it stand out. And I figured, sure, why not? But the question is, what do I have that no other LPers have, that can help me stand out?
And the answer: Tulpae.
A Tulpa is basically another being inside your head, kinda like a really advanced imaginary friend crossed with a benevolent split personality. That's a really oversimplified explanation, but it'll do for now. Anyway, for this experimental mini-LP (and more LPs down the road, if this is successful), I and my two Tulpae, Fluffy and Sylvanus, will be commenting together! Even though neither of my Tulpae existed yet when I made this game, but oh well.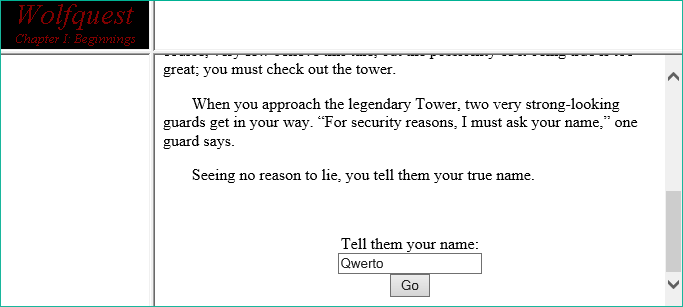 Joat
Welcome, my friends, to WolfQuest! This game is so old, I had to run Internet Explorer in IE7 compatibility mode to get it to work at all.
As you approach the gate, the gatekeeper sees you and says, "Welcome, traveler, to the city of Banin. Are you here in war or peace?"

Joat
War? Alone? Did the gatekeeper miss breakfast? I think the gatekeeper missed breakfast.
"Peace," you say to the gatekeeper.

He gives you a smile and says, "There's something about you, but I can't place it." The gatekeeper pauses for a moment. Then, with a smile on his face, he says, "You seem to be much more than just an ordinary traveler. I have a feeling that because of you, great things shall happen in this town."

"Whoa, where'd that come from?" you think.

Sylvanus
Agreed.

Fluffy
Where did that come from?

Joat
My hind.

Sylvanus
Mm.
Thanks to a friend of mine named Flare for the artwork of my Tulpae, by the way! And while we're at it, a thanks to Kaye for my avatar!
You enter the town and look around yourself in awe at the huge structures, statues, and the like that are part of the daily life of those who reside in Banin. Then, you see it in the distance; the tallest structure of them all, the Banin Clock Tower, fabled to be a portal to another world. Of course, very few believe this tale, but the possibility of it being true is too great; you must check out the tower.

Fluffy
I wonder which planet it goes to. Pluto? This was when Pluto was still a planet, right?

Joat
Thanks for making me feel old, Fluffy.

Fluffy
You're welcome~!

Joat
Anyway, looking it up, it technically was. When I wrote that part, Pluto had about two months left before being redefined as a "Dwarf Planet". Insert predictable Snow White joke here.
When you approach the legendary Tower, two very strong-looking guards get in your way. "For security reasons, I must ask your name," one guard says.

Joat
Flawless security system.
Seeing no reason to lie, you tell them your true name.

Joat
And the default name is me thinking I'm clever for starting the default name with the first few letters on the upper row of the keyboard.

Sylvanus
Mm. As good as any.

Joat
Certainly easy to type.
Anyway, after clicking the Go button…
"I don't seem to recall hearing your name in this town before. I have no knowledge of you causing trouble in this town, so you are allowed permission to enter the Clock Tower. Take care, Qwerto."

As you approach the Clock Tower, you hear mysterious voices coming from inside. From what you have heard, people very rarely go into the Clock Tower, and then only for maintenance. The Clock Tower seemed to be working fine, so the voices are very unusual indeed.

Joat
If the clock tower is working fine, might that not be possibly due to it being well-maintained? Prevention is better than cure, so to speak.
As you enter the Clock Tower, it seemed that you were getting closer to the source of the voices. As you ascend the starways [sic], the voices seem closer and closer, until you finally get to the top and see the source of the noise.

It is a person and a monster. But they aren't fighting, in fact, they seem quite at ease with each other's company.

Joat
Yes, I do imagine that ascending the "starways" would result in encountering some pretty interesting monsters. And possibly Putt Putt, depending on whether he's been to the fireworks factory that day.
"Look, Lancie. A visitor," the monster says. His voice is almost human. In fact, he almost looks human, were it not for the orange fur and the tail. He even wears clothes, amazingly.

"Will you please stop calling me that? My name's Lance, not Lancie, Lancipoo or anything like that," the human says.

"I never called you Lancipoo. I'll save that name for a rainy day."

Joat
You can thank Poshul from Chrono Trigger for that name idea.
Speaking of names, Lance actually isn't my character. It's a character made by my best friend at the time. I don't think he ever used the character for anything, so this may well be the only time he appears in a public space. I could be wrong, though. It's been quite some time since we last spoke.
Lance rolls his eyes and approaches you. "I haven't seen your face around here. If you are new and have come to our town to investigate the rumors, I am afraid your efforts are in vain. Those rumors are just that: rumors," Lance said. You don't know whether you are disappointed or relieved.

Sylvanus
I'd imagine both.

Joat
In-character, at least. As far as the actual player is concerned, I believe the right term is "unconvinced".

Fluffy
Yeeeeah…

Joat
That said, I genuinely don't recall what my plan was for the tower at the time. I don't think I had a plan. I think I was just writing by the seat of my pants.

Fluffy
Gum birds have pants?
"Don't worry, though. Banon still has a lot of great things. Like the statues, the mall, the buildings, the mall, the…" the monster begins as he walks toward you.

"You mentioned the mall twice," you interrupt.

"I know. The mall here is the biggest one I have ever seen," he says.

"It's the only one you've seen, Draco," Lance says.

Joat
Given that this is a medieval sword-and-sorcery setting, the fact that he hasn't seen many malls is not exactly surprising. That said, I wonder what sorts of stores a medieval mall would have.
"What's your point?" Draco asks.

"Draco, what am I going to do with you?"

"Buy me a snack?"

Lance gives a resigned sigh. "Sure, but be careful. Remember the lid incident?"

Joat
That and the noodle incident, yes.

Fluffy
Noodle lid~!

Joat
Is that a lid for noodles, or a lid made of noodles?

Fluffy
Yes!
"Relax. He said he forgave us." Draco turns toward you and says, "Wanna come? We could always use the company."

"I guess so," you say.

Joat
Free food, yay!
As you walk through Banin, a man stops and greets Draco and Lance by name, then asks your name. You tell him, then he starts to leave. However, just as he does so, another man, this one wearing a ski mask ( A tad impractical for June , you think) jumps into his way and holds a knife to his chest. "Don' nobody try to stop this robbery or the man will get it," the masked man yells.

Joat
Or, y'know, you could just rob someone who's alone.

Fluffy
But then he wouldn't be part of the plot!

Joat
He already isn't part of the plot, though. He kinda just… happens. He's pretty much just the tutorial fight. Except without an actual tutorial.

Fluffy
True.
Lance clears his throat to get the masked man's attention. As the masked man looked at Lance, he froze (the masked man, that is), failing miserably at looking like he wasn't scared.

This crook is going to be taken down Qwerto style , you think as you pull out your short sword. The robber no longer has his knife pointed at the hostage, but at you. You attack, Draco and Lance following your lead.

Enemy Level: 1

Joat
Either the crook, past me, or both had some serious issues understanding this whole "hostage" concept.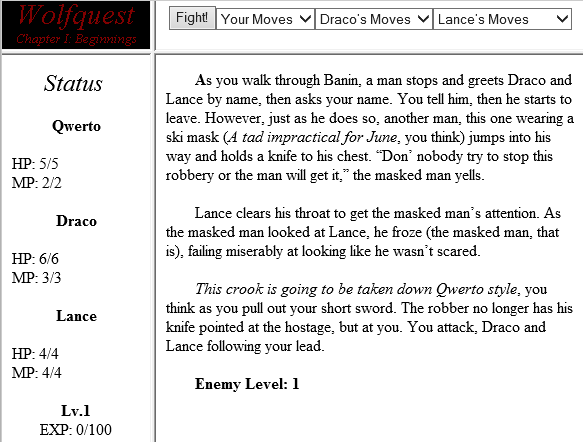 Joat
And here's what the battle screen looks like! There isn't really a transition between not-battling and battling. The moment you get to a story point where you need to fight, combat is immediately upon you, without even waiting for you to finish reading first.

Fluffy
All action, no waiting!

Joat
Funny you should say that, about a turn-based RPG.
In any case, at this point, each party member has two moves. First, there is the normal attack. If you press "Fight!" without selecting a move, it defaults to that.
The main character's special move is Slicer (2MP), which basically just deals more damage. Draco's is Soul Spell, which deals damage and heals allies based on his current HP, but knocks him out in the process. It costs no MP, so his MP is currently worthless. And Lance has Silver Sabre (1MP), which deals extra damage. Each character deals damage equal to their level on a normal attack. Slicer deals double damage, while Silver Sabre deals a flat 3 damage. Lance's attack is thus superior in every way to Slicer at first level, but doesn't scale with level like Slicer does.
Anyway, this isn't a very threatening battle, so just using normal attacks here.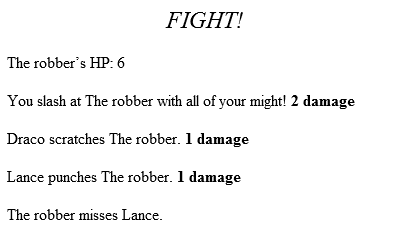 Joat
And this is what shows up in the bottom right panel when pressing the "Fight!" button! It's simple, but actually fairly effective. Also, the HP shown is after the displayed battling, not before. If I were to redo this, I'd list their HP at the bottom to make this clearer.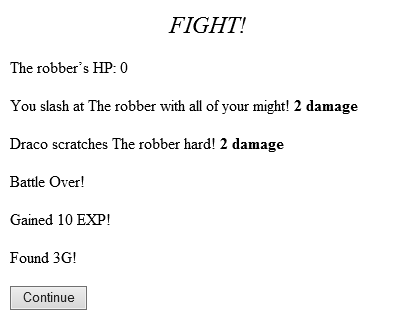 Joat
Wow, the protagonist sure came through on this fight! Three consecutive crits!
Also, the gold is completely worthless, since a shop system was never implemented.

Fluffy
It's shiny, though!

Sylvanus
Yes, it is. Shiny and useless. And heavy.

Joat
And it can cause fevers.

Fluffy
Yup!
"I almost love it when the bad guys strike. It keeps things interesting," Lance says

Joat
"Murder is fun!"
"Well, as far as I'm concerned, if every evil person in the world just disappeared, that'd be fine by me," Draco says

"So what do we do with the guy? He's still alive, but barely," you ask.

"Simple; we bandage his wounds and leave him here for the town guard to take care of," Lance says.

"I heard that only vigilantes do that in this town. Is that false too?" you ask.

"With a few possible exceptions, it's true," Lance says.

Joat
Given that they were acting to stop a crime in progress and used only enough force to stop the criminal, is it really vigilante-ism at that point? I mean, yes, that included lethal force such as a sword, but if that's all you have…
"So you two are vigilantes?" you ask.

"Well, Draco's a vigilante in the dictionary sense, I suppose; but in terms of skill, he's not much at it. He's more of a fist-fighter than a vigilante," Lance says.

Joat
What does fighting style have to do with whether one is a vigilante?

Sylvanus
Well, to be fair, if your fighting style has to do with dealing unnecessary wounds…

Joat
Yeah, true.
"Lance is a vigilante in every way. It's all in an attempt to nab one particular bad guy named Vincent Vailo, who…" Draco begins.

"You aren't supposed to tell him that!" Lance says.

"Oopsie," Draco said, his fox-like ears not folded back in a gesture that you have been taught to recognize as submission, but in this case, looks more like guilt.

Joat
"Leave the plot exposition to the narrator, dagnabbit!"
Lance turns toward you. "Well," he says, "I might as well finish what he started. The story starts a year ago. I was but a normal teenager, except for the alchemy, that is," Lance says.

"You know alchemy?" You ask.

Joat
If by "alchemy", you mean "magic with a different coat of paint", then yes.
"Yup. Now back to the story. I was fourteen years old when this happened. That jerk, Vincent tortured and killed my parents, but kept me alive 'to suffer'," Lance said.

"A week later, he met me. You should have seen him. He was totally emo, a wreck," Draco says.

Joat
Oh good heavens, I wrote that… To everyone who has lost a relative, I apologize for what I had Draco say.
"Again, more information than I wanted to give them," Lance says.

"Sorry," Draco says.

"Anyway, now let's get back to more important matters," Lance says.

"Like what?" Draco says.

"I don't know about 'important'. After all, we were only getting a snack," you say.

With that, the three of you bandage the robber's wounds, leave him for the guard to handle, then forge onward. However, before you more than a block away from the robber, you notice that it looks like it is going to rain.

Joat
Wow, they sure took their sweet time stopping that guy from bleeding to death.
"I just felt a raindrop," Draco says.

"We should find shelter," Lance says.

"Aw man. I love the rain," Draco says.

"Funny, most furry life forms tend to avoid it like it was acid," you say.

"Draco, the last time you stayed out in the rain, you got a cold that lasted for two weeks," Lance says.

"Fine," Draco says. It is now sprinkling.

Draco points at a nearby restaraunt. "We can take shelter in there."

Fluffy
Of course~!
With that, the three of you go into the restaraunt. Once inside, you see that the restaraunt (which is actually quite posh) is empty, despite the fact that the lights are on. Most of the tables still have dishes and food on them, so it was obvious that the store was evacuated in a hurry. "What happened here?" you ask.

"Yeah, ask me. Like I'll know," Lance says. Suddenly, from the door that leads into the kitchen, a black-haired man with a grim expression appears. "Hello, Lance," the man says, "How are your parents doing?"

"Vincent Vailo," Lance said, "We meet again."

Joat
Wow, that was rather abrupt.

Sylvanus
You sure were in a hurry to introduce him.

Joat
Despite having no idea what to do with him yet. But hey, that's just how things worked with my writing.
…And still do, sometimes.

Sylvanus
Most of the time.

Fluffy
Yup!
"Aren't you happy to see me? You act like I killed your parents or something," Vincent says.

"You'll pay for what you have done!" Lance yells. He then lunges toward Vincent.

"So, you want to play? Very well, but be careful; I play rough," Vincent says.

Enemy Level: 2

Joat
This isn't a huge boss battle, but even so, it's still a good thing we saved up that MP during the previous battle.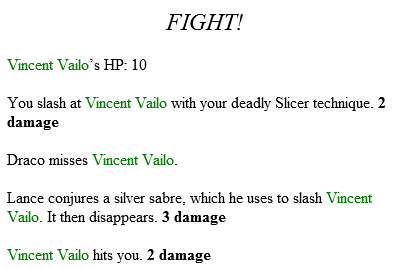 Joat
Ow.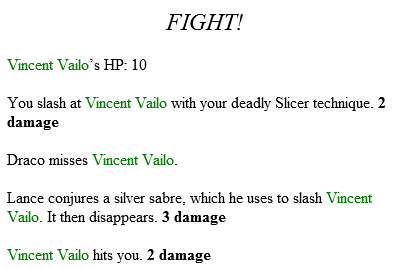 Joat
Ow. Again.

Fluffy
Yeah, he sure likes hitting you.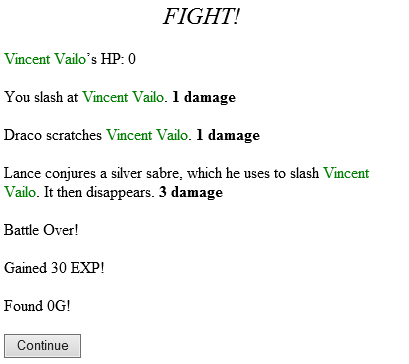 Joat
Yay, I didn't get focus-fire KO'd!
Speaking of a KO, one interesting feature I put in this game: If the protagonist is unconscious, the commands given to the other party members will be ignored and they will instead do their own thing, because you're not conscious to give them orders. I'm not sure why they decided to put some random stranger they just met in charge of their battle strategy, mind.
"Pathetic. I was hoping you would surprise me, but now I see that I was right; you aren't worthy of my time, Lance. You or your friends. If I were to unleash my full power, you would most certainly be squashed like a bug," Vincent says. That said, he disappears in a puff of green smoke.

Joat
Funny, how so many evil villains are willing to slaughter hundreds of people who did them no harm at all, yet go out of their way to spare the people who try to kill them.

Fluffy
Maybe it's opposite day.
Lance looks so angry you can almost see smoke coming from his ears. "How did he disappear like that? It was so cool!" Draco says.

"I'd remain silent if I were you," you say.

"Never truer words spoken," Lance says through his teeth. After a moment of silence, he walks toward the door.

"Where are you going?" Draco asks.

"Out to train solo," Lance says.

"Are you mad? You can't be saying you plan on taking that guy on alone," you say.

"I can and I shall," Lance says as he walks out the door.

Joat
It's the wrong genre for that, Lance. JRPGs are about taking down cosmic figures through the power of friendship. If you want to take him on alone, try a WRPG.
"Listen, we can…" you begin, but your sentence is interrupted by the door slamming.

"Lancie's gonna get creamed. I gotta stop him!" Draco says as he runs toward the door. You follow him out.

After following him for about an hour in the pouring rain, you and Draco arrive at the town gates… for the third time.

"Admit it, you're lost," you say.

"I'm sure we'll find him soon," Draco says.

"That's what you said thirty minutes ago."

"Like my optimistic mother always said, at least it's not raining."

"But it is raining."

"Don't be a literalist."

Joat
Or alternatively, "Don't rain on my parade."
"What are you two doing here? Following Lance?" the gatekeeper asks.

"You saw him?" you and Draco ask in unison.

"Settle down, boys. Yes, I saw him. Said he was going to slay an evil dragon," the gatekeeper said.

"How unoriginal," you say.

"I'll save you, Lancie!" Draco yells as he runs past the gate. You follow. On your way out, the gatekeeper gives you two heal potions "For the road".

Joat
Wait, so I'm supposed to pour them on potholes in the road to heal them?
Anyway, this is the first (and, up to where I stopped, only) time we're given some sort of inventory items. Here is what the inventory looks like!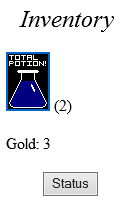 Joat
Like, totally potion, dude!

Fluffy
Totally!

Joat
In any case, that is where I shall close this part. And yes, I know this means I have two LPs going on concurrently on here, but hey, on DeviantArt and like sites I typically would juggle three.