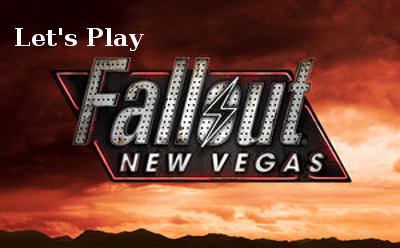 Welcome to New Vegas!
Fallout: New Vegas has always fascinated me. Despite being an abhorrently buggy mess on release, most of the people I know who played it said it was the best of the modern Fallouts (And still is, apparently). I loved Fallout 3 when it came out (I no longer hold it in nearly the same esteem), and so was excited to try out this new one that everyone was raving about. But, upon booting it up, I found it buggy, frustrating, and all in all not that much fun.
Still, people continued to rave about it.
Eventually, a whole heap of patches to make the game not run like garbage came out, and I decided to give it another look. I made it about six hours in. This was about two years ago.
Now, I'm going to give it another shot, again. This time, in the form of a stream/LP of the game, which should force me to actually finish it, finally.
The LP
As I said, this will be a semi-blind run through the game, streamed live for the world to see on Thursday mornings (8:00 AM Pacific), then edited (lightly) and uploaded to YouTube on Mondays and Fridays. This schedule should maintain, more or less, until the next school year starts up in August, and I have to go back to teaching children how to read, which obviously takes precedence.
** Please note, I tend to swear a lot, and this game has a lot of violence, gore, disturbing imagery/scenes, drug/alcohol use and abuse, and other weird and nasty things. **
Also, please no spoilers, since I haven't actually beaten the game yet!
Now, without further ado,
The Videos