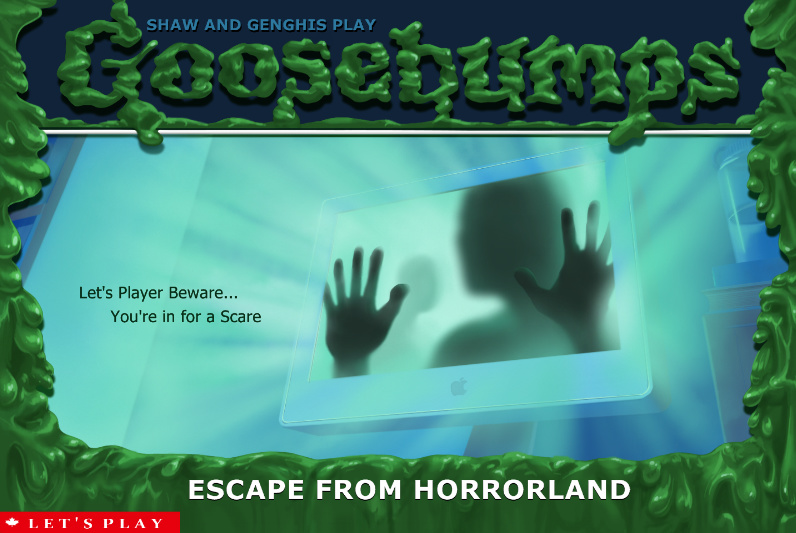 "If we're smart, we'll find a way out of here… real fast. See… you never know what's real here, and what's not. But either way, it's always totally terrifying…"
Goosebumps: Escape from Horrorland was released in 1996 for the PC by Dreamworks Interactive. It follows siblings Lizzy and Luke Morris, Luke's friend Clay, and a nameless/featureless protagonist (The player character) as they once again attempt to escape the monster-filled theme park Horrorland!
Escape from Horrorland is a sequel of sorts to the 16th Goosebump book, One Day at Horrorland, which tells the tale of Lizzy, Luke, and Clay's first escape from Horrorland. Who or what has brought our protagonists back to Horrorland, and will we be able to escape once more? Tune in to find out!
This is a fun, short little game that I've been wanting to do for a long time, and once I realized that Halloween will soon be upon us, we just had to pull this LP together! @GenghisKait and I will be releasing one episode every Sunday for the rest of October, with the finale falling just before Halloween.
If you're hoping for a truly frightening game… this won't be the LP for you. But if you like a bit of cheese, miniature sets, and some surprising cameos, you won't be disappointed by Goosebumps: Escape from Horrorland.