Hello, I'm Brad the Mad and this is Let's Play Link's Crossbow Training!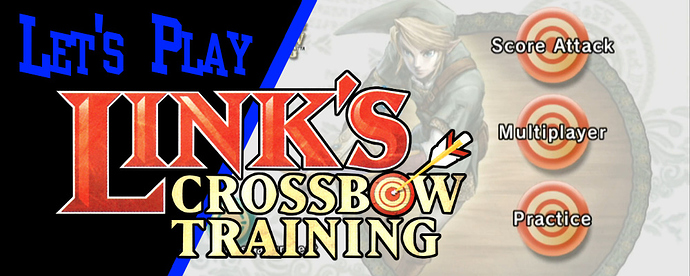 The Game
Link's Crossbow Training for the Nintendo Wii is, as you might have guessed, a spin-off game from The Legend of Zelda. You take to the Hyrule of Twilight Princess in order to face down many enemies such as wooden targets, fruit balloons and skulls of the inanimate and the re-animated kind. It's formatted in a similar way to an arcade based shooter with an aim to get the highest score possible in any way you can. However, it is a Nintendo game at heart so expect some interesting ways of boosting that score.
This game was one of two that I'm aware of (the other being The Conduit) that makes explicit use of a certain piece of plastic called the Wii Zapper. This strange device has a slot that both aims the Wii Remote at the screen and gives you access to the Nunchuck's control stick in case you need it. It has the dubious honour of being one of the few non-mechanical peripheral devices made and endorsed by Nintendo. This is the game that it came with!
The LP
Each episode I will be going through one of the levels from 1 to Finale and showing the three parts of said level in the main single player mode called Score Attack. At the end of each level we will be awarded one of four medals: Bronze, Silver, Gold and Platinum. We won't be trying for Platinum as you don't get anything for getting all Platinum. I will be playing through this game showing any score-boosting tips I can (on purpose and accidentally) with the thought that if one day you may be possessed by the vengeful spirit of dead Wii Remote addons and be forced to play this game you will know what you're doing. I will also be playing this game as it was meant to be played; Wii Zapper + Skyward Sword Wii Remote + Nunchuck.
I will be commentating live and solo throughout all of these videos in a style that I like to call stream-of-broken-consciousness. This isn't likely to be a 100% informative series, however it will give you a good idea of how the game is played and some interesting features that this game has. With regards to updates, there will be a new video uploaded to my YouTube channel at 9:00PM BST/4:00PM EDT every Saturday and an update to the thread soon after that.
But that's not all!
Because of my morbid curiosity, if any of you avid readers have this game and feel like playing along, put your scores for the level after each update in order to obtain the bewilderingly cheap prize of gloating rites! The more details that you have about getting the high score would be great to know too!
And still, that's not all!
In order to keep the thread interesting, every few videos there will be a bonus video inspired by various titles that I thought of in the shower. They will include a some game different to the one in the thread with a different format. Keep your eye out for them!
The Rules
Keep spoilers to a minimum. Even though this is a game that doesn't rely on a heavy plot, there are some interesting levels that are best met with an unsoiled mind.

I absolutely welcome any sort of tips or better gameplay advice that I don't show in the videos. However, these tips shouldn't descend into aimless complaining about missed targets and the like.

Of course, the general 'Be Civil' rules apply.
The Videos
Without further ado (and meandering words!), here is the LP! I hope you enjoy it!