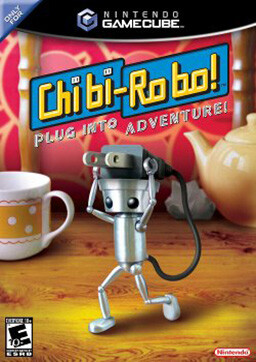 Chibi-Robo is an off-beat action adventure game series with a stronger-than-average focus on platforming. Released during the Gamecube's dying breaths, Chibi-Robo: Plug Into Adventure! revolves around the titular housecleaning robot going about his daily tasks in the Sanderson household. But all is not well, as the house is plagued by problems both mundane and fantastic. Mr. and Mrs. Sanderson are both unemployed, their relationship is strained at best, and their daughter, Jenny, seems to be unable to stop pretending that she's a frog.
As if that wasn't enough, the toys in the Sanderson house come to life when no one is around, and each toy has their own emotional problems to fix. Have you ever wondered what would happen if a Roomba tried to be a pyschologist? No? Well, you can find out anyways in Chibi-Robo: Plug Into Adventure!
This game's story isn't particularly filled with twists and turns, but please refrain from discussing anything we haven't seen yet.
Episodes


Our first episode covers Chibi-Robo and Telly being introduced to the house. They meet the Sanderson family, as well as a few of the resident toys. It's not easy moving to a new neighborhood, but I'm sure the other residents will be friendly and that no one will threaten Chibi with a gun in this episode!



On the last episode of Chibi-Robo, Chibi fucking died! But don't worry, he's still fine. But he still has no way to investigate that strange noise coming from the basement. Watch this episode to see how he manages to get past the Free Rangers!

This week, we're going to start what passes for the main plot! We've finally reached the basement, and Chibi Robo is ready to investigate the cause of that strange noise. Find out what it is by watching the episode!




This week, it's time to talk to the other denizens of the house! We met Plankbeard last time, but we still need to hear what his whole deal is. And the Free Rangers are no longer shooting us on sight, so let's talk to them as well!




This week, Chibi comes face to face with the enemies in this game for the first time! We also get to train with the Free Rangers for the first time.




This week, Chibi helps some of the toys at night while the Sandersons rest. In addition, we stumble upon one of the few non-toy, non-human characters that need our help!




This week, Chibi finally gains access to the top floor! We check out Jenny's Room so we can finally meet some of her toys! And maybe there was something about a frog? Whatever, I'm sure it's not important.




This week, Chibi explores the top floor again, but at night this time. We run into Jenny in one of the more memorable incidental scenes in the game and we explore her room to start one of the four major sidequests in the game.




Chibi manages to explore the last room of the house: the Sanderson's bedroom. With a new room comes a host of new characters, inlcuding one with the best theme song in the game!

It's another night in the Sanderson House as Chibi Robo sets about aiding some of the non-toy, non-human residents. We also encounter the next major plot beat! If you're looking for marital drama, look no further!

This week on Chibi Robo, we have to deal with the worst minigame whole game! We also work our way through one of the more depressing side-quests.

We've got a short episode this week. We're turning over the toy receipt to Mrs. Sanderson, and checking in on Plankbeard and his new crew!

It's time for another episode of Chibi-Robo, and if you struggle with addiction, I would recommend approaching this episode with caution!

Chibi has done his best, but he could not prevent the underlying resent in this family from bubbling over. Mrs. Sanderson has locked herself in the bedroom and is refusing to communicate. In slightly better news, we also meet another member of the household: Sunshine, Jenny's bear! I'm sure he'll be cute and harmless.

Oh no, we've reached another sad episode. But before things get depressing, we continue Plankbeard's sidequest by going on a treasure hunt. And finally, we end the video by stumbling across a love letter.

Welcome back to Chibi Robo! This week, we're clearing out a lot of the side stuff. We're going to cook burgers, get fitted for an outfit, cover a bluebird in nectar, and scare a princess until she's no longer scared of us. Just a typical day in the life of Chibi Robo!

It's time to get back to the main plot! This week, we're meeting with some old friends of Giga Robo. Turns out, he kept some odd company!

As if the aliens weren't weird enough, we've got time travel this episode! We go back to the past to get some important information. And after that, we clear up a few more issues for our housemates.

This week, Chibi-Robo gets pajamas! Other stuff happens too, obviously, but these pajamas grant Chibi-Robo an ability that most people today would kill for: The ability to fall asleep on command!

Look, if you're still watching at this point, I don't need to keep convincing you to watch each episode. You've already made up your mind. Enjoy!




This week on Chibi-Robo, Sophie dies.




Surprise, we've reached the final boss! The Spydorz are ready for an all-out assault, led by the Queen Spydor herself! Can Chibi-Robo overcome this siege?

Now that the Big Bad has been defeated, we can focus on our actual goal: Reviving Giga-Robo. The only thing keeping us from that goal is money, so it's time to clean out the Chibi-Doors!

It's time to reach the true end of the game and revive Giga-Robo! But we're not done quite yet; there's still plenty to do afterwards.

It's time for the post game! We start by tackling some things that require the revival of Giga-Robo, along with some things that I had just put off for too long.

We continue our clean up of the remaining side-quests. Drake Redcrest, the aliens, Sunshine, The Great Peekoe, and even the Chibi Doors get their time in the spot light!

It's our penultimate episode and that can only mean one thing: it's time to finally finish up Funky Phil and Dinah's sidequest!

And that does it for Chibi-Robo! We finish up the sidequests, then we discuss our thoughts on the game while Chibi and Giga share a moment on a swing.