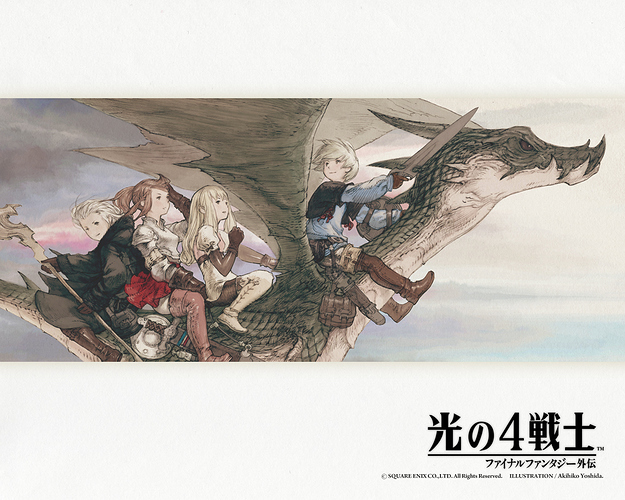 Disclaimer: The original title of this thread was a reference to this game being "the good Final Fantasy game released in 2010" as a jab at FFXIII and the 1.0 version of FFXIV, and, while I do still think this, I still kinda regret going with that particular angle in hindsight. I won't be changing the rest of this post as I still stand by most of what's in it, but I have changed the title and want this disclaimer here for clarity's sake as this was still written in reference to the old thread title.
I don't believe you. Stop lying, you liar. I'm outta here.
Wait, no, don't leave! I understand that it's hard to believe. Trust me, I know. 2010 wasn't a very good year for the Final Fantasy series. That was the year we saw both Final Fantasy XIII, a game so directionless even its own creators admit they didn't know what they wanted to do with it, and Final Fantasy XIV, an MMORPG pre-alpha that Square wanted to pretend was a retail-ready product. (Bearing in mind I'm going by North American release date for FFXIII and there was an actual good version of XIV released in 2013, of course.)
It's all really unfortunate, too, because amid all the hubbub surrounding the aforementioned games almost everyone overlooked an unassuming little Nintendo DS game by the name of Final Fantasy: 4 Heroes of Light which, as it turns out, is a sort of ray of hope for the series.
4 Heroes was made to be a throwback of sorts to the Final Fantasy games for the NES, mostly drawing inspiration from III. The game runs on the Job system (in the form of hats referred to as Crowns) and has a turn-based battle system where all characters' actions are chosen at the start of a turn. While the graphical style is more modern, the soundtrack is a sort of blend of chiptunes and more modern sounds (it's also pretty damn great but we'll cross that bridge when we reach it). All in all, it's a pretty neat retro throwback JRPG.
Huh. So it's a really great game, then?
Well, I will admit I was exaggerating a little when I described it as a ray of hope. The game is far from devoid of problems (some of which are uncomfortably similar to FFXIII's worst faults, we'll get to that), and I will freely admit it's not for everyone.
Still, "not for everyone" is still better than I'd give either of the other offerings the franchise put out at around the same time.
Hey, I've heard of this! Wasn't Bravely Default made to be a spiritual successor to this game?
That's right! Bravely Default was originally intended to be a sequel to this game and was changed to a spiritual successor later in development, and it very much shows. The visual style and monster designs of BD are taken pretty much directly from 4 Heroes, and in fact the Brave/Default system is an evolution of this game's own combat system. You could call this game Bravely Zero or something similar and you wouldn't really be too far off.
So… should I just play Bravely Default instead, then?
To be 100% honest? If you could only choose one game or the other, yes, Bravely Default would be the best choice; where 4 Heroes draws from NES JRPGs, BD draws from SNES ones, and that includes aspects that have aged better, which makes BD, all things considered, the better game.
That said, I would recommend trying both, if you're interested. The two games don't quite fill the same niche, being based on two different eras of game, and 4 Heroes even has a leg up on BD in a few ways I'll get to as the LP goes on.
The LP Itself
First and foremost, this is my first ever LP, so apologies in advance for any LP faux pas I might make. That being said:
Completion
Just a warning that this will probably not be a 100% LP, a lot of the bonus material is just too much of a pain. (And some of it requires the use of the now-defunct online services anyway.)
Spoilers
Obviously, anything we haven't seen yet should be spoilered, please nothing that calls for paragraphs and paragraphs of spoilered text, etc., all the common sense stuff. Just remember to tag spoilers for Bravely Default/Second as well, since comparisons are pretty much inevitable.
Update Schedule
I'll try to get up at least one update a week. I don't entirely know when each week, due to my own somewhat erratic life schedule, but I will be aiming for at least once a week.
Forum Participation
Participation will come mostly in the form of choosing jobs for the individual characters, as there's all manner of different combinations that can be used. That said, there are also some points of nonlinearity later in the game that will be up to the thread as well.
Updates:
Update 1
Update 2
Update 3
Update 4
Update 5
Update 6
Update 7
Update 8
Update 9
Update 10
Update 11
Update 12
Update 13
Update 14
Update 15
Update 16
Update 17
Intermission
Update 18
Update 19
Update 20
Update 21
Update 22
Update 23