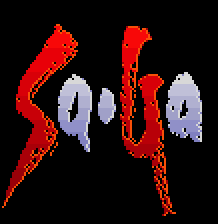 What's a SaGa?
The SaGa series is a long-running JRPG series from Square, spanning from the Game Boy to the PS2 to the Vita. It's the brainchild of designer Akitoshi Kawazu, who also invented the concept of elemental weaknesses in JRPGs for Final Fantasy I and made the… divisive Final Fantasy II. The SaGa series is largely in the vein of the latter, with tons of experimentality, but most of them are less janky than that infamous title.
Hey, these first few updates are about a Final Fantasy game!
No they aren't.
For whatever reason, 1990 Square of America didn't think Americans could wrap their heads around an RPG that wasn't Final Fantasy. So they went ahead and retitled the first three SaGa games "Final Fantasy Legend". Something similar happened to the original Seiken Densetsu/Mana game, known in the west as Final Fantasy Adventure. It's pretty dumb.
So how many of these are there?
There's a total of 13 games in the main SaGa series. Three of these are remakes, but they reimagine the originals so thoroughly that they basically count as new games. There's also the Japan-only F2P gatcha games Emperors SaGa and Imperial SaGa (yes, those are different games), but I won't be playing those (unless I really feel the need to do a bonus update).
The first three, Makai Toushi SaGa, SaGa 2 Hihou Densetsu, and SaGa 3 Jikuu no Hasha (or, again, Final Fantasy Legend I-III, which is what I'll be calling them from now on), were released on Game Boy. The next three, Romancing SaGa, Romancing SaGa 2, and Romancing SaGa 3, were released on Super Famicom only in Japan - 1 and 3 have translation patches, and 2 got a surprise official release on iOS and Android just last year (2016).
SaGa Frontier and SaGa Frontier 2 were released on Playstation, in both Japan and America (no clue on Europe and I'm too lazy to check). The following PS2 title, the inscrutable Unlimited Saga, was also released in both regions, as well as Romancing SaGa -Minstrel Song-, a remake of the original Romancing SaGa on PS2, though in America it was simply called Romancing SaGa. Confusing, I know.
The remake pattern continued on DS with SaGa 2 GODDESS OF DESTINY and SaGa 3 SHADOW OR LIGHT, remakes of the original GB FFL2/3 that remained Japan-only. And then there's the very recent SaGa Scarlet Grace, a Japan-only Vita game that I have not played because I do not own a Vita.
What update schedule can we expect?
fuck if i know dude
I'll try to update weekly on Saturdays, but who knows how that schedule will hold up. Yell at me if I take too long.
What's your spoiler policy?
Tag any storyline stuff I haven't talked about, including in games I haven't gotten to. The plots of these games are fairly sparse by JRPG standards, but there's usually some pretty cool twists worth experiencing unspoiled. Mechanical spoilers are totally fine.
Updates
The Final Fantasy Legend - Don't Mess With His Tower!
Introduction
Update 1: "Are you okay?" "No, but I've never been better."