TW: Suicide attempt, major depression in a character. I will update this TW if I see anything else as need be.
Hello, good day, good morrow, welcome to the Sonic Epoch Let's Play, covering not just the Game Boy Advance version but diving into the PC versions as well. Before we start our journey, let's look briefly into the early 2000's. Mind the swirly special effects, we're going into a time when the Sonic fandom was especially strong.
This goes back as far as 2000, when the first demo was released. Sonic Epoch was described as an "interactive movie" on first release, and it certainly focuses on cutscenes. The game was released in DOS format in two versions and then directly in Windows 95 version for the third. Unfortunately, I'm not equipped to run the latter nor get a Dosbox or VM running for the former yet, but for now we're going to focus on a fourth version.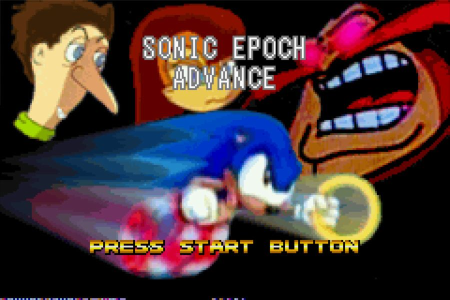 Enter the Game Boy Advance version, which the main developer even admitted was more that he wanted this project to be done and complete. Not a bad reason at all, although the aging has brought certain issues up, including new aspects of the plot that are /pretty bad/. Still, it's been completed and even seems to run on an actual GBA quite well.
Now, before we begin, I want to first focus on the characters appearing first, by which I mean bring up some of the characters we know and how they are more so in the SatAM universe.
Sonic the Hedgehog (16)
Proclaimed by everything and everyone as the Fastest Thing Alive, including the theme song. Sonic is the best bet in the Freedom Fighters' efforts against Robotnik with his rebellious attitude and mastery of his incredible speed. He's arrogant to a fault but recognizes he needs to put his ego aside to make sure the day is saved and Robotnik's forces take a loss, bringing the fight ever closer to victory.
Sally Acorn (15)
A princess before Robotnik's conquest, she doesn't give her royal blood a second thought as she leads the Freedom Fighters in their battles. She boasts considerable knowledge in technology and tactics, as well as attempting to keep a cool head when dealing with the various attitudes of the group.
Miles "Tails" Prower (10)
A junior member of the Freedom Fighters, Tails looks high up to everyone in the Freedom Fighters and wants to fight aside, but the others want to keep him safe and make sure he has something of a childhood. He idolizes Sonic and wants to be as heroic as he can be.
"Doctor" Julius Robotnik
Once a beloved ally of King Acorn, Sally's father, Robotnik soon brought his machines to take over Mobius and rule it with an iron fist (or at least the robotic one he got because of Sonic). Ruthless, cruel, deadly, this is easily the darkest version of Robotnik/Eggman yet, and fitting enough voiced by Jim Cummings! Was assumingly killed at the end of season 2 to be replaced by Naugus.
Snively
Nephew of Robotnik. During the first season, Snively tried so hard to appeal to his uncle's demands and temper tantrums, but once the second season started he was fed up with it. The cancelled third season would have dealt with him teaming up with Naugus, an extremely powerful wizard, before switching sides multiple times.
Fun fact: If not for Naugus' laugh, the eyes at the last scene of SatAM were rather Sonic-like, almost hinting instead at Metal Sonic. Sonic CD did come out the previous year!
WARNING, THIS EPISODE CONTAINS A SUICIDE ATTEMPT. The specific screenshot is blurred but only that one since it's a plot point for here and the next post.)
Let's start this show then.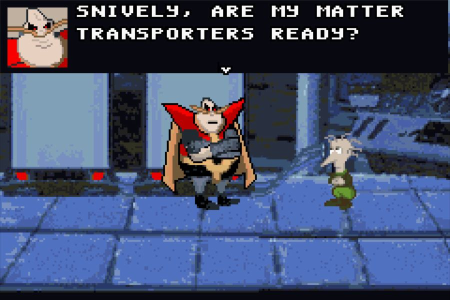 Snively: Oh, yes, sir, all preliminary tests ahve been successful. There's still a minor concern about a critical high energy tolerance that may or may not cause problems.
Robotnik: What type of 'intolerance' are we facing here, Snively?
Snively: Provided all energy levels of matter sent through the teleporters remains at nominal levels, there should be no issues. However, based on the principles we are using for the teleportation, a level of energy that is… Sir, I seriously think you should take this into consideration!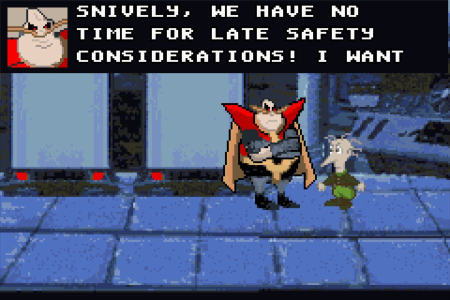 this completed to my original specifications within the hour.
Snively: But sir…!
Robotnik: Now cease your senseless yakking or I'll see to it that you're the test material.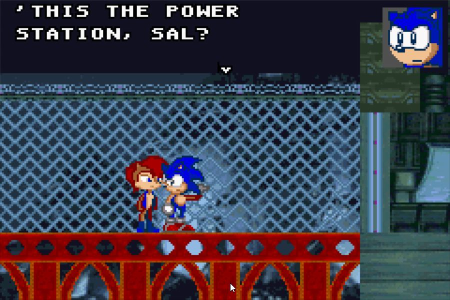 )Yup, we're not even told what the thing is that Robotnik is testing! We're going straight into the Freedom Fighters on their latest mission instead!)
Sally: This is the place!
Sonic: You ready?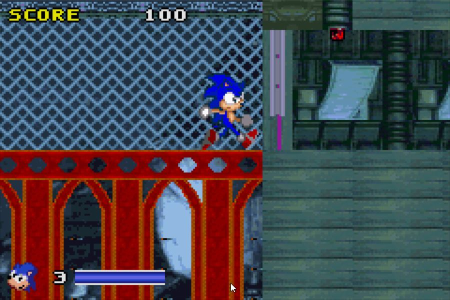 And welcome to the first level, everyone, we're invading a small base filled with dog robots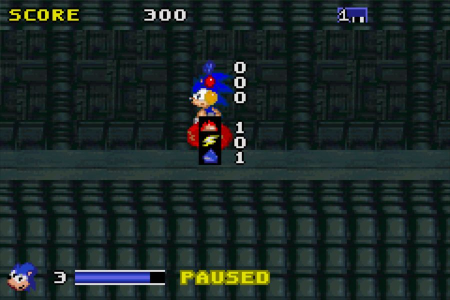 Our pause screen holds some mystic items at the top (I do believe they're recovery items) and some elements at the bottom… yeah those are the Sonic 3 style shields. The flame shield doesn't work completely like in Sonic 3, you need to be holding forward to get that boost, but hey, it's a shield with move benefits.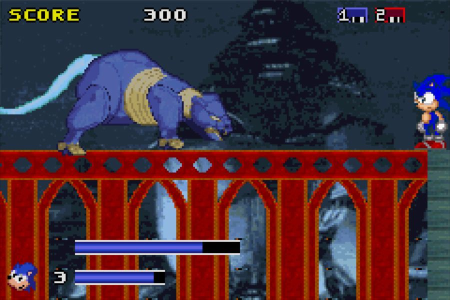 Our first boss is unfortunately extremely basic. The ratbot walks across the screen and its main defense is you can't hit it while it's blinking after a hit. I'm serious, its main defense is its mercy invincibility. It can walk into you but otherwise, yeah. No fun wrecking ball to swing around.


And that's the end of that. Bosses explode nicely.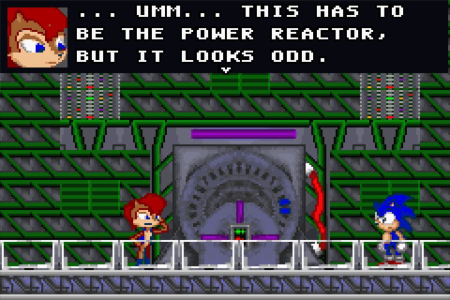 Sonic: What's one power reactor to another? Let's just slam, jam, and scram!
Sally: We really shouldn't act too harshly, Sonic. I must make sure it's safe…
(Oh come on, in the cartoon Sonic would already be pounding at the door.)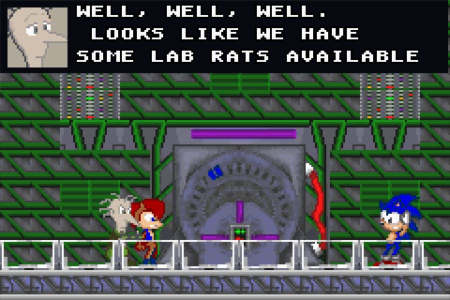 for testing!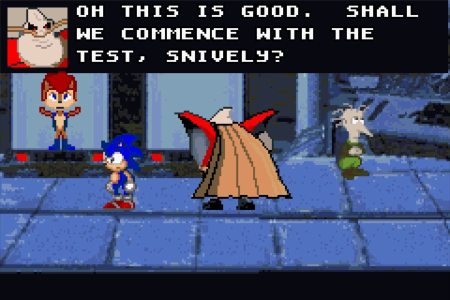 (Seriously, you left SONIC UNGUARDED?!)
Snively: Yes sir. I'm making the final calibrations now.
Sonic: (Oh man! How am I gonna get me and Sal outta this one…? … Stall?)
(You can tell this was made in the early 2000's by the overuse of ellipsis)
Sonic: Yo Snively! What are these things, anyway?
Robotnik: Insolent rodent! These machines are none of your concern!
Sonic: I was talkin' to Snov'ley, Lard Butt!
Robotnik: You fool, Hedgehog! Don't you even care that we have your dear Princess's molecular configuration in our hands!?
Sonic: I've got something in my hand that'll make you kiss your sorry Robuttnik goodbye!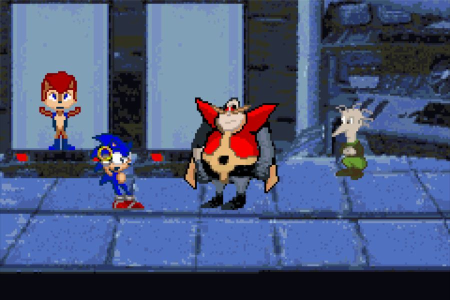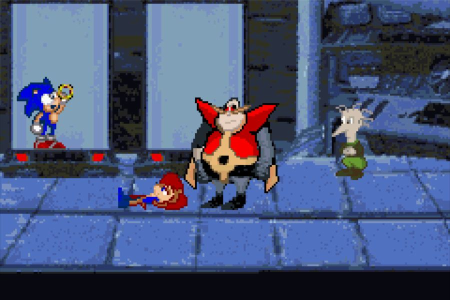 Sonic: Showtime's over, Doc!
(Literally all Sonic did was bounce the ring in front of him, jump at Sally, knocked her aside and took her place as he grabbed the ring again.)
Robotnik: Snively, activate them now in their uncalibrated state!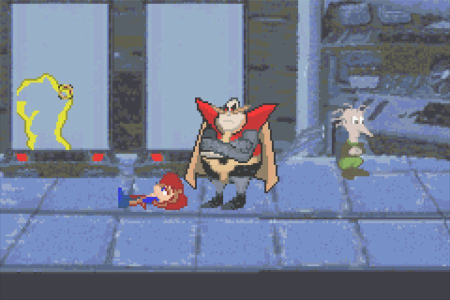 Robotnik: Snively… why isn't the hedgehog dematerializing?
Snively: Um, well, sir, I believe the hedgehog's Power Ring's radioactive properties are not able to be properly disassembled by this system…
Robotnik: Meaning…?
Snively: Women and lackies first?
Robotnik: Snively, you fool! What have you done!? (runs off)
Sally: Sooooonnniicc!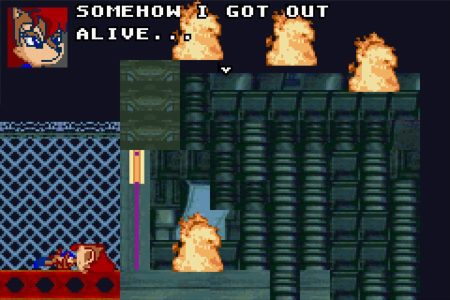 (some screens from the show shoot by made to look like reactions to Sonic's disappearance)
Sally: And that's what happened… so many years ago… I don't know why you had to be taken from me, Sonic…
WARNING: SUICIDE CONTEMPLATION IMAGE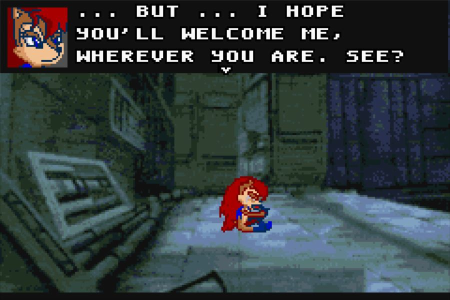 (YO WHAT THE FUCK
What a way to show how edgy you're going for here, Jesus Christ. )
Sally: I found a way out… Sweet laser pistol demise…
This is so messed up. I know people like the dark atmosphere of SatAM but this is just absurd.
Anyway, speaking of swearing, let's end on this joker.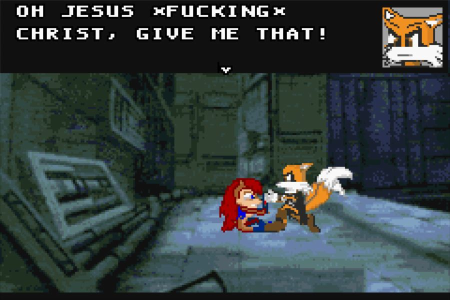 Enter 20 years old Tails: angry and cursing.
Next time, we'll also talk about differences in the original DOS/Windows 95 version, including the opening there that includes a character not introduced yet in the Advance version.