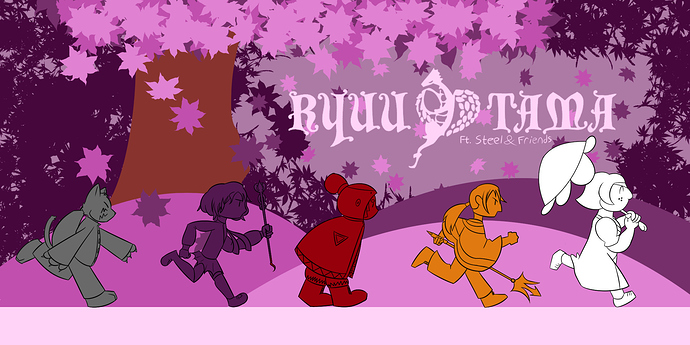 Tell your own story…
What the hell is Ryuutama?
Ryuutama is a Japanese Tabletop RPG created in 2007 by Atsuhiro Okada that was translated to English in 2015 thanks to a Kickstarter by Matt Sanchez and Andy Kitowski. The game itself is part of a genre in Japanese media specifically catered to "emotional healing," which is just a fancy way of saying it's a feelgood game. In the game, you don't take the role of traditional heroes, but instead take roles normally associated with NPCs such as merchants, hunters, or craftsmen.
In Ryuutama, the GM assumes the role of a Ryuujin: draconic scribes that write down the stories of adventurers (aptly named"travelogues") to their respective seasonal dragon. Their goal is to nurture the dragon with travelogues so that it may one day leave the nest. There are four types of Ryuujin, each with their respective season and story style. Because of the variety and the lack of actual fluff within the game, groups are allowed a ton of versatility with the settings they create.
Who are you people?
We're a group of friends that really love to shitpost and roleplay. No, really, that's it.
steel-kun (henceforth "steel") is our GM and the one assuming the role of the Ryuujin. It's been a huge labor of love on his part to hold a Ryuutama campaign, and I would love to share my group's shenanigans with you all.
Our group consists of 6 people (from left to right on the banner):
steel-kun - Eipollo, Our GM and Midori Ryuu
Me - Mako, a koneko goblin chef
PyroRaptor - Loveland, a magical boy healer
Broshimaru - Nishka, a merchant from a foreign land
BirdKingJay - Kaito, an adventuring hunter
KoriCongo - Sydney, a well-meaning noble
Wasn't there a thread on this game already?
Indeed there was! In fact, the thread on here inspired me to host steel's campaign here in order to gain more exposure for Ryuutama. Our group believes that Ryuutama needs more attention as a game and we wish to give it that by holding a thread here. We assure that our campaign will be different from the one already seen here.
Ok, so what's the plan?
Every time we complete a session, this thread will be updated with the travelogues and journals of the cast as well as progress made on our map. Sadly, we can't do a podcast format since steel is in Germany, meaning that our sessions typically hold during his late night hours. Our sessions and all forms of roleplay are all conducted through text, so transcripts of funny or serious moments might be given in tandem with the travelogues and journals. Archiving Roll20 logues is a bitch and a half to do though, so I must stress that it's only a possibility.
What kind of house rules will you have?
steel will have a multitude of systems in place for the campaign. These include, but are not limited to:
-In-depth mechanics for each character and their respective abilities (Cooking, Magic, Tracking, etc.)
-Homebrewed monsters
-Magical items
-Collaborative worldbuilding
steel has also made a list of common rolls and the stats that will use them
Rolls

Hard Exercise: (STR+DEX)
Delicate Work: (DEX+SPI)
Stealth: (DEX+DEX)
Perception: (DEX+INT)
Carousing: (STR+SPI)
Dodge: (DEX+INT)
Negotiation: (INT+SPI)
Our first session will be held this Wednesday. But first, a lore dump!