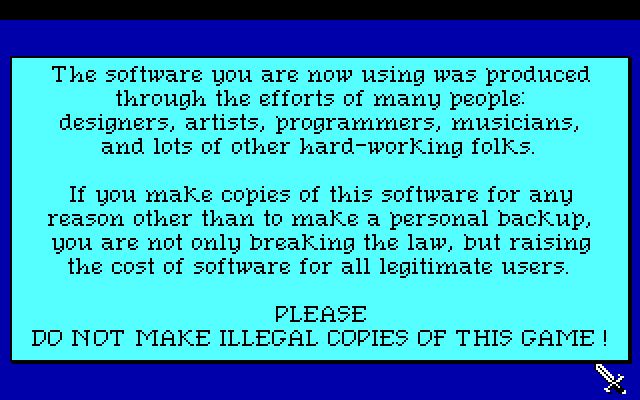 Don't copy that floppy.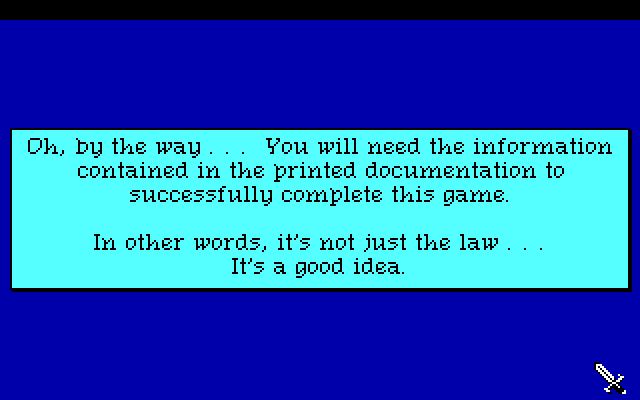 Don't worry, I'll be playing a Lawful/Good-Idea character.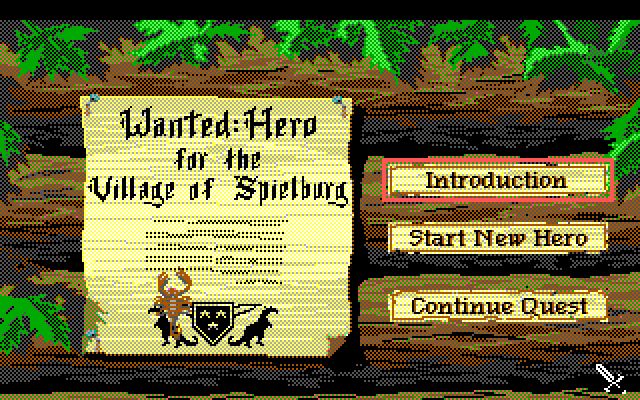 Well this is to the point. There is need of a hero and…
Wait a moment.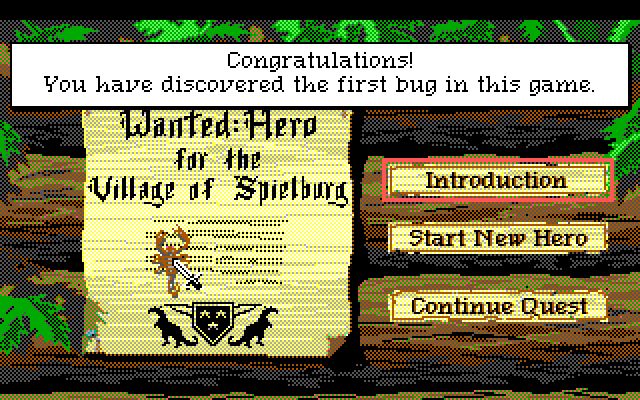 That's more like it.
Welcome to Quest for Glory: So You Want to be a Hero!
Quoth Wikipedia:
Quest for Glory is a series of hybrid adventure/role-playing video games, which were designed by Corey and Lori Ann Cole.The series was created in the Sierra Creative Interpreter, a toolset developed at Sierra specifically to assist with adventure game development. The series combines humor, puzzle elements, themes and characters borrowed from various legends, puns, and memorable characters, creating a 5-part series in the Sierra stable.
The series was originally titled Hero's Quest. However, Sierra failed to trademark the name. The Milton Bradley Company successfully trademarked an electronic version of their unrelated joint Games Workshop board game, HeroQuest, which forced Sierra to change the series' title to Quest for Glory. This decision meant that all future games in the series (as well as newer releases of Hero's Quest I) used the new name.
Originally released in 1989 as Hero's Quest which was the version I played as a little kid, Quest for Glory is one of the most groundbreaking games ever made not only from the perspective of genre-blending but from the perspective of game-design philosophy. Sierra games are rather infamous for being obtuse and frankly cruel to the player, often requiring a sequence of specific actions that if not achieved -exactly- as demanded will kill the player. Some of the more infamous examples require the player to reach a point that they can't advance from, die and start over from an earlier point in order to secure what is needed to succeed as if the character of the game had some kind of precognition. Leisure Suit Larry 2 is one of the most egregious examples of this.
However this is because when those games were made, games were made by game developers, not game players. Through an intention to want to branch out into new things, Roberta and Ken Williams attempted to hire a notable Dungeon Master of some kind from the D&D community. This didn't happen. What did happen was that through a string of stalling and other inanities, a woman named Lori Ann Cole was hired by Sierra and despite their best efforts, she wrote and directed what would now be known as Quest for Glory. Her husband Corey contributed to the programming. Lori herself actually hated adventure games.The two of them had tabletop RPG experience from both ends of the table and what Lori brought to the video game table was the idea that results can have variation and that the player being bullied by the game master or the computer game is not a particularly endearing or satisfying experience.
This mindset brings us one of the most important games in interactive fiction.
But I've prattled on enough for the time being, there's plenty more to say but for now, on with the show!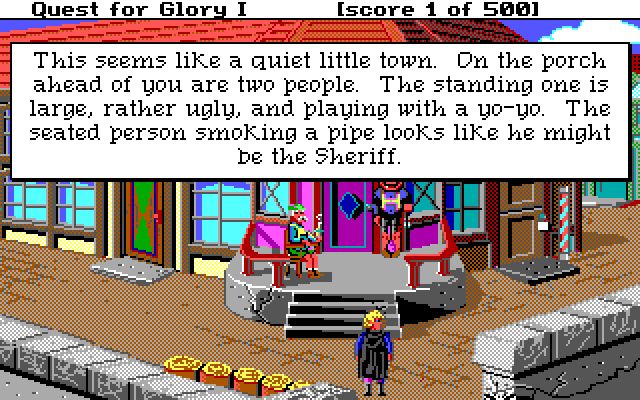 With an office name like that, I sure hope so.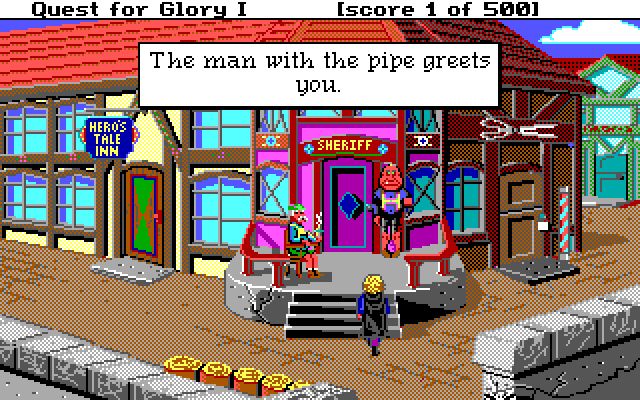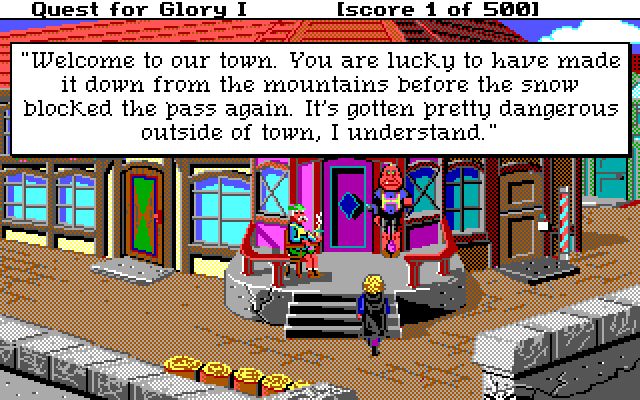 This isn't covered in much detail, but the idea is that shortly after we entered the valley that we're in, an avalanche came down and blocked the only way in or out. For the foreseeable future, we're stuck here.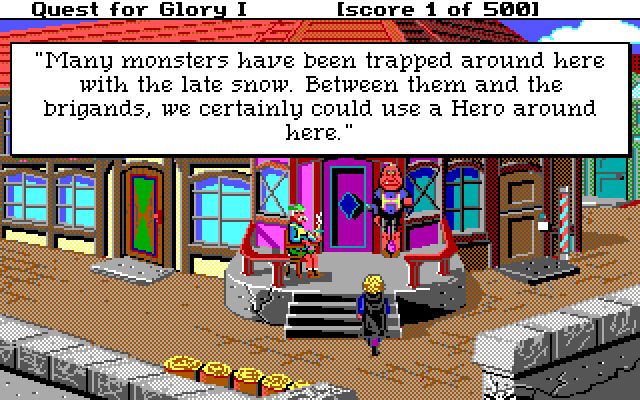 OH! RIGHT!
I saw this sign on a tree somewhere over… well… somewhere and it had the royal crest on it and a bug which I could've sworn was an arachnid and then…
Wait, I'm getting sidetracked! If there's heroing to be done, I should have a look around!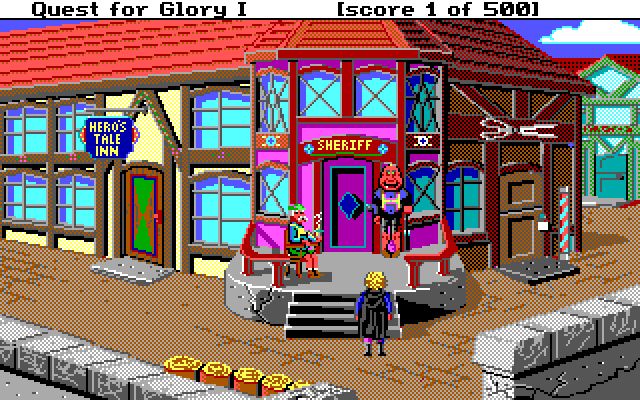 Here we have the entrance to the town of what we will very shortly confirm is Spielburg, which when rammed through German comes out to "Game Town". It is simply though aptly named and most people would instead assume it was in reference to the film director. The entrance to town has an exit to the east (seen as south in this image due to the perspective) and roads to the west and north. In what is apparently an extremely compartmentalized building, we have the town's local lodgings in the Hero's Tale Inn. The Sheriff's Office and the business on the right are not accessible.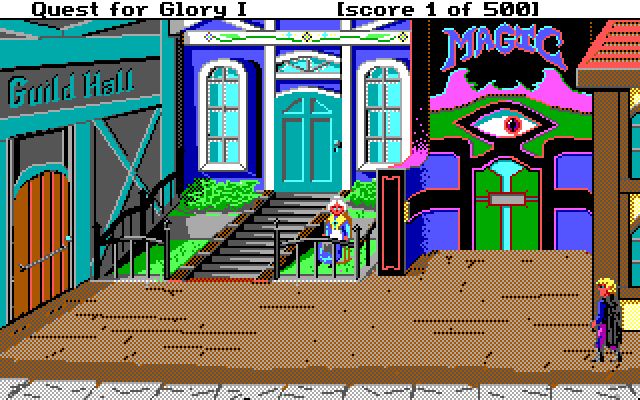 To the west we have the Adventurer's Guild Hall, what is assumable a store that deals in magical paraphernalia with a big eye that will follow our movements. There's also a little old lady in a rocking chair and what is presumably her residence.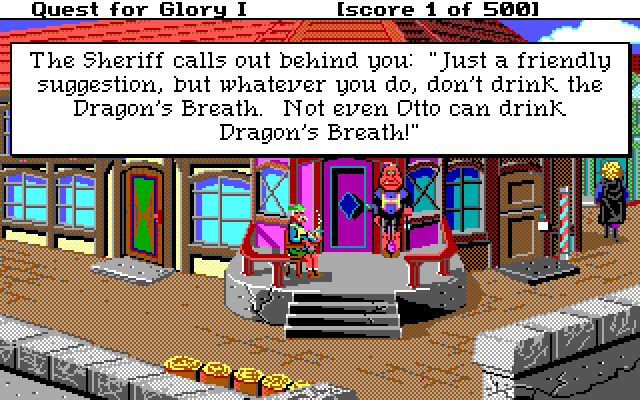 As we head north, the Sheriff will call this out to us. I dunno what Dragon's Breath is, but it can't be that bad, right?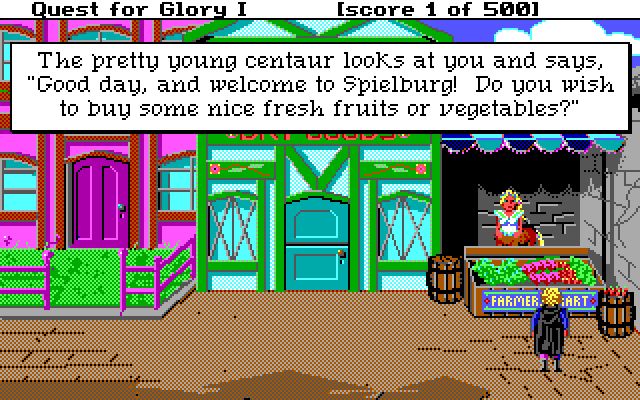 Heading north will cause us to hit a corner with a farmer's market run by a young centaur lady who seems rather polite, a proper storefront and what appears to be a private residence.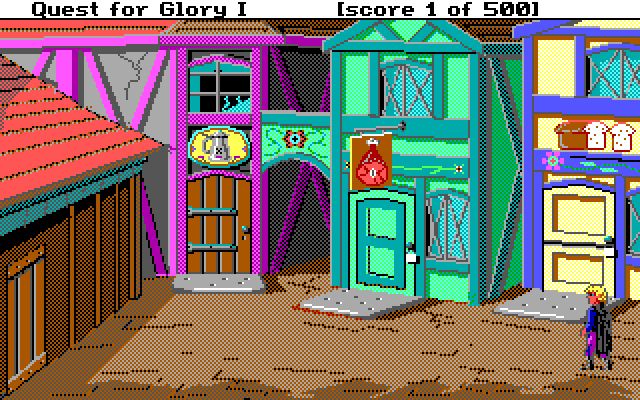 Following the road from here leads us west were the signage would indicate a tavern, a butchery and a bakery. The latter two are inaccessible, but we could mosey on in to that alley between the tavern and butchery.
But that will conclude the tour of the town. For now, dear thread, we have some decision making that I've glossed over!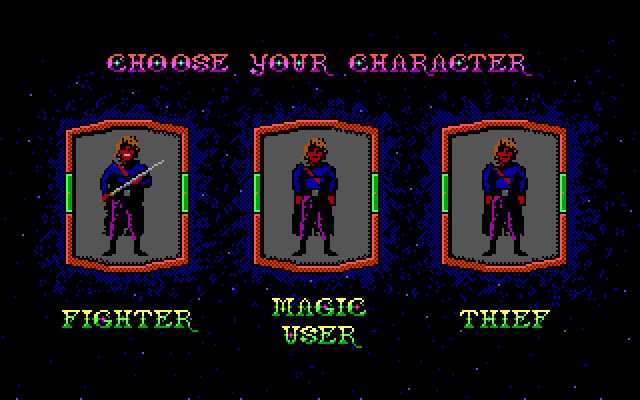 Quest for Glory allows the use of three character classes, Fighter, Magic User and Thief. While usually I would say go nuts and pick one, I've been playing a Magic User in my weekly streams and I'd really rather do something else for it. Ultimately I will go over the differences in content and puzzlery for the classes not picked, but we're going to be doing the main run as either a Fighter or a Thief, which I will leave to a poll.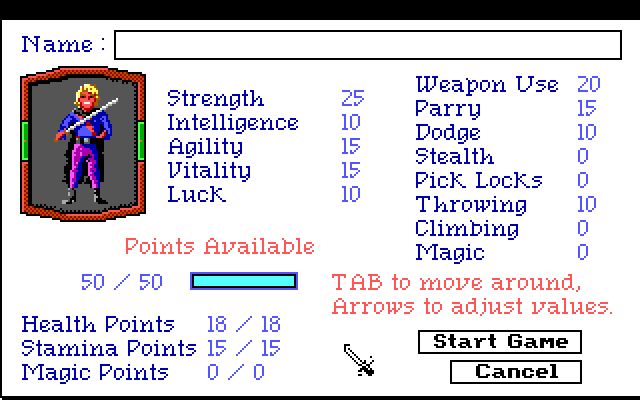 Here we have the base stats for the Fighter. You will note the "Points Available" bar. We can allocate stat points to any of the scores here. If we have the score already, we will spend 5 and raise the score by 5. If we do NOT have the score however, such as that 0 in Magic, then we will have to spend 15 points to buy into the skill which will set it at 5 and it will cost 5 to raise it from there. It should be noted that if you have a 0 in any skill after character creation, you can not have that skill, ever. It will be permanently and irrevocably 0. So saying, it is not at all necessary to take cross-class skills as every class can complete the game with only their default skills and they will usually only receive Puzzle Points (The score at the top right of most of the screen shots) for completing a puzzle that uses their native skills.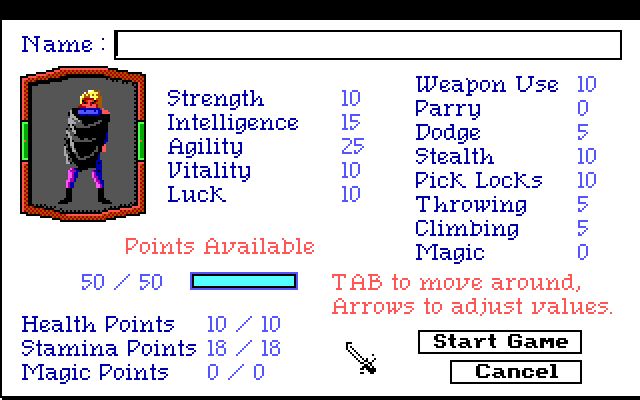 This is the Thief's starting loadout. It is likely rather clear that the Thief has the most skills of all the classes and if you do the math is the only class capable of having -all- of the skills, albiet at the cost of being very weedy and unspecialized at outset.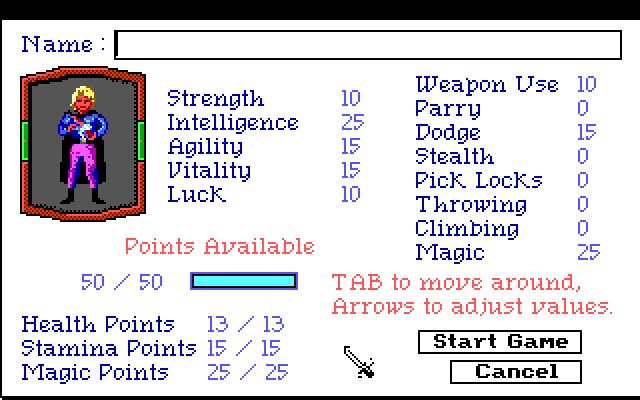 For the sake of completion, these are the Magic User's starting stats. Just to reiterate, I will not be playing a Magic User for my main run.
"Hey, blondie"
Huh?
"I've been talking to you."
Oh! Sorry! I was just thinking about stuff.
"Ahem…"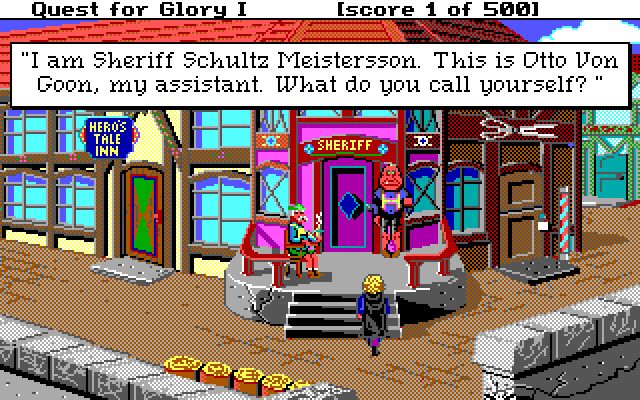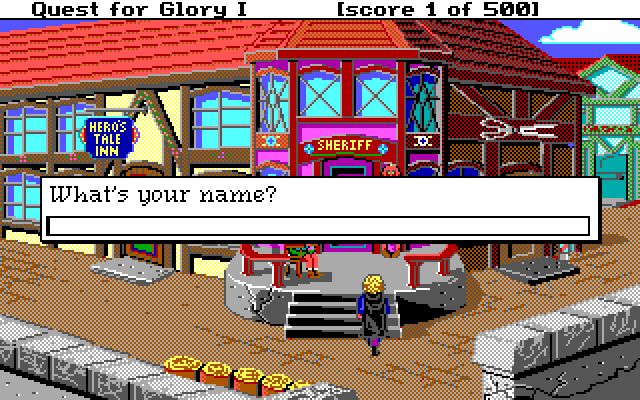 Post name suggestions in the thread in Bold. If you vote for a class, please post what, if any, cross-class skills we should take. Otherwise I will not take any cross-class skills and just run the class as normal.
It also stands to reason, we have a lot we could be doing. What do we do first? Sequence breaking suggestions are allowed if you can give me a good narrative reason to justify them.
And of course, please do not post gameplay or narrative spoilers.