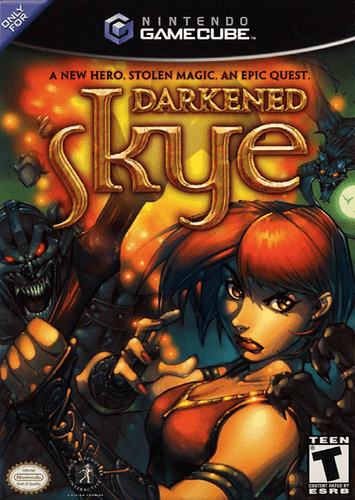 Licensed games tend to have a lot going against them. They're often made by dispassionate developers who are being forced to work as quickly and cheaply as possible by the license holders, and as such usually come across to players as the half-hearted cash grab they indeed are. Sometimes, however, an exception comes along in which the game somehow finds an inspired way to make itself worthwhile despite the burden it's been dealt.
Darkened Skye is a licensed game about Skittles. The producer of the game vehemently refused this assignment at first but ultimately her hand was forced, and the resulting bitterness of the entire creative team shines through in every moment. Incredibly, the folks who commissioned the project had no issues with this or the fact that their brand isn't represented on the packaging of the game in any way. So in 2002, this sloppily-made self-hating ironic fantasy adventure/commercial was unleashed on unsuspecting PC gamers, then ported to the Gamecube for optimum obscurity.
Make no mistake, this is not a fun game, but where it really won me over is in the writing. All of the dialogue is sarcastic, pun-laden, fourth-wall-breaking, and full of wisecracks, and there is a ton of dialogue. Not only are the characters almost always chatting with one another, our hero Skye also keeps a journal throughout the game which she fills with even more jokes as well as crucial hints. I've taken the liberty of putting her inner monologue up on screen at appropriate times, and I'm still open to feedback about how I'm handling this should you notice anything with room for improvement.
One last thing, just in case anyone has ever played this themselves, NO SPOILERS! Now, with that formality out of the way, adventure awaits!
1 - First and Last Episode
2 - Hey Nonny Nonny
3 - Seashell and The Bugs
4 - Trust Squall
5 - Tower of Tedium
6 - On a Magic Carpet Ride
7 - Hot Wings
8 - Concussions & Dragons
9 - Let Sleep the Dogs of War
10 - Miner Detour
11 - Rocky 3
12 - Cronenberg World
13 - Save Our Skulls
14 - Lonely in Lynlora
15 - The Prince of All Shadow
16 - Flight of Stairs
17 - Where the Rainbow Ends
Fanart of the irresistible charmer Dorian by ShawiniganHandshake!

Yarrow's Revenge by Tendales!