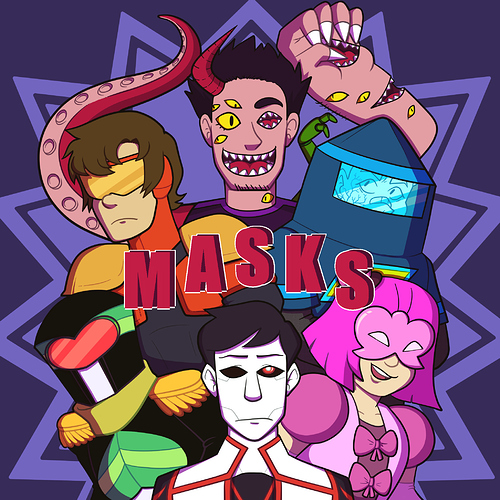 Art by Bee
Masks is a pen-and-paper RPG released by Magpie Games at the end of 2016. It is based on the increasingly popular Powered by the Apocalypse engine, which gave us such games as Apocalypse World, Dungeon World, and Monsterhearts.
Masks is set in Halcyon City, a shining metropolis and love letter to the history of superhero comics. It has seen three generations of heroes (helpfully sharing the names and themes of the three major eras of superhero comics), and despite whatever hardships they have faced, the city has survived. The current generation of heroes is still young and inexperienced, and no one knows exactly what they're going to be yet. A game of Masks follows one team of this new generation.
Our particular team consists of six heroes and one GM. Having met in a sudden freak attack by a particularly powerful monster, they've stuck together to oppose a company they believe is up to no good. The LP will be audio-only in the form of a podcast; we plan to play biweekly and release episodes weekly.
Obviously there's nothing to spoil, so enjoy!
Episodes
1-1: Not DeSnott
1-2: Entrance Exam
2-1: Avery Special Kidnapping
2-2: Group Project