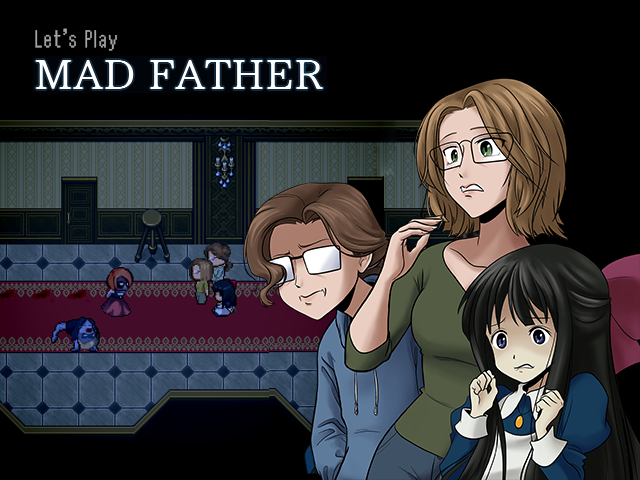 "Even at a young age, I knew what my father was doing. So I pretended that I wasn't looking. That I didn't know or hear anything. I feigned ignorance the entire time. Because I loved father"
Mad Father, originally released in 2012, is a survivor horror game created by Japanese developer Sen. We play 11-year old Aya Drevis, who wakes up one night to find a horrifying curse has been placed on her family. Aya chooses to face the curse head on for the chance at rescuing her father who is being targeted by angry spirits.
Mad Father was originally published by Miscreant's Room, however we are playing the Steam version which was published by AGM Playism in September 2016.
Genghis Kait and I really enjoy the horror game genre, survival horror especially, so we wanted to take a look at this little indie game! Genghis is taking the controls on this one while I am around for the ride to provide semi-blind commentary (Semi-blind as in I've seen this game before but it's been many years since then and I've forgotten a good chunk of it). This LP will be 5 parts, 1 of those parts being bonus footage/alternate endings.
Note 1: We had an issue with the program used to capture the game footage, you'll be able to notice a fraps counter flickering on every so often. Attempts to remove this were unsuccessful. Please accept our apologies, we hope that it's not too distracting for everyone.
Note 2: This thread is being marked with

because of its depictions of gore and other mature themes such as torture and mutilation. Please note that these themes will be present throughout every episode of the LP.
Episodes
https://www.youtube.com/watch?v=rN_5lZTOFnY
https://www.youtube.com/watch?v=K2At6enN1Gs&feature=youtu.be&a
https://www.youtube.com/watch?v=gXNif3YP-fE
https://www.youtube.com/watch?v=evTUcrRpZDo&feature=youtu.be&a
https://www.youtube.com/watch?v=BgWGSIQ-HoQ&feature=youtu.be&a
Bonus