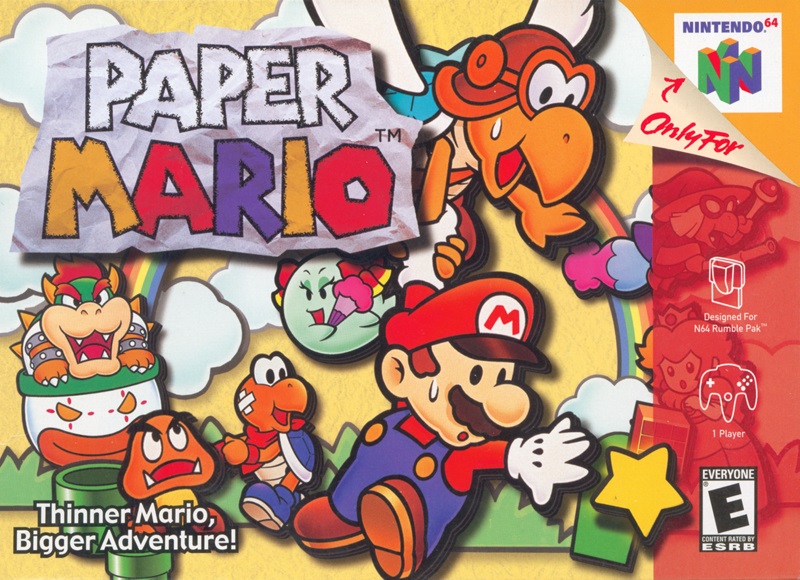 Paper Mario is the second RPG featuring the well-renowned Nintendo character Mario. This game is significantly different from its predecessor, Super Mario RPG, putting more focus on timing your attacks and giving Mario the brunt of the gameplay in battle. There are eight partners that join Mario throughout his adventure, each with a wide variety of abilities both within and outside battle. But what stands out most is the game's aesthetic, which appears as a story book (thus the Japanese name "Mario Story") and plays with the idea that this version of Mario and the Mushroom Kingdom are, well, made out of paper. All these factors create a unique and innovative game that happens to be one of the crown jewels of the Nintendo 64 and an all-time favorite of mine.
This Let's Play will be screenshot with numerous music links and GIFs, plus the occasional video or two. I plan to show off as much content as I can as long as it won't drive me crazy. I'll go into what I love about this game as well as any flaws and whatever other interesting facts that relate with this game. If you prefer video LPs, Faceguy and Wogturt have done video LPs of both this game and its even more-amazing sequel.
TAG SPOILERS.
My Twitter account will contain links to my updates, in case you don't bookmark this thread.