Choose your own Adventure: South Park The Fractured But Whole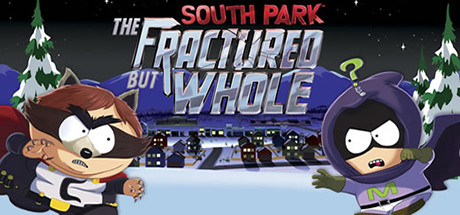 WARNING THIS GAME CONTAINS NSFW MATERIAL: DRUG USE, SOME NUDITY, LOTS AND LOTS OF FOUL LANGUAGE
The Story
South Park The Fractured But Whole (FBW) follows a day after the events of the Stick of Truth, in which we followed the new kid through the made up realm of Ancient Zaron in a turn based, Lord of the Rings style RPG game which followed The New Kid AKA Douchbag, Buttlord, etc as we retrieved the Stick from the forces of evil.
In this game, our heroes have hung up their swords and bows and donned on Super Hero persona's and are attempting to become famous by kick starting their own super hero franchise. In FBW we help the Coon and Friends as they try to find a missing cat Scrambles to get their series off the ground. Along the way we clash with other heroes, ninjas, and of course crab people. So join me as we band together to save South Park once again!
Latest Update


The LP
What makes this LP different from the others is that I am putting most of the decisions (that can be made) on you guys. I will be doing polls before I record each episode in which you will decide what you want to see (majority vote will be the winner)
For example: one of the very first choices is our first hero class (pictures link to power showcase)





From Left to Right: Blaster, Brutalist, Speedster, Netherborn
Schedule
I will probably be doing an episode once a week to provide ample time for voting.
Table of Contents