Latest video: 66 - Farm Simulator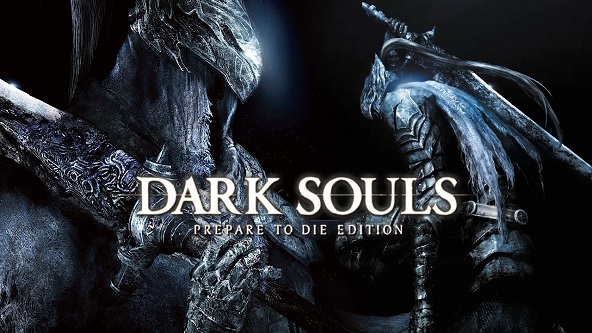 This has been running on and off for a little over a year now, but I aim to finish it for realsies now that work has calmed down a hell of a lot. Since the SA thread fell into the archive I've uploaded 4 episodes, so if that was the last time you saw it, you can catch up with these:
49 - A Fond Farewell
50 - We'll Beheading Down There
51 - Clear as Crystal
52 - Jailbreak
I have a few more videos in reserve and am hoping to get more recording sessions in fairly regularly. There isn't too too much game left anyway, so hopefully this gets wrapped up nice and neat.
Do we really need yet another Dark Souls LP?
Nope, not even slightly. I don't care, watch it or don't
Weren't you in another Dark Souls LP awhile back?
Yep, and it's quite good imo; you can find it here: https://www.youtube.com/playlist?list=PL1iwwMmsVqKOMes-ZAoWaS0iQKDcGk7Ln
This was a blind LP, which is a really good way to experience Dark Souls, because it captures a lot of those fundamental "oh shit this game is so magical" moments, but I feel like I don't always see enough talk about why and how this game creates those moments for so many people. There's so much you can talk about with the way the game is put together, the way the game tells its story (both through item descriptions and through level design/item locations), I could just say so much
So what will you be doing in this LP?
To be honest, whatever I feel like. This is not going to be a 100% LP, and I'm not totally sure I'm gonna even show an entire playthrough of the game, but with this game it's possible I find something to say about basically everything. What I will be doing is playing through the game on a fairly normal path so that I can talk about how the developers built the game and what they expect players to see, so no tricksy shit with the master key. That said, I will be talking about things with knowledge of what comes later, and I will be pointing out ways you can subvert the "intended" path. I'll also be talking about the story itself, or really the many little stories and the way the game gets them across, and the way they create the overall "feel" of the world and themes of the game
Things I won't be doing include: talking in-depth about the best builds or other min-max-y topics, or trying to show off several different builds or all weapons and combat systems. I'll try to vary them up enough to talk about the intricacies in the battle system, but for the most part I'm just recording a single playthrough of this game and trying out whatever seems interesting to me
Also, I'm not going to pretend I'm the first, most brilliant person ever to take a deep dive into Dark Souls. I'll be bringing up a lot of different ideas from articles and other videos that I've seen and found interesting. I'll try to link anything I pull in because a lot of other good analysis has been done about this game, and I'm not always going to do justice to other people's ideas that I half remember while murdering a boss.
What makes Dark Souls so good is that it's one of the few games with enough depth that it bears a huge number of interpretations, and that's probably the biggest reason it's one of my favorite games ever
This LP is going to assume you have familiarity with the games, but if you're just interested in hearing me ramble I will hopefully provide enough info that you can follow along without being completely lost
Anyway, enough rambling (that's for the videos)
Videos:
01 - A Warm Welcome
02 - Asylum Demon
03 - Exploring Firelink
04 - Into the Burg
05 - Burgin So Hard
06 - Taurus Drake
07 - PvPig
08 - Meet The Smith
Dark Soils - 09 - A Pleasant Garden Stroll
Dark Soils - 10 - Battle on the (not so) Big Bridge
11 - Sword Bastard
12 - Gargoyle Rumble
13 - Rock Me Haveldeus
14 - Goat Simulator
15 - Cleanup Time
16 - Into The Depths
17 - Out Of The Depths
18 - A Curse, of Course
19 - A Good Cutscene
20 - Oh, It's Blighttown
21 - Architectural Musing
22 - Swamped
23 - Gearing Up
24 - Fired Up
25 - Egg Head
26 - Taking Care of a Stray
27 - Grave Robber
28 - Combing The Catacombs
29 - Magic Coffin Ride
30 - Pinwheel
31 - Sneeple!
32 - Boulderdash!
33 - Big Hat!
34 - Iron! - Tarkus v Golem!
35 - At Last, Anor Londo
36 - Through the Rafters
37 - That Archer Bit
38 - Mansion Hunting
39 - Cometh Soon
40 - Alright
Bonus?? - Fuck You Lautrec
41 - It's Those Guys
42 - Lordvessel
43 - My Good Buddy Patches
44 - I Hate Dog Skeletons
45 - Snoozelord Nito
46 - Painted World
48 - No Bonewheels About It
49 - A Fond Farewell
50 - We'll Beheading Down Here
51 - Clear as Crystal
52 - Jailbreak
53 - It's a Shame We Can't Read
54 - Big Fash Logan
55 - Dawn to Dusk
56 - I Named This Recording Session "Fuck Crystal Cave"
57 - Long Way Down
58 - Seath the Scaleless
59 - Ghosts with the Mosts
60 - Ingward, the Red Robed Sealer
61 - Waterlogged
62 - Ember Collection Agency
63 - Endings, Beginnings
64 - Ceaseless Discharge
65 - Demons, and Demons, and Demons, Oh My
66 - Farm Simulator