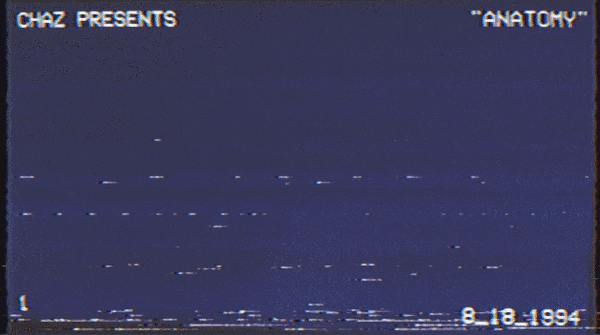 (Thanks to Phenwah for the VHS-ifying and GIF-ifying of my title image!)
Introduction
ANATOMY is a short horror game by Kitty Horrorshow. The description on her Itch.io page reads:
Every house is haunted.
Explore a suburban house, collect cassette tapes, study the physiology of domestic architecture.
Kitty has also been kind enough to outline the content warnings for her game, so here's your notice ahead of time:

for distorted/flashing images (This game relies heavily on VHS-style distortion,), body horror, and strong horror themes. I'll also add on that if the sight of teeth makes you uncomfortable, now's the time to either look away, or brace yourself, do whatever you have to do to stay comfy.
Given the nature of this game I don't want to spoil anything major about how it works, but I will say that it's a game that progresses over multiple playthroughs - a single playthrough takes about 10 minutes or so, and the game changes on repeat playthroughs, like a VHS distorting and degrading the more it's played and played.
I finished this playlist on my Youtube channel last October, so here are the episodes, along with the very hastily-made VHS-esque titles I made for them - Click each node in order to reveal its title card, and then click on the title card itself to be taken to the video!
Episode 1
Episode 2
Episode 3
Episode 4
Episode 5
And here's a full playlist for folks who just want to autoplay the whole thing!
I realise this is a pretty barebones post, but hopefully folks will enjoy watching some VHS horror narrated by a slightly panicked Scotsman!