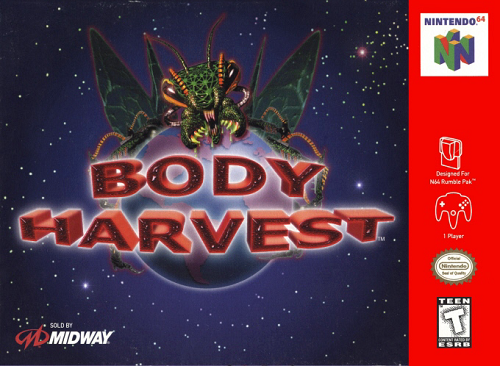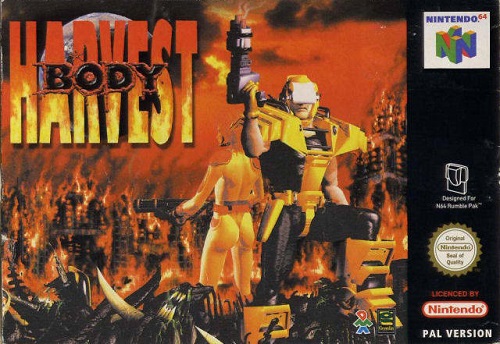 The entire world is ripe for a harvesting, and everyone's invited. In Body Harvest, all of humanity has become cattle for the consumption of an invading race of insectoid aliens. A century after the beginning of the slaughter, the few remaining humans resolve to send two of their finest back to where it all began in a last-ditch effort to undo their own extinction. It's not going to be easy…
This Nintendo 64 cult classic presents a campy sci-fi journey through the history of our doomed planet, and faced its own doom many times during development. Rockstar North, then called DMA Design, were originally hired by Nintendo to bring their game designing ambition to an exciting upcoming console. Rockstar were already faced with the monumental task of figuring out what 3D games ought to be, and Nintendo meddling in their every move sent their vision for Body Harvest off in bizarre directions that no one could have anticipated. Ultimately, Nintendo decided not to publish such a violent product, opting instead to launch the Nintendo 64 with only two games and leaving Body Harvest shelved for years before it found a new publisher and saw the light of day. By then, it was no longer impressive to look at or control, 3D gaming having made leaps and bounds whilst it lay dormant, but it still stood on its own charming premise and showed the world one of the first examples of open world gameplay, which set the groundwork for Rockstar to take over the next console generation with the release of Grand Theft Auto 3, and the rest is history.
In this LP, I hope to see more of this unique game than I ever have before. It's an exceptionally unforgiving game, and in the years I spent playing it, I never got past the second of its five levels, not even with cheats. I will be joined by different guests for each new level on this attempt to correct my past gaming mistakes.
Level 1 - Greece 1916 with Skippy Granola




Level 2 - Java 1941 with dscruffy1





Level 3 - America 1966 with Anoia





Level 4 - Siberia 1991 with Zain and Scruffo




Level 5



with Kaboom Dragoon and Derek Barona
Part 1
Part 2
Part 3