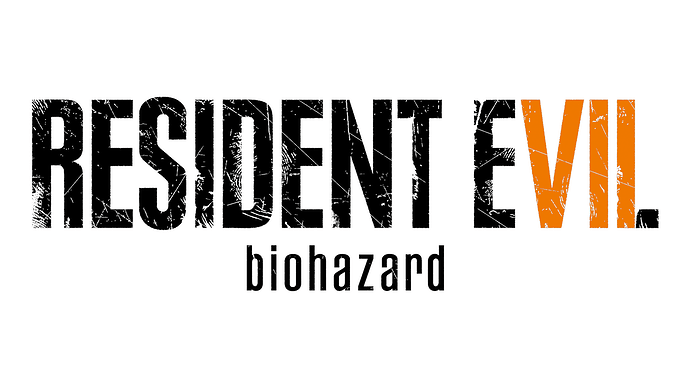 *AKA: The "Why You Shouldn't LP The Hardest Difficulty of a Game Blind" Project
Introduction
Hello, everyone. I'm ReplayTyHeretic, and this is Resident Evil VII: biohazard. At least that's what I always say in the video, so why should I say it here? If you're expecting a professional, top-tier playthrough where I find absolutely everything in one go, then this is not the place for you. What started as an innocent project with the knowledge of Normal difficulty in hand quickly turned into a project where everything I knew was wrong, and the game fought back hard. In every episode, Resident Evil VII kicks my teeth out and makes me pick them back up; every episode is a struggle to make progress. What this project has become is a test of patience and willpower.
Welcome to Resident Evil VII: biohazard on Madhouse difficulty. Here be spoiler dragons.
Why Madhouse Difficulty? You fool, you should have at least played it!
I know, right? I'm an idiot for even thinking this was a good idea! But I just had to know what it was like, and what better way to show others that this mode isn't messing around than to show it kicking my butt repeatedly? (Well, obviously playing it well and actually comparing differences…)
Oh, great. A VR LP as well? What, are you going to have facecam, too?
First off, thanks for reading the title. Secondly…yeah, it's all in VR. This game was actually the core reason I bought PlayStation VR, and while it isn't the absolute best peripheral, REVII actually uses it masterfully. Aiming a weapon is based on head tracking, you can lean past corners to peek and do many things you simply can't do in regular play. That said, it does have its issues. Like having to correct your position for certain cutscenes, or even that some scenes fade to black as a transition, which actually is the game spawning things for that cutscene. Also there's the issue of positional awareness; it's really easy to lose track of where you are.
But no, there is no facecam. I've tried that before and it just wasn't my style.
So what's your commentary going to be like?
Well, I'm always thinking. I tend to say my thoughts out loud and figure things out as I go along. For this LP, I remove the fact that I know what's happening (sometimes failing, naturally), by doing just a little bit of roleplay. Being vague and not explaining what's going to happen in terms of the story while explaining the gameplay mechanics is what you should expect. Even then, the game does catch me off-guard, and it does show in those instances what I knew in Normal difficulty.
As of Episode 6, the setup changes due to the headset breaking that was used in prior episodes. I use a set mic, which means that I sound distant while looking in VR.
Are you going to be using post-game unlocks?
Well, yes and no. I won't be using post-game weapons, but I will be using, specifically in Episode 3, a pre-order bonus from the official PlayStation Store digital release: The Recovery Set, which contains two Herbs, a First Aid Med, a Strong First Aid Med, and a Coin of Defense (which I go into in the video), as well as a Scroll of Defense.
UPDATE: As of Episode 6, I have used the Albert-01R, a post-game unlock obtained upon beating the game on Easy. I figured it was par for the course, and it was for the sake of progressing, which I put ahead of my pride.
Why use these? Well, it was for the sake of progressing. Spoilers aside, I wound up spending a full episode, and a majority of a second episode, in the same area. And as much as I'm sure people would have liked the struggle, I couldn't stand watching the same stuff for an hour, and that's just how it had to be for the sake of the project.
Why the "found footage" intros? That beeping noise is annoying!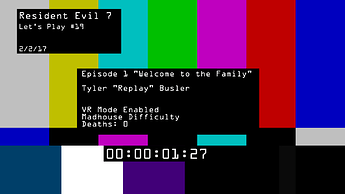 Consistency. When you watch a VHS in the game, they have these kinds of test signal loading screens. I wanted there to be a little bit of theming.
Also, these intros specify the date of recording in the top-left corner, as well as the mode, difficulty, and a handy-dandy death counter.
Okay, so you have my attention. Why should I watch this LP?
I'm always thinking, and I always like discussing game design within an LP. This is one of those "social experiment" LPs that started as a curiosity and quickly became an experiment. Now that I've seen what this game is capable of, and that it really does hate me, I can't help but find out just how deep the rabbit hole goes. This LP will also cover the "Banned Footage" DLC after the main story is complete.
You made a post here, what can we do?
You can make discussions on the content in the episode, but please do not spoil things that will happen in future episodes. If you're watching this LP after the project is complete, then this doesn't affect you. I'll try my hardest to avoid spoiling stuff in the LP, so I expect the same from you guys and gals.

What should we be aware of when watching this LP?

Okay, so Resident Evil VII is really messed up. Really messed up. So I've compiled a list of what to expect from the entire project. Naturally, spoilers involved.
Blood and Gore: This game has a ton of blood and particularly gore. There's dismemberment, impalement, stabbing, the list goes on. Basically, if you have a fear of blood or anything listed here, be careful.
Extreme Violence: Seeing arms break, heads and bodies exploding, physical abuse and mutilation, mutation, torture, immolation, etc.
Excessive Language: Swearing. Lots of swearing. From me, and the game.
Suggestive Themes: One of the bosses gives birth, literally, to nests of insects.
Fears, Natural and Unnatural: If you have a fear of blood, gore, torture, immolation, drowning, getting infected, insects, spiders, the unknown, guns, sharp objects like syringes and knives, or getting run over, then odds are you'll be a little panicked when watching certain scenes in this game.
Jump Scares: This game contains jump scares. Although they aren't as extreme, loud, or even as frequent as other games.
If there's anything I missed, please tell me without spoiling anything. Odds are telling me what I forgot will remind me.
–
Episodes
MAIN STORY: Complete