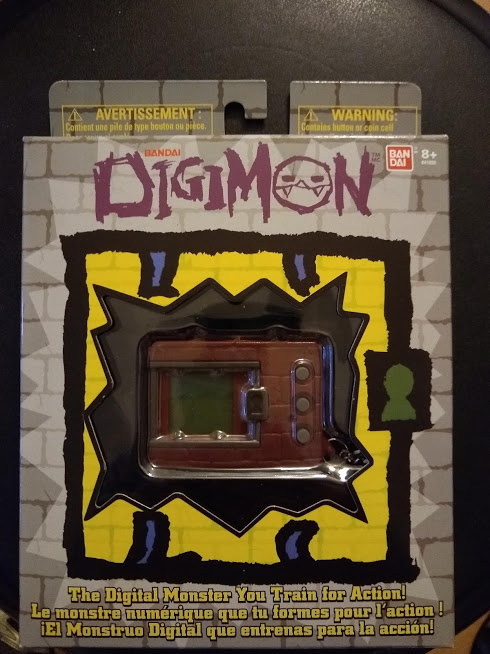 In 2017, Bandai released an updated version of their original Digimon virtual pet toy. In July of this year, the toy was released in English in the U.S., the U.K., and Australia. It's either a GameStop or EBGames exclusive, depending on the country.
I've always been fascinated by virtual pets, but I was slightly too young to remember their heyday. Since I have no experience raising a virtual pet, I thought we could raise one together!
To my knowledge, there's no way to hook these things up to a capture card. As a result, I'll just be taking pictures of my pet. There's literally no other way to record it, so sorry.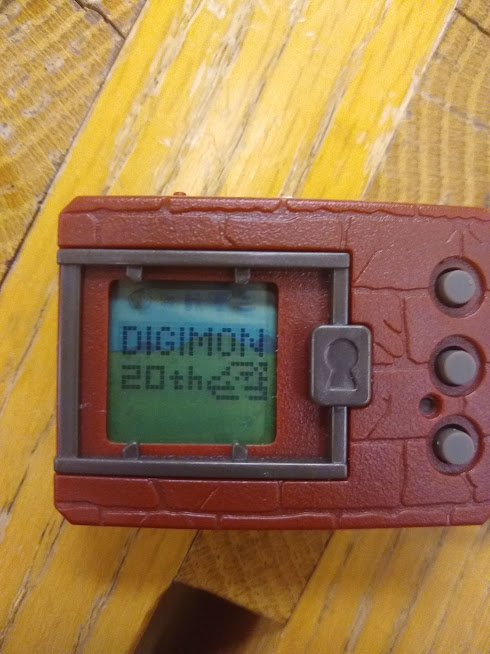 And here's our title screen! I'll take this time to note: the backgrounds for my images are going to be inconsistent. I'm still in school, so my ability to control my surroundings is limited.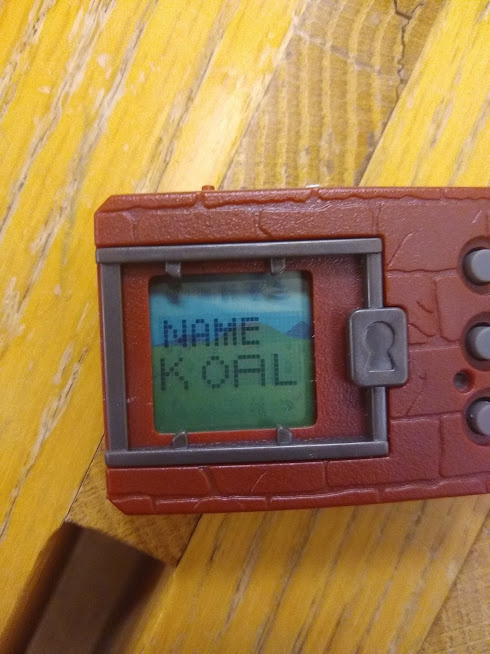 We only get four characters, so I'll use the name of my first Tabletop Character.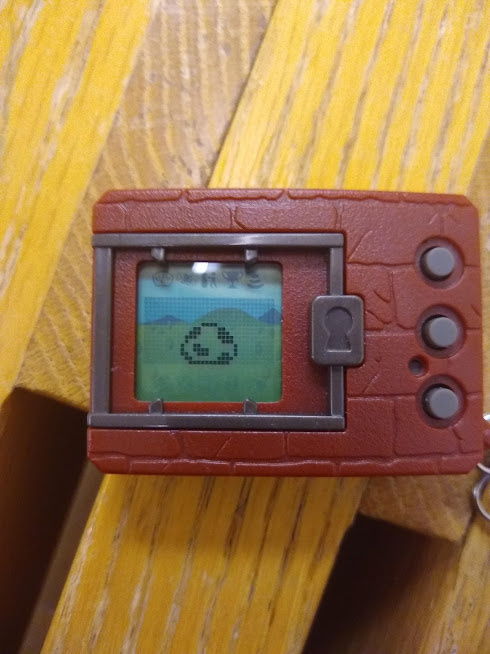 And here's our first egg, or "digitama," depending on which translation you're going with.
They'll take a minute to hatch, so let's go through those icons.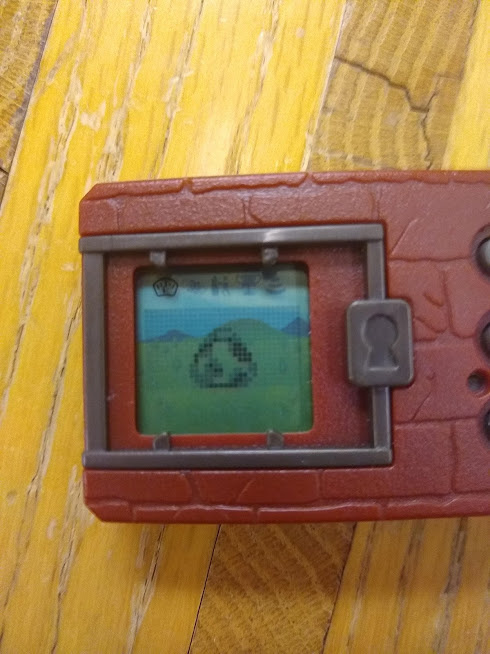 First up is Stats. This displays our digimon's name, their age and weight, their hunger, strength, and effort, along with battle information which I'll go into once we start fighting.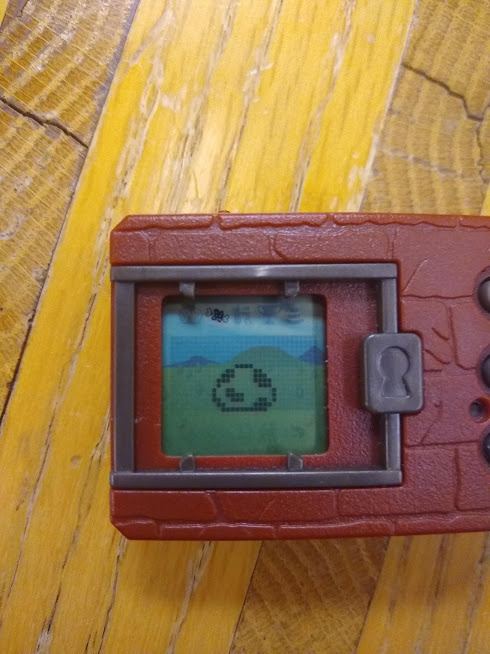 Here's Food. This lets us feed our Digimon Meat and Vitamins. Meat refills their Hunger, Vitamins refills their Strength. Both increase our Digimon's weight. If you want to lower it's weight . . .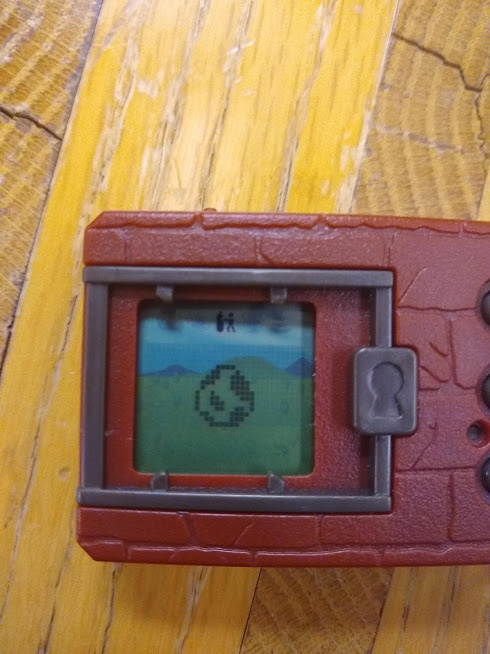 . . . you can go to Training. Training gets you a little minigame; again, I'll explain more once we start training.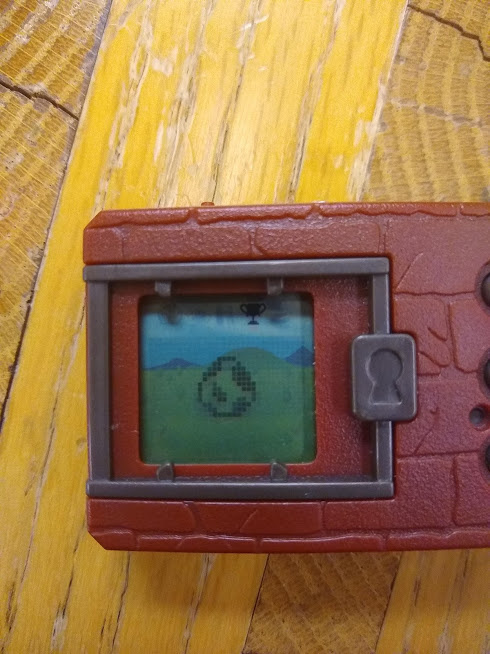 Next up we have the Coliseum whi- Oh!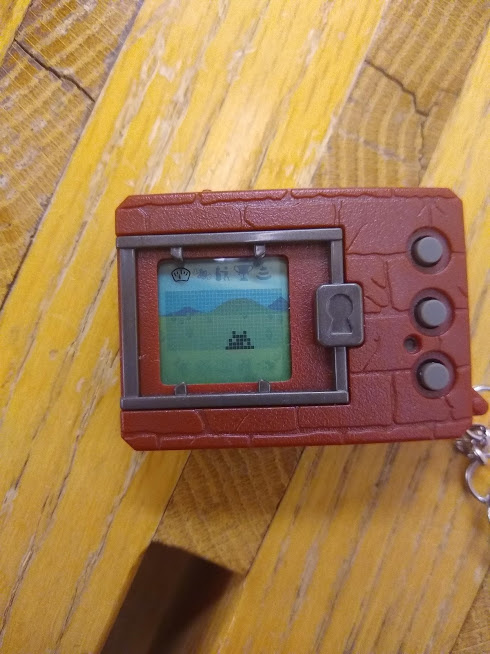 Turns out, I can't take nine pictures in a minute. I'll introduce this guy in a bit, but I'll just explain the remaining icons.
The fifth icon on top is Clean; your digimon will poop, and that button gets rid of that poop. If you get four turds on screen, your digimon will get sick.
First icon on the bottom is Bedtime; your digimon will go to sleep at night, and that button turns out the lights and gives them a blanket. If you don't give your digimon their blanket within 10 minutes of their bedtime, you get a Care Mistake. I'll explain those at the end of the post.
BTW, you can also give your digimon naps! If you give them their blanket before their bedtime, they'll take a three hour nap. They'll sleep through the night if you time it right; for instance, if your digimon takes a nap one hour before their bedtime, they'll continue sleeping until the next morning.
The second icon on the bottom is Healing; your digimon can get injured during fights or get sick either randomly or through a dirty pen. The healing icon fixes them right up.
The third icon on the bottom is Album; this keeps track of a few things, but, most importantly, it tracks every digimon you've ever raised.
The fourth icon on the bottom is Connect; this allows you to fight with other digital pets. Amazingly, this has some pretty wide compatibility. It connect with both languages of the 20th Ver., the original release if you still have one of those, the pedometer digivices, and both the original release and the 20th Ver. release of the Digimon Pendulum, which will hopefully get a stateside release.
And finally, we have the Call icon. This is not an icon you select; rather, if it starts flashing, your digimon needs attention. Either they're hungry, weak, or sleepy, and you gotta fix that.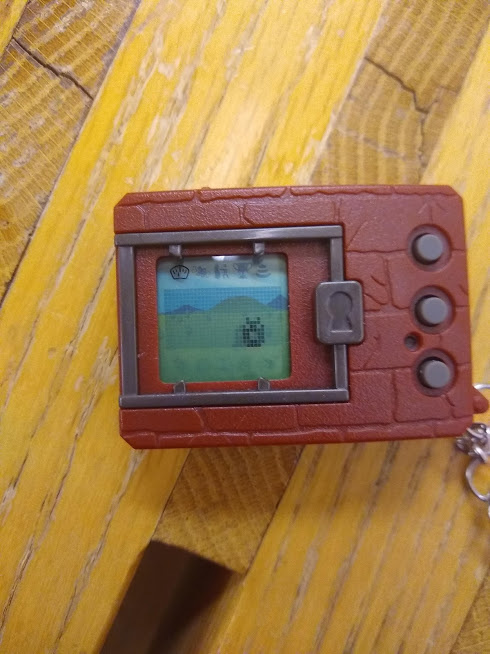 And hi there, little buddy! This is Botamon. He's the first baby digimon you'll get on this toy, as well as the first released.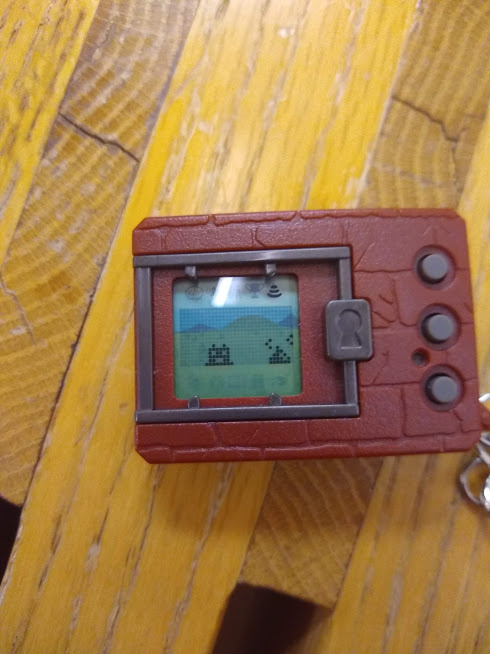 As you can see, he's a little bit of a handful.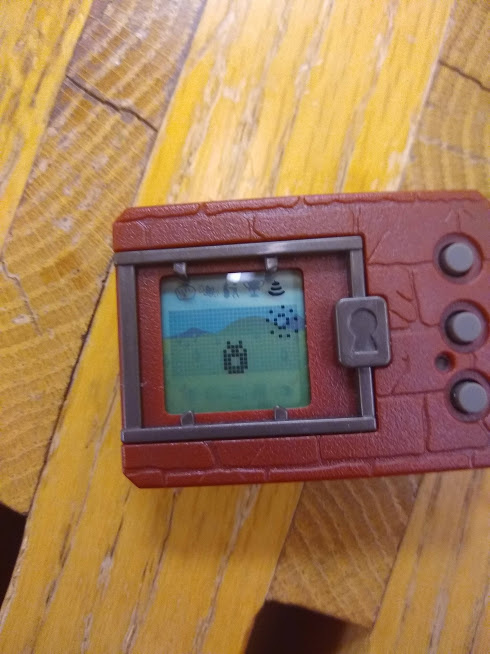 But he's appreciative! Ain't he cute?
Now, unlike the anime, digimon age based on time. So after ten minutes . . .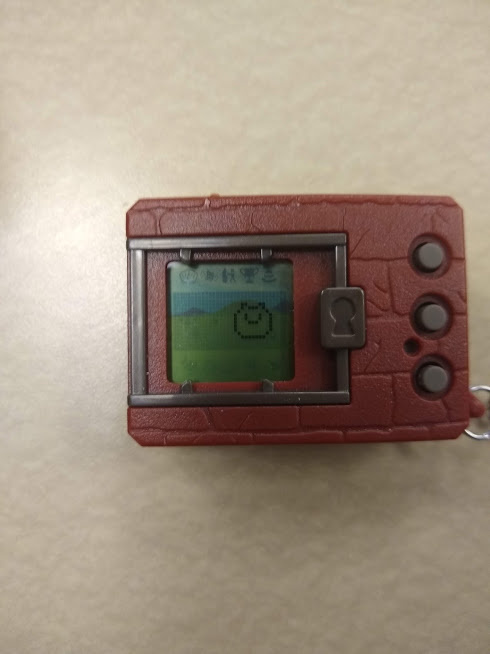 . . . we have a little Koromon! Although, he's looking decidedly
un
-Koromon like.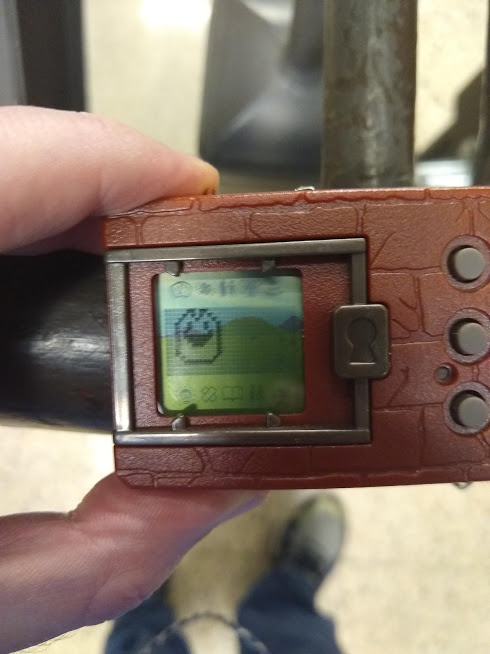 Aww, but he's happy to be here!
In this toy, Koromon is classified as a Baby II stage digimon. Because of their nature as virtual pets, the digimon toys use developmental stage based names instead of the experience based names the English dub of the anime uses. So instead of Baby and In-Traning, we just have Baby and Baby II.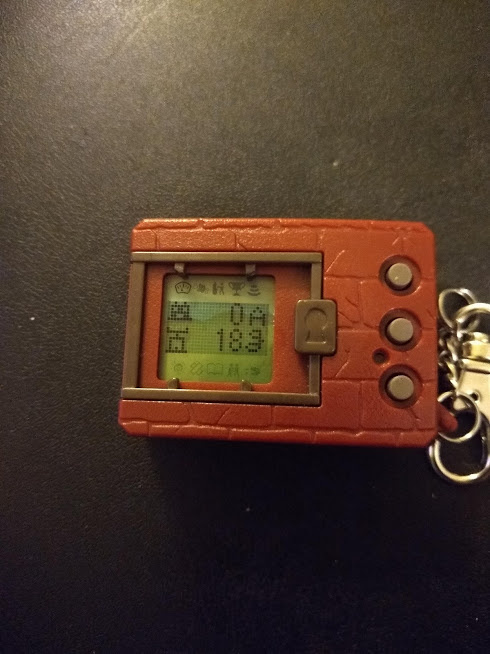 He's zero As old, and he weighs 18 Gigabytes.
Now that all that's out of the way, I can talk about Care Mistakes. There are only three ways to get a Care Mistake in this version of the toy: Let your digimon's Hunger stay at zero for ten minutes, letting their Strength stay at zero for ten minutes, or not giving them their blanket within ten minutes of bedtime. Care Mistakes reset at each stage, but if you get 20 of them in one stage, your digimon will die.
There are a few things that influence how your Digimon evolves. When going from Baby II -> Child, all that matters is Care Mistakes. If you get two or less, you get one type. If you get three or more, you get the other type. I'd like to let you all choose which type you want, but I think I've already gotten three Care Mistakes. I have classes and I'm a bad parent.

Because I can't promise specific evolutions, I'm going to have you all participate in a different way. The 20th Ver. allows you to raise two digimon at once. You unlock the second slot when your first digimon reaches the Child stage. It takes six hours for a Baby II digimon to evolve, so little Koromon won't evolve until 10:00 p.m. However, their bedtime's at 9:00 p.m. and digimon don't evolve in their sleep, so we won't see their new form until tomorrow morning. In the mean time, I'd like you all to help me pick an egg so we can hatch a new sibling for them!
The first five eggs you get are based on the first five versions of the digimon toy, so here are our options:

Version 1


Version 2

Version 3


Version 4


Version 5
There are other eggs we'll unlock later on, but for now, pick your favorite!
Version 1
Version 2
Version 3
Version 4
Version 5
Also, if you want to name our little Koromon something, go right ahead! Just keep in mind, they're going to change their appearance a lot.