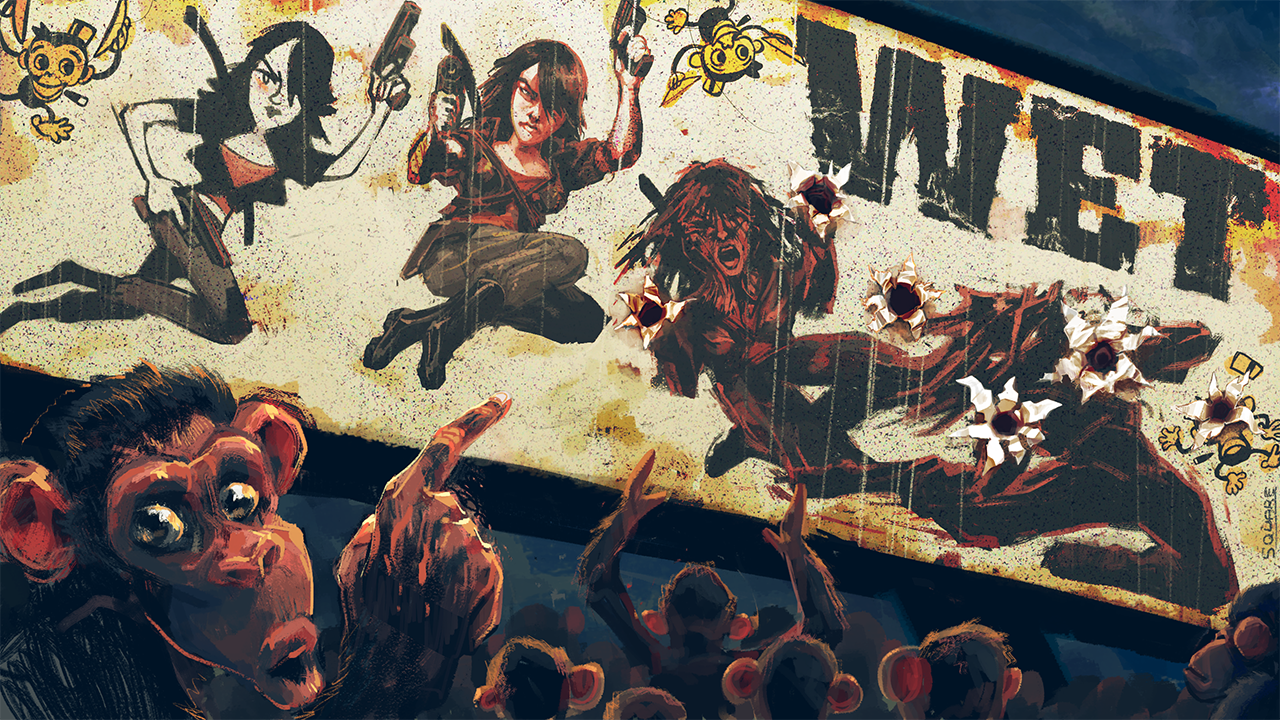 [Thanks to my good friend Square for the banner image!]
WET is a third-person shooter action game released in 2009 for the PlayStation 3 and Xbox 360 by Artificial Mind & Movement. The game stars Rubi Malone, a mercenary hired to oversee a deal for William Ackers, the head of a powerful drug syndicate that needs a heart transplant. What seems like a simple hand-off leads to a violent chase through Chinatown, and she eventually finds herself working for Ackers again under suspicious circumstances. From there, Rubi's life is thrown into one dangerous situation after another as she tries to figure out the truth behind her latest mission before she finds herself out of the job market, permanently. It'll take all her skills and wits to make it out alive, but Rubi Malone is the best in the business, and business is about to boom…
Like Max Payne and Strangehold before it, WET is a shooter that focuses on flashy gunplay propelled by bullet-time mechanics and acrobatic movement. What sets this title apart from its predecessors is its tone; while Max Payne and Strangehold are more grounded with serious narratives, WET is first and foremost a video game and has a singular focus of letting the player feel as cool as they want. The story takes a backseat to the gameplay, a high-octane display of stunts that scores you on how cool you can make killing hordes of gang members look. It's not a particularly sophisticated system, but it pushes the player to try and take advantage of the environment while playing. That is, when the levels are actually designed around the acrobatics. It's a bit of a mixed bag when it comes to environmental design, and the number of contextual controls can sometimes break the flow as you fumble through various commands. However, the aesthetics of the game are consistently cool and heavily inspired by drive-in grindhouse movies, from its aesthetic additions like the film grain filter and scene transitions to its overall portrayal of violence. When everything's running smoothly, WET's play is a sight to behold. The soundtrack is impressive as well, boasting 35 tracks from various rockabilly artists to bring more energy to the game's shootouts. WET is the Quentin Tarantino to Max Payne and Stranglehold's John Woo, and acts as an interesting contrast to other shooters of its era.

I'm high and dry ChorpSaway and I will be piloting you through this rockabilly hoedown of a game. Joining me are my co-commentators for hire TheJayOfSpade, FutureFriend, and Taoc. Together we'll take on any job necessary to get our pay, and take down anyone in our path.
In this Let's Play I will be completing the story mode, as well as getting all of the collectible monkeys along the way.