[Oh gosh, I hope I did that right.]
: "…Not a bad place to retire at, huh?"
: "I could do better."
: "Nightshifts; love 'em or hate 'em?"
: "You know the answer, you stupid owl."
: "…It's probably gonna be another all-nighter, y'know."
: "I know."
: "And I doubt they'd have any coffee…"
: "Shut up."
: "…And the ocean waves will sing lullabies…"
: "Not through your blathering, they won't."
(Theme: Spiral of Secrets)
: "That's okay, I tend to be bad at predicting deaths as well."
[K: What amazing social graces.]
: "Are you the patient's daughter?"
: "Oh no, I am just his caretaker."
: "It's not exactly a nine-to-five job so Johnny lets us live here."
: "I suppose this 'Johnny' is our man?"
: "…'Johnny'? Listen, if its a kid we're dealing with I don't think we're the ones you want."
: "No, no. He just prefers to be called that."
: "He's upstairs right now with his medical doctor. Come with me."

[Once Lily ascends the stairs and we regain control the music stops and it's back to just the sound of wind and waves,]
: "C'mon, grab that case and let's go."
: "…When my back breaks one day, I'll sue you with the insurance claim."
: "Alright, let's head upstairs before I drop this."
[We will, but I wanna look at something else first though, let's check out the piano.]
: "What kind of song is this? It's just two notes repeated over and over…"
[Hmm. Now we'll head upstairs.]

(Theme: For River (Sarah and Tommy's version))
: "…Those kids are pretty good for their age."
: "Hey, you're the one who said there was no time to waste. And incidentally, I'm the one who is carrying the weight of a small meteroid."
[It's spelled like that.]
: "Yeah yeah, c'mon."

[Here's part of the upstairs, if we check the clock it's around 11.]

[Here's the other half of the upstairs, once we enter this room the piano music stops and it's wind and waves again. The arrow to the bottom left leads into a pretty swank bathroom. Now I'm gonna check out the gallery in the hall then talk to the doctor.]
: "He's unresponsive at this point, but by the looks of things he's still consciously hanging on. It's hard to say how long you'll have but I would hurry."
[Oh dear, I guess we best get started.]
: "Yes. It'll just be a moment."
(Theme: Uncharted Realms)
: "…Are you sure a common household power outlet is sufficient?"
: "No worries, we're the experts."
: "Standard procedures… Just keeping ya on your toes!"
: "How's he doing?"
: "Not so well. If I were to say, he's got just a day or two left."
: "That's plenty of time."
: "…So you two can grant him any wish, huh?"
: "…To try, at least."
: "But we always succeed because we're awesome."
: "So, what's the wish?"
: "The moon."
: "The moon?"
: "The moon…
… He wants to go to the moon."
: "The geezers just keep on getting crazier, huh?"
: "So, can you do it?"
: "It depends."
: "She meant to say 'yes'."
: "Why don't you tell us about our client here?"
: "That… I don't really know much. Johnny's an odd man. Through the two years that I've worked here, he rarely spoke."
: "He worked as a craftsman for most of his life, and his wife passed away two years ago."
: "… I don't really know many details."
: "I would've known more if I were his paperboy for Pete's sake."
: "Shush, just do your thing."
: "Well…I suppose if you look around the house, you may find some more info. I suppose Johnny wouldn't mind since he signed for you two."
: "Mm…So be it."
[The music stops here, wind and waves return.]

[We're given the option to choose either Neil or Eva here, I flip a coin and it turns up Neil.]
: "I'll do it. I once played Sherlock Holmes in a high-school musical."
: "…I remember you playing Watson."
: "Meh, same thing."
: "Just configure this, I got it started anyway."
[Eva moves to the display and we're given control of Neil.]
: "My children can show you around. They're probably downstairs at the piano."
[If we speak to Eva now she asks, "Did you find anything yet, Sherlock?" I love Eva and Neil's interplay. When we start to move to leave the room the doctor stops us.]
: "Wait, come back here for a moment. I have something for you."
[So we go talk to him.]
: "Here, take this."

[Oooh.]
: "That'll keep you updated on Johnny's status."
: "I hope there's no self-destruct button… I seem to have a knack for those."
[We are then informed that Johnny's heart monitor is now activated in the menu. Let's take a look.]

[Where before we saw an animated "Patient Offline" we are now treated to Johnny and his current heart rate.]
(Theme: For River (Sarah and Tommy's version))
[Once you cross back over to the stairwell this song picks back up again.]

[If we try to explore, Neil just says we should speak to the kids first. We can still explore, but it's best to just talk to the kids.]
: "What'cha want?"
[We're given the option to ask them to show us around the house or to keep playing. I, of course, ask them to show us around the house.]
: "Hey, your ma told you to show me around the house."
: "Okay, maybe we will."
(Theme: Bestest Detectives in the World)
: "Maybe…?"
: "…I think we just need a little convincing, that's all. Wut do ya think, Tommy?"
: "Yah!"
: "…Alright, let's talk. What do you punks want?"
: "We want…one trillion dollars!"
: "Or the candycane mom hides from us."
: "Yah, or that!"
: "Er, what?"
: "It's in the kitchen. Ma put it there to save for when we do chores. Get it for us, and we'll give you a tour through the house!"
[The word kitchen is in yellow font, but since I can't color font I'm underlining all colored font.]
: "What do ya say?"
: "Well…"

[The best part about interacting with other peoples kids is revving them up and loading them up with sugar and then escaping into the night.
K: You're evil.]
: "…You're lucky I don't wanna walk up the stairs again, or I'd just tell your mother."
: "The kitchen's door is right next to the stairs. Now go!"
[They then go back to playing the piano.]
(Theme: For River (Sarah and Tommy's version))
[K: I like how the music fades as you explore the house, it's a nice touch.]
: (…It's almost like some kind of a terrible quest to get my night started.)
[Welp, time for some good old fashioned bribery.]

[Now we return to the kids.]
: "It's probably a decade old and tastes like rubber, but you can use it like a walking stick."
[They stop playing the piano and the game fades out then fades back in with them standing by Neil. This music begins.]
(Theme: Between a Squirrel and a Tree)
: "Alrigh', where do we start?"
: "…I don't like that funny room."
: "Er, what kind of 'funny room'…?"
: "You'll see!"
: "…It's weiiirrd!"
: "We need to get the keys, though. The old man hid it inside a book in the study."
[Before we set out, let's check out our new party members.]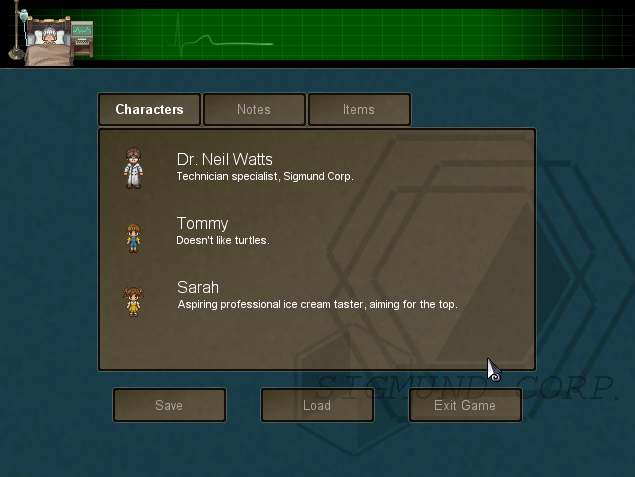 [Wow, Tommy has terrible opinions. We're now free to explore the house, the room to the far left is a bathroom, we want the room to the bottom left.]

[There's a few books to read in this room but I'm too lazy to hand write all the text so here's another gif.]

[Key retrieved, we go back and chat up Sarah and Tommy a bit.]
: "Tommy used to throw books at me and call it a book fight… Until one day, I threw one back and he needed a bandaid. Heehee!"
: "I wonder if Johnny has actually read all these books!"
: "Just a bunch of books in here. They've nothing I don't know about, though!"
: "Me and Sarah used to have book fights until one of us needed a bandaid. Ma told us to stop, but we do it anyway!"
[So precocious. Back out to the main room.]

[Down the stairs then!]

[There's a bit to explore down here before we check out that room.]

[Oh hell yeah, the Animorphs books! I read the hell out of these as a teen. Yes, Rachel was my favorite.
K: You're gonna start an Animorphs derail.
J: I'm okay with it.]

[The crate below this and the chest on the table near Tommy are both locked. One quick chat with the kids before we check out that room.]
: "We used to find all kinds of cool junks here! Mouldy books. mouldy buckets, mouldy cheese…You name it!"
: "Once we were down here and the lights were out, and Tommy fell down the stairs. He chipped a tooth, but that's okay because he's ugly to begin with."
[:nattyburn: …I miss the smilies the most. Alright, let's check out this creepy room.]

[When you enter the room the music stops and there is only this dripping water noise.
[K: When I first saw this room I was sure you had tricked me into playing another creepy horror game.
J: They're referring to the time I convinced them to play Spooky's Jump Scare Mansion.
K: "Convinced," she says, I am still freaked out by Specimen 6.]
[What happens next can really only be done justice with video.]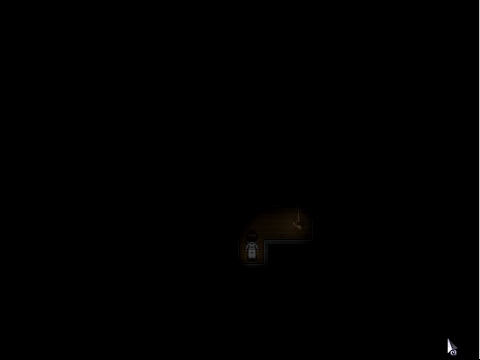 (
Theme: The creepy ringing and howling song isn't in the soundtrack but Lament of a Stranger comes after that.
)
[
K
: I like how you turn the lights off before leaving the room. Just, "Nope."
J
: Hahaha, I actually turn off the lights in every room before leaving. A lifetime of playing adventure games has taught me to turn off lights and close doors, drawers and such to get all the points.
K
: I'm curious what you thought when you first turned on the lights.
J
: Honestly, I got pretty hype. I thought, "Oh man, we're gonna delve into the memories of someone with mental illness!"]
[Next time, we go to the lighthouse and begin the process of fulfilling a dying man's last request.]