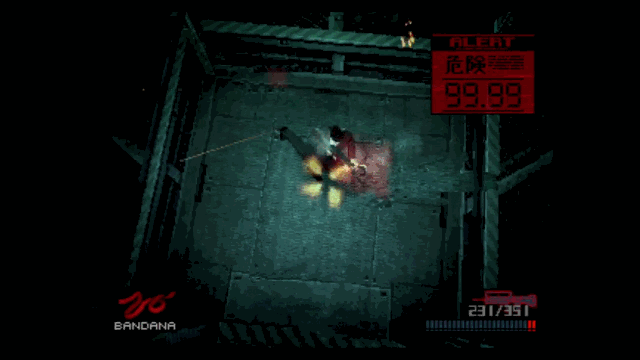 Pictured: Tactical Espionage Action

In May of 2015, Grace and I started a thread to play Metal Gear Solid 1 through 4 in anticipation of MGSV coming out. This spiraled way out of control, especially when we realized I owned Peace Walker on PS3 and haven't actually played it, and now we're on a quest to play every single Metal Gear game, canon or otherwise.

This will be a very casual LP, so don't expect a thorough or skilled playthrough. I'll be playing while by co-commentator Grace gives me grief about how terribly I'm doing. For most of the games this will be a New Game+ so while we'll have the stealth camo/bandana items and similar stuff, we'll be using it sparingly, especially since we're playing…

The Liquid Dan Drinking Game!

So since I'm a giant beer-hating baby (I'm a cider man), we decided to make a drinking game out of this series, and stealth games in general! The rules are as follows:
On an alert (either my own fault or due to story reasons, as long as the time says "ALERT"), One Drink
On eating a ration, Two Drinks
On a Game Over for any reason (not including Fission Mailed, Fake Death Pills, or the Sorrow :colbert:), One shot of hard liquor.
In general, the rules are in place during the canon games (minus Peace Walker because Grace and I played the game co-op) while the non-canon games I can just drink whatever cider I want. Alcohol tends to be a contributing factor in our LPs.

Let's Play Metal Gear Solid Episode 1 - Thanks Paul
Let's Play Metal Gear Solid Episode 2 - Tumbling Down
Let's Play Metal Gear Solid Episode 3 - Drunk Canadian History
Let's Play Metal Gear Solid Episode 4 - Gray Fox's Punchout!!
Let's Play Metal Gear Solid Episode 5 - A Very Methodical Man
Let's Play Metal Gear Solid Episode 6 - Pupcave
Let's Play Metal Gear Solid Episode 7 - Hostage Situation
Let's Play Metal Gear Solid Episode 8 - Apple Affront
Let's Play Metal Gear Solid Episode 9 - Salt and Sass
Let's Play Metal Gear Solid Episode 10 - Baker's Personal Stash
Let's Play Metal Gear Solid Episode 11 - Ghost Hug
Let's Play Metal Gear Solid Episode 12 - Dan Fights A Giant Fucking Robot
Let's Play Metal Gear Solid Episode 13 - Dave And Hal's Big Adventure

(Complete!)
Let's Play MGS VR Missions Episode 1 - Everything Chat
Let's Play MGS VR Missions Episode 2 - Punching Mans
Let's Play MGS VR Missions Episode 3 - Answered Questions
Let's Play MGS VR Missions Episode 4 - Vague
Let's Play MGS VR Missions Episode 5 - Don't Be A Creep!
Let's Play MGS VR Missions Episode 6 - Better Than 0th
Let's Play MGS VR Missions Episode 7 - Enemy Unknown
Let's Play MGS VR Missions Episode 8 - When The Snakes Cry
Let's Play MGS VR Missions Episode 9 - Finale

(Complete!)
Let's Play Metal Gear Solid 2 Episode 1 - Sweet Shades
Let's Play Metal Gear Solid 2 Episode 2 - Commandant
Let's Play Metal Gear Solid 2 Episode 3 - CALL PRESS SELECT
Let's Play Metal Gear Solid 2 Episode 4 - Everyone's A Patriot
Let's Play Metal Gear Solid 2 Episode 5 - Facta Non Verba
Let's Play Metal Gear Solid 2 Episode 6 - First Dates
Let's Play Metal Gear Solid 2 Episode 7 - You Missed
Let's Play Metal Gear Solid 2 Episode 8 - You Must Be Ames
Let's Play Metal Gear Solid 2 Episode 9 - The Worst Episode
Let's Play Metal Gear Solid 2 Episode 10 - Wetworks
Let's Play Metal Gear Solid 2 Episode 11 - President Johnson's Slaughterhouse
Let's Play Metal Gear Solid 2 Episode 12 - Shut Up, Anime
Let's Play Metal Gear Solid 2 Episode 13 - Contractual Sniping Level
Let's Play Metal Gear Solid 2 Episode 14 - Metal Colonel Solid
Let's Play Metal Gear Solid 2 Episode 15 - Dan Fights A Bunch Of Giant Fucking Robots
Let's Play Metal Gear Solid 2 Episode 16 - A Cruise of Ruse
Let's Play Metal Gear Solid 2 Episode 17 - A Reference To uh, American Horror Story

(Complete!)
Let's Play Metal Gear Ghost Babel Episode 1 - Hero-Proofing
Let's Play Metal Gear Ghost Babel Episode 2 - Snake Motel
Let's Play Metal Gear Ghost Babel Episode 3 - Birds Are Jerks
Let's Play Metal Gear Ghost Babel Episode 4 - Yellow Blue Yellow Blue Yellow
Let's Play Metal Gear Ghost Babel Episode 5 - Rated E For Everyone
Let's Play Metal Gear Ghost Babel Episode 6 - Nikita Nightmare
Let's Play Metal Gear Ghost Babel Episode 7 - Flamethrower Raven
Let's Play Metal Gear Ghost Babel Episode 8 - A Hind-D?!
Let's Play Metal Gear Ghost Babel Episode 9 - Do Not Taunt Gun Camera
Let's Play Metal Gear Ghost Babel Episode 10 - Dan Fights Some Loser In A Giant Fucking Robot

(Complete!)
Let's Play Metal Gear Solid 3 Episode 1 - STEALTH
Let's Play Metal Gear Solid 3 Episode 2 - Snake's Worst Day
Let's Play Metal Gear Solid 3 Episode 3 - From Zero to Gut-Punch
Let's Play Metal Gear Solid 3 Episode 4 - Croc Violence
Let's Play Metal Gear Solid 3 Episode 5 - Appule
Let's Play Metal Gear Solid 3 Episode 6 - Doctor Bees
Let's Play Metal Gear Solid 3 Episode 7 - Naked Snake: Office Linebacker
Let's Play Metal Gear Solid 3 Episode 8 - End The End (Part 1 of 7)
Let's Play Metal Gear Solid 3 Episode 9 - Infinite Helicopters
Let's Play Metal Gear Solid 3 Episode 10 - N Has Come To
Let's Play Metal Gear Solid 3 Episode 11 - Try Number Two
Let's Play Metal Gear Solid 3 Episode 12 - Johnny's Record Breaking Log
Let's Play Metal Gear Solid 3 Episode 13 - Dunkless
Let's Play Metal Gear Solid 3 Episode 14 - Don't See C3
Let's Play Metal Gear Solid 3 Episode 15 - Dan And Eva Fight A Giant Fucking Robot
Let's Play Metal Gear Solid 3 Episode 16 - Baby Snake
Let's Play Metal Gear Solid 3 Episode 17 - Undunkable


(In Progress)
Let's Play MGS2 Substance Episode 1 - Pinky-Chan Rising
Let's Play MGS2 Substance Episode 2 - Canadian Politics and Drag Queens: guest starring Pyroi
Let's Play MGS2 Substance Episode 3 - King Of Monsters
Let's Play MGS2 Substance Episode 4 - Bisexual Velociraptor
Let's Play MGS2 Substance Episode 5 - Nadir
Let's Play MGS2 Substance Episode 6 - Jewish Christmas
Let's Play MGS2 Substance Episode 6 - Jewish Christmas
Let's Play MGS2 Substance Episode 8 - The Raiden Mega Episode ft. Surprise Guest
Let's Play MGS2 Substance Episode 9 - That One Where Grace Is Sick
Let's Play MGS2 Substance Episode 10 - A Tale of Snake
Let's Play MGS2 Substance Episode 11 - Drunk American History

(In Progress)
Let's Play MGS Peace Walker Episode 1 - Limes and Coconuts
Let's Play MGS Peace Walker Episode 2 - Co-ops
Let's Play MGS Peace Walker Episode 3 - Hombre Nuevo
Let's Play MGS Peace Walker Episode 4 - Sleepy-Pants
Let's Play MGS Peace Walker Episode 5 - MVP
Let's Play MGS Peace Walker Episode 6 - Slightly Run-The-Fuck Down
Let's Play MGS Peace Walker Episode 7 - Pod Person
Let's Play MGS Peace Walker Episode 8 - Wee Anime Child
Let's Play MGS Peace Walker Episode 9 - Determination
Let's Play MGS Peace Walker Episode 10 - Confused Memories
Let's Play MGS Peace Walker Episode 11 - Snatchers (Kaz Tapes)
Let's Play MGS Peace Walker Episode 12 - Alligator and Wombat: The Ultimate Team (Paz Tapes)
Let's Play MGS Peace Walker Episode 13 - Old And New (Amanda and Chico Tapes)
Let's Play MGS Peace Walker Episode 14 - Elbakki (Huey tapes)
Let's Play MGS Peace Walker Episode 15 - Prison Break (Cecile Tapes)
Let's Play MGS Peace Walker Episode 16 - Peace Runner
Let's Play MGS Peace Walker Vs Op - Lake Fight
Let's Play MGS Peace Walker Episode 17 - Whirlwind Tour
Let's Play MGS Peace Walker Episode 18 - Alligator and Wombat's Second Honeymoon
Let's Play MGS Peace Walker Episode 19 - Victory Hugs
Let's Play MGS Peace Walker Episode 20 - Dan And Grace Fight A Giant Fucking Robot
Let's Play MGS Peace Walker Episode 21 - How To Woo An Anime 101
Let's Play MGS Peace Walker Episode 22 - Getting Ahead (And A Jetpack)
Let's Play MGS Peace Walker Episode 23 - Tensions Run High
Let's Play MGS Peace Walker Episode 24 - All Our Base
Let's Play MGS Peace Walker Episode 25 - Monster Hunter Solid
Let's Play MGS Peace Walker Episode 26 - Red_panda_twittering.mp3
Let's Play MGS Peace Walker Episode 27 - Board Game
Let's Play MGS Peace Walker Episode 28 - The Dangers Of Popping
Let's Play Metal Gear Solid Peace Walker Episode 29 - Alligator and Wombat go to White Castle
Let's Play Metal Gear Solid Peace Walker Episode 30 - Do Not Pop
Let's Play Metal Gear Solid Peace Walker Episode 31 - Dan And Grace Fight Our Giant Fucking Robot

(Complete!)
Let's Play MGSV Ground Zeroes Episode 1 - Let's Gitmo
Let's Play MGSV Ground Zeroes Episode 2 - VIP
Let's Play MGSV Ground Zeroes Episode 3 - Thread Canon
Let's Play MGSV Ground Zeroes Episode 4 - The Memories Will Never Disappear
Let's Play MGSV Ground Zeroes Episode 5 - Pleasure of Tension
[timg]http://i.imgur.com/h6JetIR.png[/timg]
(In Progress)
Let's Play MGSV Phantom Pain Episode 1 - Ishmael, Please
Let's Play MGSV Phantom Pain Episode 2 - Trailer Shot
Let's Play MGSV Phantom Pain Episode 3 - How You Do It Is Up To You
Let's Play MGSV Phantom Pain Episode 4 - Liquid Grace
Let's Play MGSV Phantom Pain Episode 5 - An S-Rank Episode
Let's Play MGSV Phantom Pain Episode 6 - Blow me, Miller
Let's Play MGSV Phantom Pain Episode 7 - Sharaahshakshaskahka
Let's Play MGSV Phantom Pain Episode 8 - The Great Escape
Let's Play MGSV Phantom Pain Episode 9 - Bark Bark
Let's Play MGSV Phantom Pain Episode 10 - Anime Ashore
Let's Play MGSV Phantom Pain Episode 11 - You Can't Do That
Let's Play MGSV Phantom Pain Episode 12 - The Legendary Gunsmith
Let's Play MGSV Phantom Pain Episode 13 - Pup Sneak
Let's Play MGSV Phantom Pain Episode 14 - It's Dan Time
Let's Play MGSV Phantom Pain Episode 15 - Soma Chat
Let's Play MGSV Phantom Pain Episode 16 - Swatting A Mosquito
Let's Play MGSV Phantom Pain Episode 17 - Early Father's Day
Let's Play MGSV Phantom Pain Episode 18 - Save The Kids
Let's Play MGSV Phantom Pain Episode 19 - Goat Expert
Let's Play MGSV Phantom Pain Episode 20 - Our Garbage Son
Let's Play MGSV Phantom Pain Episode 21 - Parasites
Let's Play MGSV Phantom Pain Episode 22 - Snatcher Inc
Let's Play MGSV Phantom Pain Episode 23 - Skull Base
Let's Play MGSV Phantom Pain Episode 24 - Dan Fights A Great Fucking Gatsby And A Giant Fucking Robot
Let's Play MGSV Phantom Pain 25 - I Finally Brought Quiet On A Mission And She Ruined Everything
Let's Play MGSV Phantom Pain 26 - I'm So Fresh
Let's Play MGSV Phantom Pain 27 - Secret Beans
Let's Play MGSV Phantom Pain 28 - Kidz Bop
Let's Play MGSV Phantom Pain 29 - Big Crazy Man with a Big Crazy Plan
Let's Play MGSV Phantom Pain 30 - Honkin' Your Bepis
Let's Play MGSV Phantom Pain 31 - Panfam
Let's Play MGSV Phantom Pain 32 - :smith:
(In Progress)
Let's Play Metal Gear Acid Episode 1 - A Ransom Paid
Let's Play Metal Gear Acid Episode 2 - Shoot Rude People
Let's Play Metal Gear Acid Episode 3 - The Trash Panda
Let's Play Metal Gear Acid Episode 4 - Anime Grievances
Let's Play Metal Gear Acid Episode 5 - Hans Davis
Let's Play Metal Gear Acid Episode 6 - Xmeight
Let's Play Metal Gear Acid Episode 7 - Philosophy Class
Let's Play Metal Gear Acid Episode 8 - Dan Surprise
Let's Play Metal Gear Acid Episode 10 - Hat Hat Hat
Let's Play Metal Gear Acid Episode 11 - Fuck Your Hats
Let's Play Metal Gear Acid Episode 12 - The Dark Lord Bob
Let's Play Metal Gear Acid Episode 13 - Fuck Your Sniping
Let's Play Metal Gear Acid Episode 14 - So FAR Away

(In Progress)