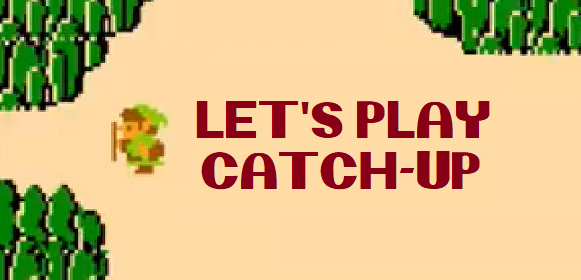 Once upon a time, a girl got her very first video game console, a Super Nintendo. Unfortunately, because she didn't really know anything about console games, she only played licensed platformers like Aladdin, Animaniacs, and The Lion King until she got an N64. As a result, that girl missed a ridiculous amount of classic games from the NES and SNES era, and she's been shamed for it ever since. She's learned what she missed, but she's still never played them.
To no one's surprise, that girl is me, Max. After coughcough years, I'm finally sitting down and playing all the classic games that make people stop and stare like I have a second head when I say, "I've never played that." I figured, if I'm going to do something horribly, might as well entertain other people. Thus, Let's Play Catch-Up was born. Every week, I'll be sitting down to play one of these games with my husband Chachi as a human guidebook, because he HAS played most of these and I don't care to spend hours being lost.
The Goal:
Play as many of those "I can't believe you've never played-" games as possible, generally from the NES, Genesis, and SNES eras, but I'm not opposed to more modern games as well.
How This Will Work:
I'll be streaming these on Wednesdays at 7 on Twitch.
I will attempt to complete each game to the The End screen, ideally without shortcuts or cheats unless said cheats are meant to be exploited by the casual player (ex: The Konami Code). If I can't beat it, I'll get as far as possible in it. I'm pretty bull-headed, though, so you shouldn't see me giving up much.
I will do my best not to depend on Chachi's prior knowledge unless absolutely necessary.
After each game, I'll put up a poll for the next thing on the to-do list with two to three options. I am open to suggestions for what viewers would like to see me flail at next before the poll goes live. I will always be honest about what I've played before. No "Oh, nooo, I've neeever played this before" while I'm navigating the stage like I'm reading the Prima manual here.
Without further ado, Let's Play Catch-Up!
Game #1: The Legend of Zelda (NES)
Let's Play Legend of Zelda 1/3
Let's Play Legend of Zelda 2/3
Let's Play Legend of Zelda 3/3
Game #2: Mega Man 2 (NES)
Let's Play Mega Man 2
Game #3: Super Metroid (SNES)
Let's Play Super Metroid 1/5
Let's Play Super Metroid 2/5
Let's Play Super Metroid 3/5
Let's Play Super Metroid 4/5
Let's Play Super Metroid 5/5
Game #4: Legend of Zelda: A Link to the Past (SNES)
Let's Play LoZ: ALttP 1/6
Let's Play LoZ: ALttP 2/6
Let's Play LoZ: ALttP 3/6
Let's Play LoZ: ALttP 4/6
Let's Play LoZ: ALttP 5/6
Let's Play LoZ: ALttP 6/6
An Attempt Was Made
Let's Try Demon's Crest, Contra III, and R-Type 3