Lethal League is a competitive projectile fighting game (as Team Reptile described it) that released on August 27th, 2014. It has a modest set of characters to play as at 6, very technical gameplay elements I'm still trying to pull off, and a very sweet soundtrack.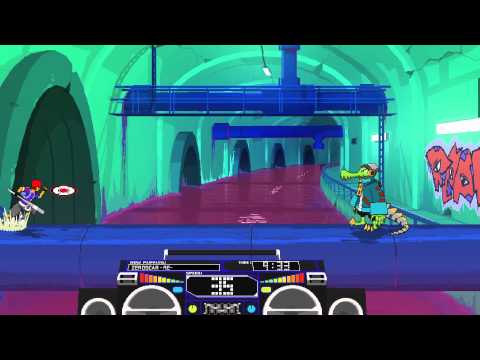 Behold
Multiplayer
FREE FOR ALL
This is the main mode of the game which operates on total number of stock instead of a traditional health bar health bar, like Super Smash Bros. if you're familiar with that. The goal is to smash a steadily-accelerating ball into your opponent(s) until someone's the last man standing. Simple, aye? Also the main meat of the game!
TEAM
The same goal as Free For all but with a Red/Blue/Yellow/Green Team shtick, teamwork and all that jazz. Take out the other teams!
STRIKERS
Instead of gaining a possible body count from the other two modes, you get points for scoring against the enemy team by hitting the ball into the others goal. Typically first to 10 points wins.
Stuff like this:
time limit
number of stock/lives
ball-tagging (think of it as toggling friendly fire on the ball so it also hits you if you turn it off)
minimum ball speed
ball type
can be changed in the Options Menu in the top right of a match setup screen.
EXTRA/Singleplayer
CHALLENGE
Take on the cast in a set of matches leading up to the final boss! Also the final boss is a giant ol' Boombot
TRAINING
Hit the ball in better ways! Practice yelling as it gets to really ridiculous speeds! Hit it as much as you like and see the max ball speed!
HOW TO PLAY
Relive the tutorial of the first few minutes you installed this game.
CREDITS
See the names of the people who worked and brought ya this, appreciate 'em! Credits are also shown at the end of every successful Challenge mode completion.
What else do I need to know?
So what's up? Any of ya like/wanted to get into Lethal League?
And look, I know the comparison to dodgeball is more on point but I also really wanted to abbreviate Rad Adrenaline Pong as R.A.P., ok?